Press Releases
FESPA Global Print Expo 2019 returns to Munich with an explosion of possibilities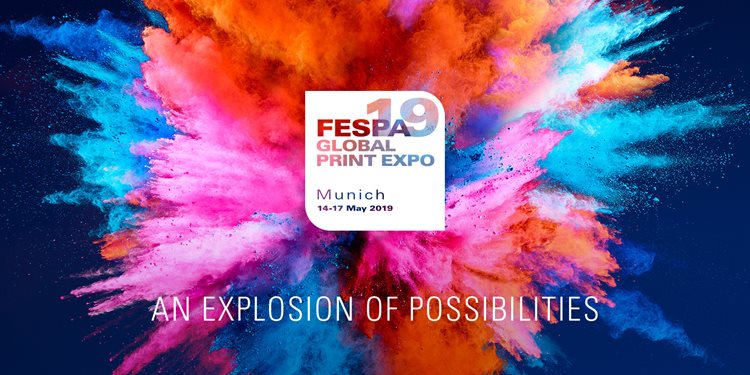 FESPA has launched its visitor campaign for the FESPA 2019 Global Print Expo and the co-located European Sign Expo 2019, which take place from 14 to 17 May 2019 at Messe Munich, Germany.
The campaign strapline for both events is 'Explosion of Possibilities', celebrating the multitude of commercial and creative opportunities within the screen and digital wide format, textile printing and signage markets.

"Our insights from previous events and from this year's FESPA Print Census affirm that print service providers (PSPs) and sign-makers are continually looking at new openings and ways to grow their businesses", comments Roz Guarnori, Exhibitions Director at FESPA. "The Explosion of Possibilities theme for our 2019 global events underlines the boundless opportunity there is within our industry, powered by technology and media innovations, and an irrepressible entrepreneurial appetite to experiment with new applications and enter new markets."

Munich has previously hosted FESPA events in 1999, 2005, 2010 and 2014, and the excellent exhibition and visitor facilities make the city a FESPA community favourite. FESPA Global Print Expo 2019 will cover 6 halls at Messe Munich, with more than 700 exhibitors expected to showcase the latest technology and applications for screen and digital wide format, textile and garment print, printed interior décor, vehicle wrapping, packaging and non-printed signage. Following its success at FESPA Global Print Expo 2018, FESPA will once again dedicate an entire hall (A4) to substrates.

European Sign Expo 2019 gives sign-makers and brand owners a dedicated exhibition for non-printed signage, while offering PSPs the opportunity to explore opportunities in visual communications beyond print.

Visitors will also benefit from a host of educational features reflecting FESPA's commitment to investment in education and promoting best-practice, including popular regular features from previous events and fresh initiatives guided by market trends and visitor feedback.

Roz continues: "It's evident from the record-breaking visitor attendance to our 2018 events in Berlin that the annual flagship FESPA Global Print Expo in Europe is regarded as a key destination for print and signage businesses looking for the tools to fulfil their ambitions, and for inspiration from real stories of business transformation. As our exhibitors share their launch plans over the coming months, we look forward to seeing what fresh possibilities they are creating, and imagining new pathways to sustained growth for our visitors."

For more information on FESPA Global Print Expo 2019 visit: www.fespaglobalprintexpo.com, which launches today (Monday 3rd December 2018).
Interested in joining our community?
Enquire today about joining your local FESPA Association or FESPA Direct