Industry
Epson and John Herrera team up for fashion collection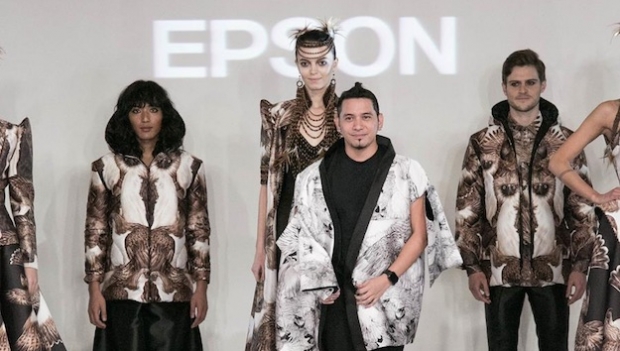 John Herrera, winner of the 2015 London Emerging Designer Awards, has used Epson digital printing technology to open up new creative possibilities on his designs.
Fashion designer John Herrera has partnered with Epson to produce a 30-piece collection digitally printed with Epson's textile dye-sublimation printers.
The collection for men and women is inspired by the Aguila, the protected Great Philippine Eagle, and will show at London Fashion Week on Monday 20th February.
John, based in Manila, Philippines, was winner of the London Emerging Designers (LED) Awards in 2015 and is a contender for this year's Britain's Top Designer.
John works closely with Epson in the Philippines and is at the forefront of taking fashion to the next level through digital textile printing using Epson's SureColor F-series dye-sublimation digital textile printers.
"This partnership with Epson is very exciting," he said. "There are so many things you can do with printing compared to just buying fabric. Before, all collections by designers were created painstakingly by hand."
"Many of the outfits, such as 3D items that are worn by the models can only be attached by hand, so what was presented on the runway cannot be worn again and again. With digital printing, the clothes in the collection can be worn in real life," John commented.
"The collection I will be presenting will be impossible to create without the Epson digital textile printer. Without them I would have had to paint the designs myself and, with only a month to prepare, it could not have been done".
John adopts a "no-waste, no plastic" approach and puts a lot of importance on reducing waste in his work. "With digital textile printing, we only use the exact volume of fabric. Instead of wasting five yards of fabric to do a lay out for a dress, we use only one and a half yards of digitally printed fabric."
"Digital textile printing significantly cuts fabric wastage. Faster, more intelligent, almost zero wastage - that's what Epson brings to the table," he said.
Epson's digital textile printing technology is driven by the company's PrecisionCore printhead technology, one of the fastest inkjet delivery technologies in the world. According to the company, its print nozzles deliver ultra-precise control of ink droplets for superior image sharpness across a wide range of ink and media producing outstandingly vivid and unique prints.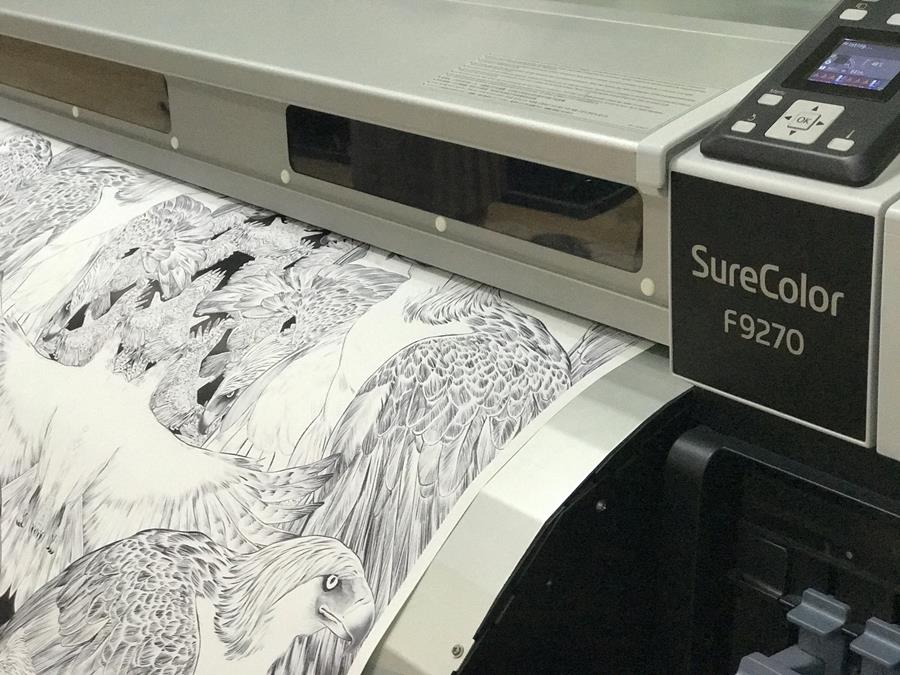 John Herrera's design printing on the Epson SureColor SC-F9200 dye-sub printer
Digital printing shortens turnaround time and enables printing in small volumes for customised prints, compared to traditional printing techniques, which require high volumes and long lead times. As a result, digital printing helps designers such as John Herrera to achieve their artistic vision by translating their ideas to a range of fabrics quickly, easily and in the highest quality.
"Epson digital textile printing is inspiring more and more haute couture designers to explore the creative and production potential that this technology enables. Now, designers are only limited by their imagination," says Epson UK sales manager Phil McMullin.
Epson will be exhibiting at FESPA 2017, from 8-12 May at the Hamburg Messe in Germany, showcasing its latest products and technologies in action (Stand A1-D45).
---
FESPA 2017 to analyse the fashion market
Textile printing is proving to be one of the fastest growing sectors in the digital wide format print industry, and with technology a key driver for the changes, demand for education is high on the agenda for print service providers.
FESPA 2017
, is supporting printers with a daily programme of unmissable seminars from industry professionals, with the objective of providing a comprehensive learning platform for anyone looking to develop in new areas.
With a host of traditional printers having diversified into the digital textile print market, there is clearly room for further growth and expansion.
To view more information about these presentations and to register to attend please visit, www.fespa2017.com. Delegates can save 70€ entry fee to the exhibition by registering via the website and quoting reference code: FESG702.
Discover how a visit to FESPA 2017 can benefit your business and register today.
Interested in joining our community?
Enquire today about joining your local FESPA Association or FESPA Direct