Features
Top 20 outdoor print applications of 2015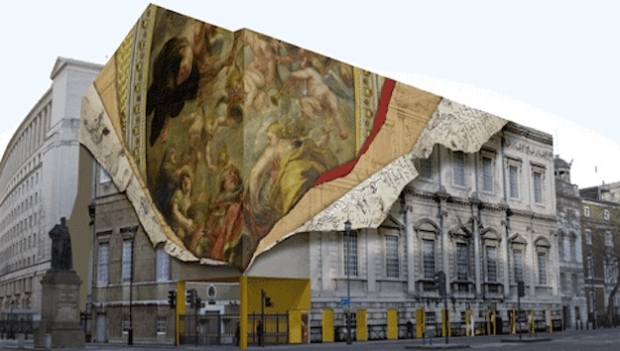 With out-of-home media producers and buyers reporting an upturn in demand for printed work, we cast an eye over the outdoor print jobs from the past 12 months.
Print has not had the easiest time during the last few years, with many heralding the introduction of technology such as digital signage as the death of outdoor print advertising.
However, during the last 12 months, interest in outdoor print advertising as well as outdoor print in general has increased, with many buyers and brands turning to this form of media to get their message across to consumers.
With this in mind, we take a look at the outdoor print applications that captured imagination this year and helped show the general public that print is still very much a part of the outdoor market.
Inverness Town Hall: planning for the future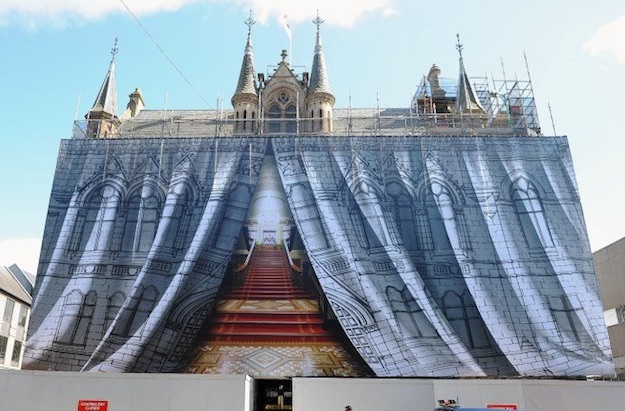 Designer: Andy MacGregor
Printer: Undisclosed
Description: Highland Council opted to wrap the iconic Inverness Town House in order to hide scaffolding and building work from the public. Opened in 1882, the building is undergoing major refurbishment in order to repair stonework at a cost of £4.2m (€6m/$6.3m). The wrap design features blueprints of the building.
Picture: Courtesy of The Press and Journal
Drive Agency / Keltie Cochrane: housing Toronto residents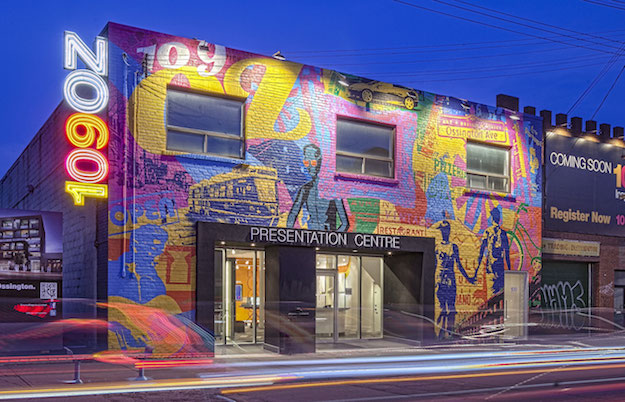 Designer: Keltie Cochrane
Printer: Keltie Cochrane
Description: Newcastle company Keltie Cochrane was tasked by Drive Agency to create both interior and outdoor graphics for the latter's Toronto sales office. The building wrap design boasted vibrant colours and images of features from the surrounding streets.
Picture: Courtesy of Keltie Cochrane
Baahubali: breaking world records with print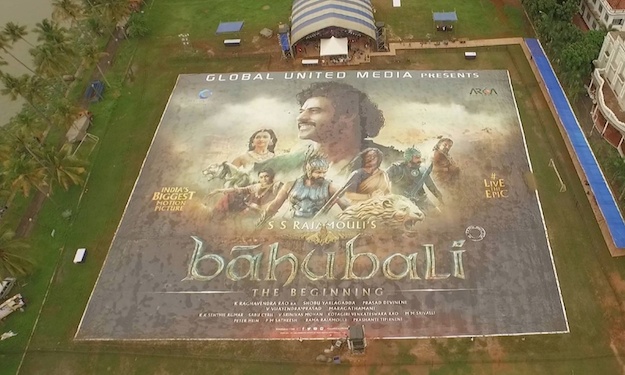 Designer: Saint Gurmeet Ram Rahim Singh Ji Insan
Printer: Saint Gurmeet Ram Rahim Singh Ji Insan
Description: 'Baahubali: The Beginning' not only smashed records to become the most expensive Indian film of all time, but also set a new Guinness World Record for the largest poster ever produced. Measured at the Shah Satnam Jo Cricket Stadium in Sirsa, the poster measures in at 5,969.91sq m.
Picture: Courtesy of Baahubali Facebook
Banqueting House: wrapping the execution site of Charles I
Designer: Northover & Brown
Printer: Undisclosed
Description: Northover & Brown was this year commissioned to design a wrap for Banqueting House in Whitehall, London, the site of the execution of Charles I that has been undergoing conservation work. The wrap features a design telling the story of key characters from the building's past.
Picture: Courtesy of Design Week
Project Print Management: bringing the countryside to the city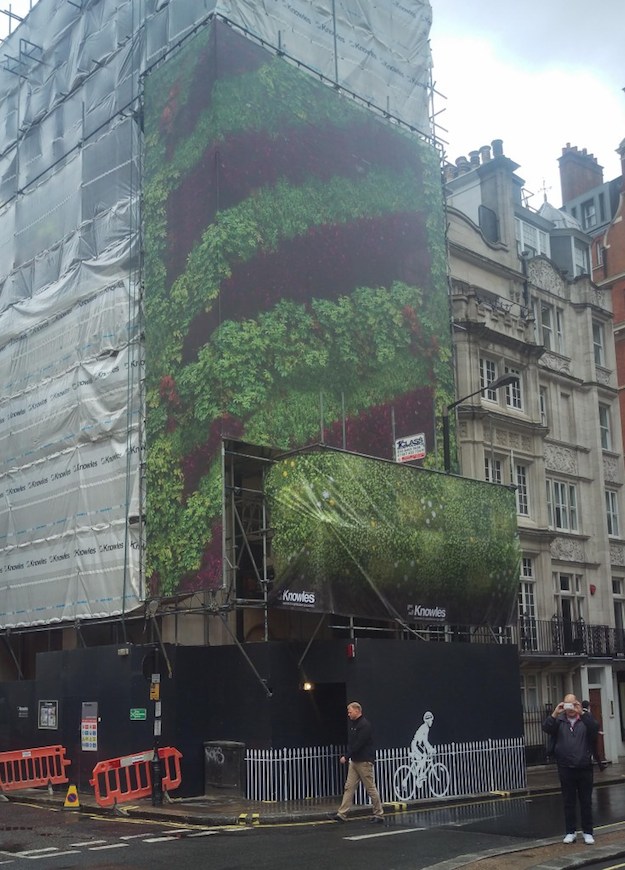 Designer: Project Print Management
Printer: Project Print Management (HP)
Description: Project Print Management brought a touch of the countryside to the centre of London this year by producing this colourful building wrap to cover scaffolding in the Berkley Square area of Mayfair. The wrap was printed on a special mesh PVC using a 5m-wide HP large-format digital printer.
Picture: Courtesy of Project Print Management
UN COP21 Climate Conference: highlighting climate change in Paris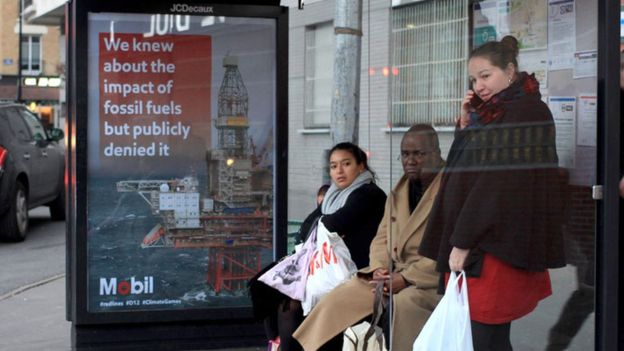 Designer: Various
Printer: Various
Description: 82 artists used the UN COP21 Climate Conference in Paris this year to highlight climate change through a series of fake poster advertisements. The posters were displayed the same as standard advertisements but poked fun at some of the biggest companies in the world and their lack of effort to combat climate change. Pictured: Mobil gets the fake advertisement treatment
Picture: Courtesy of Street Art News
Hollywood Monster: an IMAX licence to print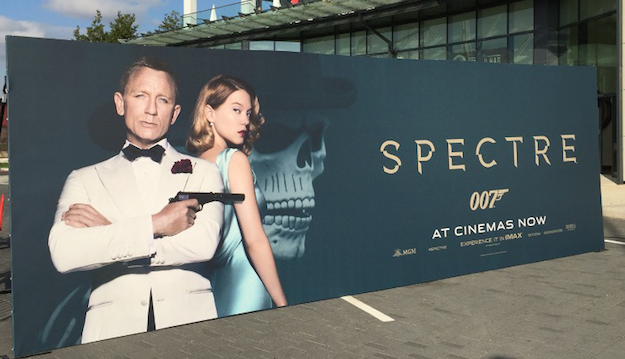 Designer: Hollywood Monster
Printer: Hollywood Monster
Description: Birmingham-based Hollywood Monster this year used print to mark a double landmark – the first UK IMAX showing of new James Bond film 'Spectre' and the opening of a new cinema at the new Resorts World Birmingham site at the NEC. The firm created Spectre-themed signage to accompany the opening of the new £150m (€207.4m/$224m) leisure entertainment complex.
Picture: Courtesy of Hollywood Monster
Wembley Stadium / Rugby World Cup: setting the scene for rugby's showpiece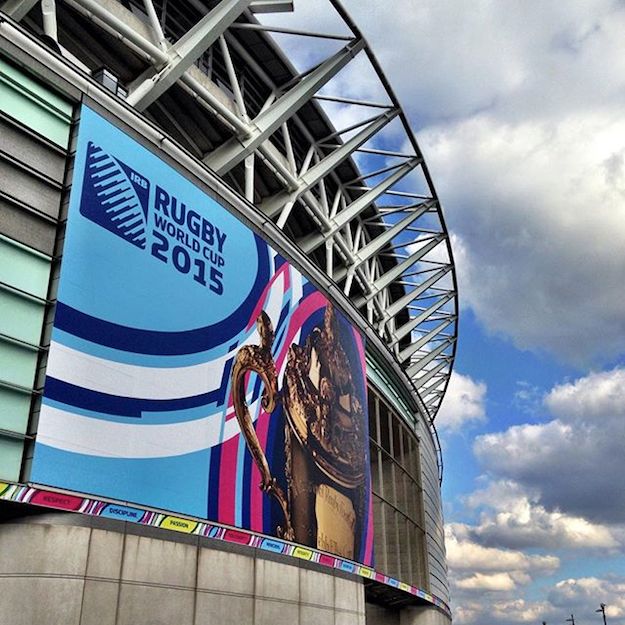 Designer: Service Graphics
Printer: Service Graphics
Description: Large-format printer Service Graphics utilised Drytac's ReTac 150 to produce a special branding project at Wembley Stadium for the 2015 Rugby World Cup. The project spanned 3,500sq m and took just nine to days to print and install.
Picture: Courtesy of Drytac
Brandbase / Shell: a room with a view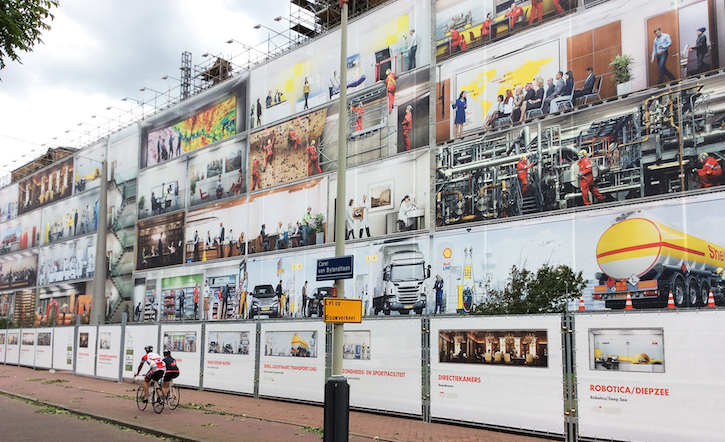 Designer: Brandbase / Shell
Printer: Brandbase
Description: Brandbase was tasked with creating a building wrap to cover Shell's headquarters in The Hague during renovation. The design is split into 23 rooms, each representing a certain discipline within Shell. Measuring in at 2,064 sq m, the application is the biggest-ever building wrap in the Netherlands.
Picture: Courtesy of Brandbase
National Poetry Day: the UK's largest printed poem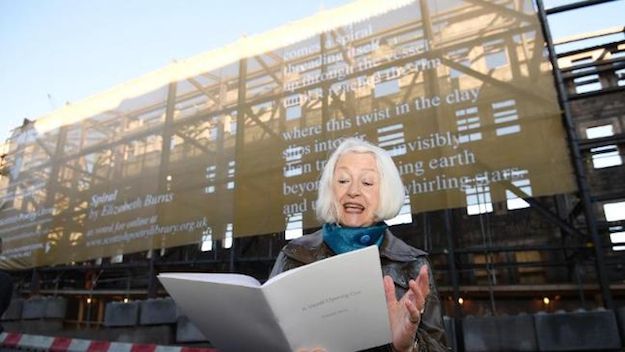 Designer: Undisclosed
Printer: Undisclosed
Description: To celebrate this year's National Poetry Day in the UK, the Scottish Poetry Library commissioned a special banner to display the words to 'Spiral', a poem by Elizabeth Burns. The banner, which measures in at 25m x 8m, which is believed to be the largest-ever printed poem in the UK, was placed in the Royal Mile in Edinburgh, Scotland.
Picture: Courtesy of the Press Association
Agfa Graphics: preserving history with print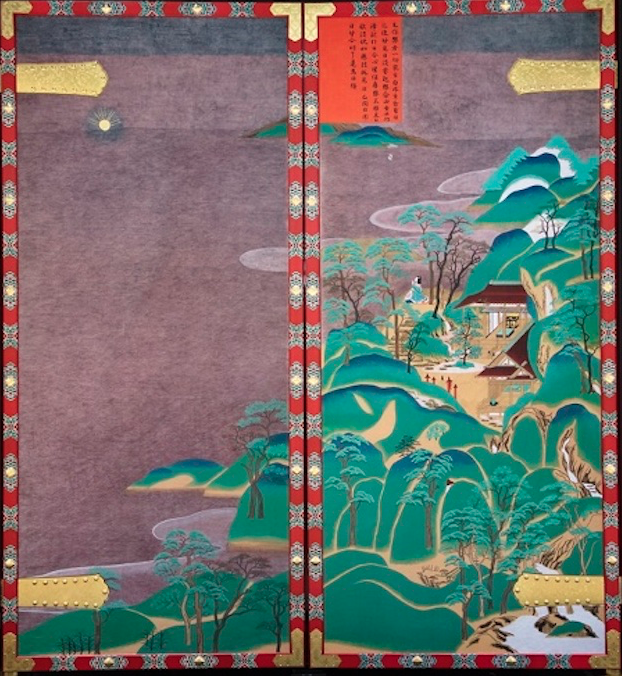 Designer: Agfa Graphics
Printer: Agfa Graphics (Anapurna 2050i)
Description: Agfa Graphics Japan this year helped restore a set of doors on a Buddhist temple nearly 1,000-years-old. Agfa worked with a team of experts over 10 years to collect paint from the original doors, before using it to recreate the colours on the restoration print. Agfa used 3D print technology to create the new doors, which were printed on 400-year-old Japanese cypress wood.
Picture: Courtesy of Agfa
Christies: iconic London auction house gets first makeover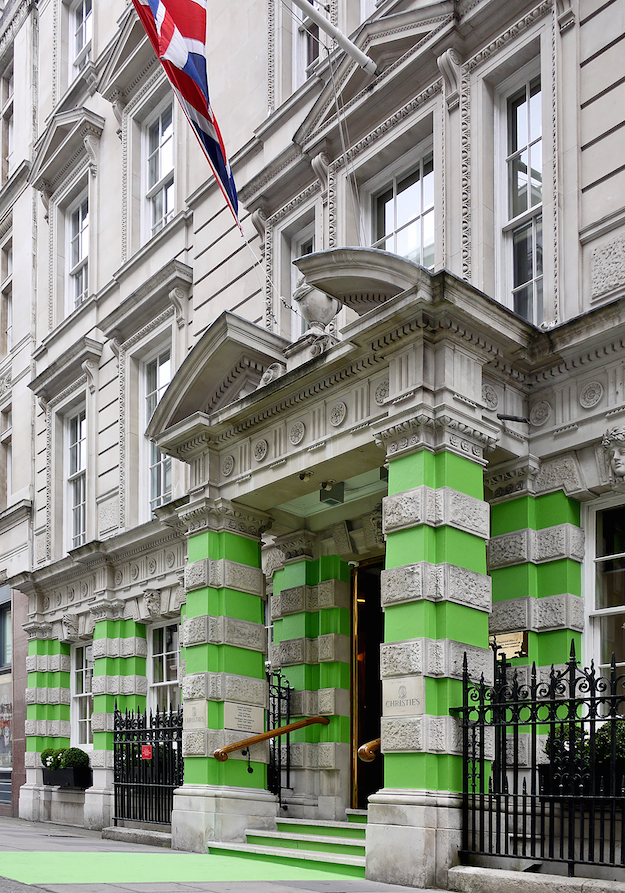 Designer: L&S Display
Printer: L&S Display (EFI Vutek GS2000)
Description: World famous London auction house Christies this year changed the appearance of its outer décor for the first time in its history, thanks to some help from L&S Display. The firm used an EFI Vutek GS2000 to print a request green colour onto Asphalt Art material from Jessup Manufacturing.
Picture: Courtesy of Earth Island
BBC Television House: farewell to a British icon
Designer: Service Graphics
Printer: Service Graphics
Description: Service Graphics features for a second time in our list for a project that saw the firm produce hoardings to placed around the former home of the BBC in London. The White City site is being transformed into 5,000 new homes, 400 shops and additional public space, following the decision by the broadcaster to relocate to Broadcasting House. The site will be known as 'Television Centre'.
Picture: Courtesy of Mike O'Dwyer
WinSun: World's tallest 3D-printed building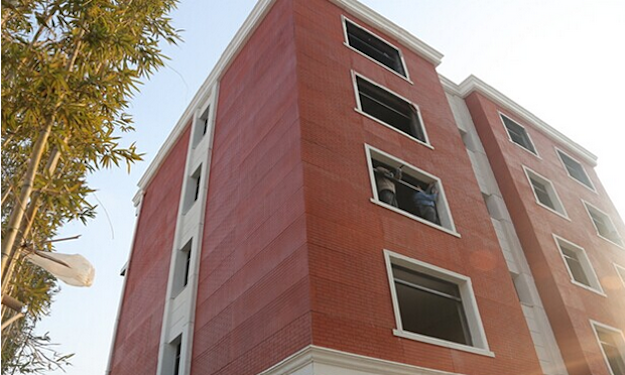 Designer: WinSun
Printer: WinSun
Description: Shanghai construction firm WinSun was this year able to create the tallest building using 3D print technology. The building was crated using a 150-m long printer and was put on display at the Suzhou Industrial Park.
Picture: Courtesy of WinSun
Centre Point / Eley Kishimoto: a new lease of life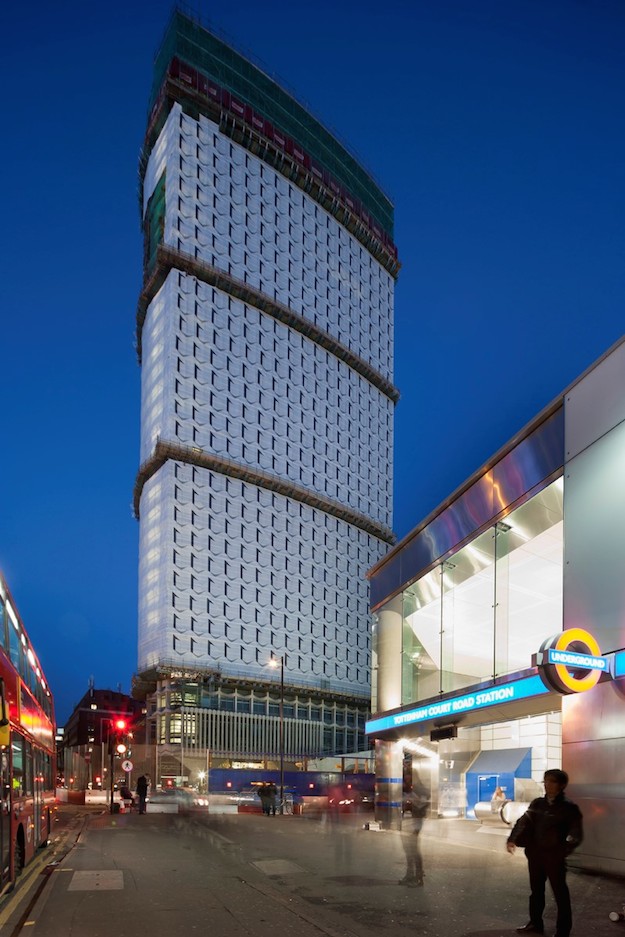 Designer: Eley Kishimoto / Mark Elay
Printer: Undisclosed
Description: Mark Elay of Eley Kishimoto gave London's iconic Centre Point a new look this year by designing bespoke pattern. The building was wrapped in the printed design, which Eley was inspired from spending time in and around Centre Point.
Picture: Courtesy of Design Week
Divergent Microfactories: world's first 3D-printed supercar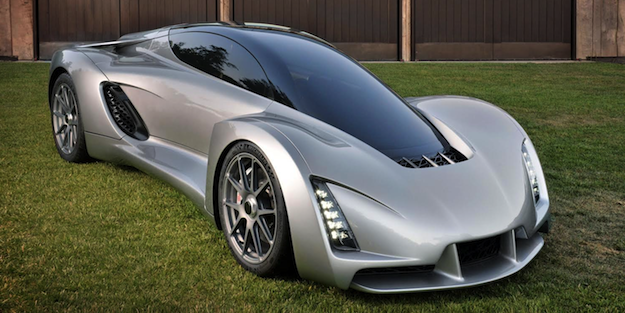 Designer: Divergent Microfactories
Printer: Divergent Microfactories
Description: Divergent Microfactories went ultra-creative this year by producing what it claims is the world's first 3D-printed supercar. The Blade as one-third the emissions of an electric car and can go from 0-60mph in just 2.2 seconds. The firm plans to produce 10,000 of these limited supercars.
Picture: Courtesy of 3Dprint.com
Chicago Cubs / Reynolds Consumer Products: Wrigley Field wrap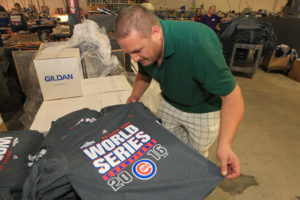 Designer: Chicago Cubs / Reynolds Consumer Products
Printer: Undisclosed
Description: Chicago firm Reynolds Consumer Products joined forces with the Chicago Cubs to product a special wrap for use inside the MLB baseball team's Wrigley Field ballpark. The wrap, designed to mimic foil chewing gum wrapping, and link in with the facility's naming rights deal, has been used to cover the main playing area.
Picture: Courtesy of Adweek.com
Hollywood Monster / Westfield: celebrating a shopping-filled summer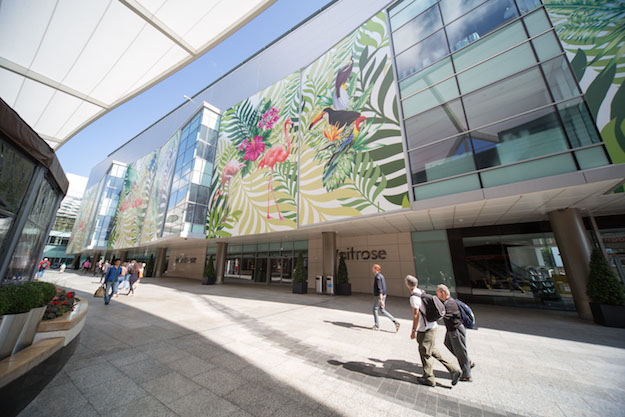 Designer: Hollywood Monster
Printer: Hollywood Monster
Description: Birmingham's Hollywood Monster features for a second time on our list in recognition of its creative outdoor work for Westfield. The project saw the firm produce outdoor and indoor printed graphics for London shopping centres at Shepherd's Bush and the Olympic Park, totalling approximately 2,00sq m.
Picture: Courtesy of Hollywood Monster
Airbus A350: featuring the most 3D printed parts
Designer: Airbus / Stratasys
Printer: Stratasys
Description: Airbus this year unveiled its new A350 XWB model, an aircraft that it claims has more 3D-printed parts than any other plane. Stratasys produced more than 1,000 3D-printed components for the new aircraft.
Picture: Courtesy of Airbus
Claes Oldenburg: world's largest 3D-printed moustache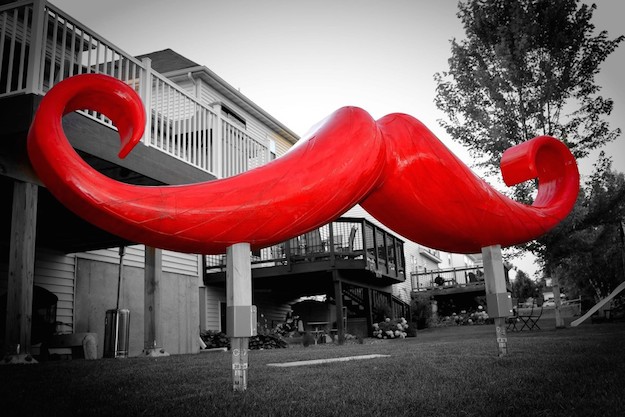 Designer: Claes Oldenburg
Printer: Dustin Kloempkin
Description: Pop artist Claes Oldenburg teamed up with a host of partners to create the world's largest 3D-printed moustache in an effort to raise awareness of prostate cancer in the US. The structure measures 11.5ft wide, 3ft tall and 22 inches deep.
Picture: Courtesy of 3Dprint.com
---
FESPA Digital 2016, from 8-11 March in Amsterdam, will play host to a number of specialist areas and seminars that have been designed to reveal the innovative ideas, techniques and technology behind printed work.
Visitors will also have access to a plethora of specialist seminar sessions, each of which has been designed to give attendees important insight into various sectors of the show.
To register for FREE to attend FESPA Digital 2016, please use the promo code AEOZ0101. Your ticket will include access to FESPA Digital, European Sign Expo, FESPA Textile and Printeriors 2016. Online registration will close on the 7th of March and tickets on the door will be charged at €40.
Interested in joining our community?
Enquire today about joining your local FESPA Association or FESPA Direct