Features
Packaging inks support Covid-19 fightback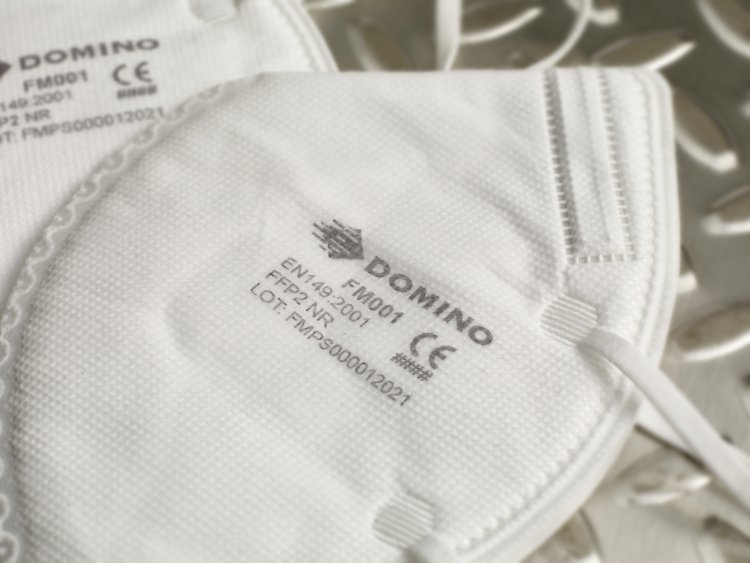 Coding, marking and printing technologies specialist Domino Printing Sciences has announced details of a new development, whereby an ink initially created for use in food packaging work has also been established as a tool in the fight against Covid-19.
Developed for use on Domino's Gx-Series thermal inkjet (TIJ) printers, TIJ-BK11 was created for food industry applications, meaning it is food-packaging safe and adheres to EuPIA's Good Manufacturing Practice protocols.

However, companies working with the ink have also been using the product to manufacture particle-filtering respirator face masks, a key piece of equipment for frontline workers.

Unlike surgical masks, which are designed to lower the spread of saliva droplets to protect others and external environments, respirator masks protect the wearer and others by filtering harmful substances and viruses from air flow in both directions.

The masks are made up of four, non-porous, layers, including a polypropylene filter and acrylic backing plate, and may also include moisture barriers for additional protection.

Due to the complex nature of the masks, they cannot absorb water-based ink. However, as BK119 is an ethanol-based ink product, this means manufacturers can use the ink to print coding onto the masks.

Domino noted that the fast-drying nature of the BK119 inks is also useful during production. As the masks are produced on high-speed manufacturing lines, with coding applied before masks are die-cut into their final form, the masks interact with machinery after the code has been applied and, as such, could be subject to smudging, making fast-drying ink critical.

"Both respirator face masks and surgical masks have played a key role in the global fight against Covid-19," Domino's product manager for fluids, James Gibbins, said.

"In the last year, we have seen a significant rise in demand for these products, with many manufacturers producing them for the very first time.

"Respirator face masks are classified as personal protective equipment, while surgical masks fall under the category of medical devices – both are subject to compulsory coding requirements within the countries in which they are sold.

"BK119 was developed to ensure maximum code quality, and legibility. In addition to meeting compliance requirements of manufacturers of medical devices and PPE, it is also fast drying with excellent adhesion properties, making it an ideal coding solution for non-porous respirator face masks."

Volker Watzke, EU medical devices sector manager at Domino, added: "Throughout the pandemic manufacturers have been faced with the need to adapt to the current circumstances, and many have stepped up to produce medical equipment for the first time."

"We are pleased to be able to support the supply of significant volumes of face masks, Covid-19 test kits and other PPE globally by rapidly developing and adapting both products and consumables to meet the demands of customers."

Interested in joining our community?
Enquire today about joining your local FESPA Association or FESPA Direct