Features
Large Format Print Finishing and The Environment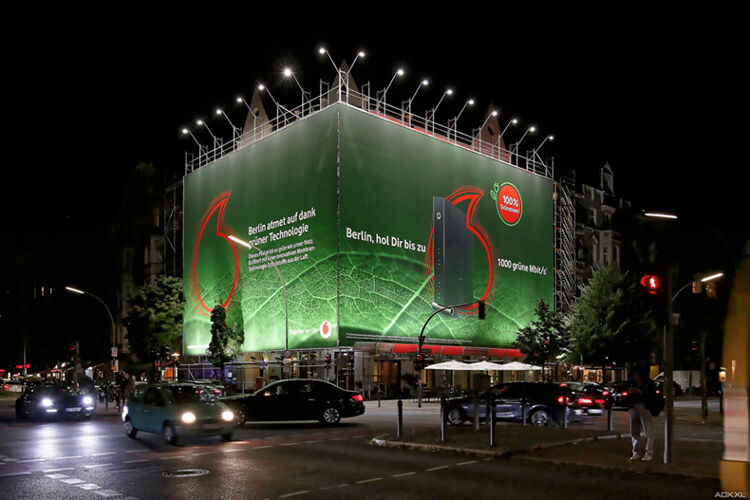 There are many ways for printers to print more sustainably. With the correct finishing strategy, the environmental footprint of digital printing can be considerably reduced.
Pureti, a water-based photocatalytic surface coating can reduce nitrogen oxides, sulphur oxides, volatile organic compounds as well as bacteria or mould spores in the air round it. The nano coating on a 100 sqm wide format poster significantly cleans the air, up to the emission equivalent of the 300 cars per month. It harvests the cleaning power of natural sunlight.

This was proven by iScape, the European project on improving the Smart Control of Air Pollution, as well as many Universities as stated by Digital Print GmbH. The Berlin-based printer has secured the exclusive rights for the DACH region to use the coating on their prints.

But there are several options that are far less technological. In fact, there are 3 key ways to ensure that finishing doesn't greatly increase the carbon footprint of a large format print:
choosing the right substrate
using minimal composite materials
re-using mounting materials
Recycling or Landfill? It's a Matter of Purity
If any substrate is recycled or going to landfill, usually the garbage incinerator is used. The less contamination, the higher the quality of the recovered materials. This is for example, why coloured bottles should be thrown into the recycling container for white glass.
Many standard large format printing applications become composite materials whilst finishing, as they are laminated for more vivid colours and effects or to protect the print from UV light and to make it last longer. Unfortunately, the printing substrate is another type of plastics than the laminate, which effectively renders the application a composite, making it unusable for high-quality single-grade recycling.
While a laminate or lacquer is unavoidable with certain applications (such as car-wrapping), turning large format prints into recyclable composites is easily avoided when choosing the right substrate for an application.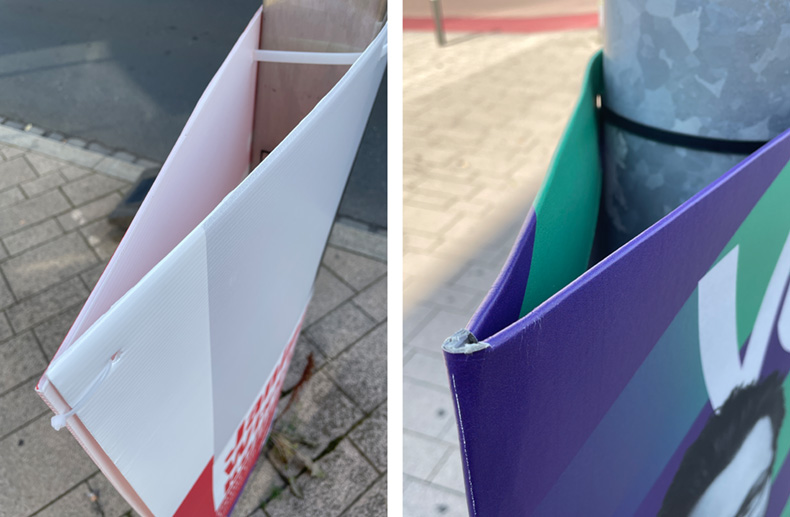 CAPTION: The right substrate and finishing option can truly help to minimise environmental impact: Left: corrugated plastic for a campaign poster, right: carton option. Image credit: S. Angerer
Re-thinking Substrate Choice
Most printers and their clients, when contemplating substrates for their applications, have priorities such as:
affordability
printability
durability.
Today, minimising environmental impact is crucial therefore recycling is a key priority and should be considered. While good recycling options have been available for paper-based prints for decades, there still are very few reliable alternatives for plastics, boards, and foils. This is very problematic as a single wide format building wrap can create hundreds or even thousands of square metres of waste after being used.

Usually choosing the material is just a matter of habit. For years now, corrugated plastics have been widely used for outdoor electoral advertising. While corrugated boards can be used for single-grade recycling, is it worthwhile to use a printing technology with two to three years of outdoor durability, when the average campaign poster is used for only a few weeks?
With the 2020 German Bundestagswahl (general election) political parties chose a different approach. Some used paper-based cardboard posters, others used the old-fashioned paper poster glued onto displays onto A boards. Some continued using corrugated plastics. Of course, it is difficult to determine which option will truly have the lowest environmental impact, as there are numerous factors to consider, including logistics.

Both the paper-based and the plastic board options eliminated nearly all finishing and mounting work at printers, as they are attached onto lamp posts with cable ties, minimising material usage.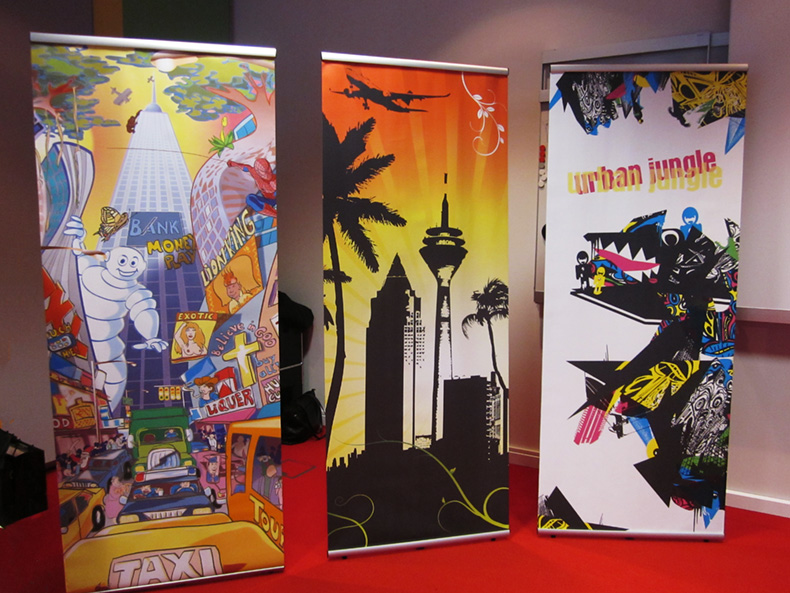 CAPTION: Using roll-ups and other display stands more than once is also part of a more sustainable large format print finishing strategy. Image credit: S. Angerer
There is No Good One-Way Display Stand
Display stands are another option directly associated with finishing large format print production. Choosing the right product can substantially reduce the environmental impact and therefore make digital prints more climate friendly.

Any containers left after an exhibition prove that most of today's folding, pull-up, pop-up and other display stands and cases will never be used more than in one event, as they get discarded with the print. Although this is quite convenient, it is a large waste of valuable resources directly connected to large format print finishing. This is a big problem that printers may not be able to solve on their own. However, perhaps a deposit or re-usable system provided by exhibition organisers or trade shows could help with that.
Look at the Whole Process
When attempting to minimise the environmental impact of digital print, it is important to focus not only on printing, but also additional factors as the print already is the finished product. Planet friendly finishing options can greatly help to reduce the footprint of applications.
Interested in joining our community?
Enquire today about joining your local FESPA Association or FESPA Direct