Blog
PrintFactory has buoyant show at FESPA 2019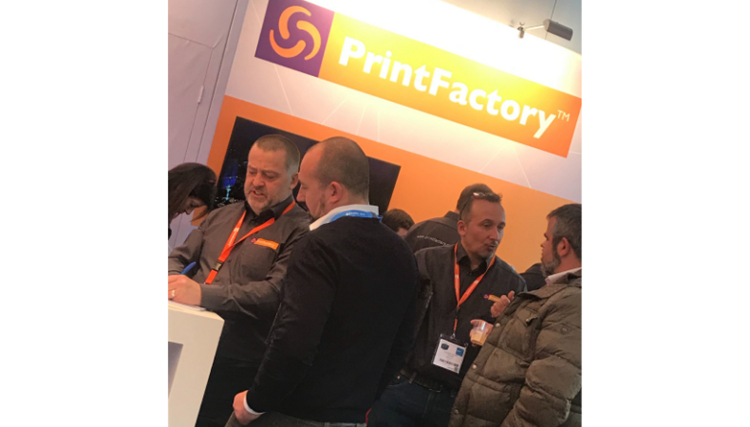 PrintFactory's Director of Sales EMEA, Toby Burnett discusses the software firm's presence at FESPA 2019.

"It's been a buoyant show with plenty of dealer activity. We made a conscious decision with our on-stand messaging to be more direct. And it's paid off. Honing in on the lower ink cost, consistent colour, less wasted media and faster job production - over the technology that's delivering it - has really resonated.

We've learned that focusing on what's powering the platform makes it seem inaccessible. Some customers hear "cloud-based automation" and think that's too sophisticated for them. The truth is, whether you have three stand-alone printers or you're running a network of 33 devices, the benefits are there for the taking.

It's entirely possible for most digital printers to see much better quality in their print and get some real financial gains, when they take advantage of all that a RIP-based end-to-end solution can offer. Feedback during the show has told us the market now recognises PrintFactory as a competitive, complete workflow that's giving better-known software a run for its money.

Making the latest advances more accessible was a theme we saw across the wider show too. HP also focused on simplified messaging surrounding the launch of its Stitch S1000. Similarly, offering printers greater flexibility was a driving factor in new product development. Fei Yeung Union's hybrid product with roll-to-roll and flatbed printing capability being a case in point; our own investment in delivering Linux compatibility another.

Certainly, taking FESPA's theme of "an explosion of possibilities", there was plenty to talk about - especially with regards developments in working with UV inks. For us, now, the focus is on making it easier for wide format printers to understand how they can implement and profit from all the technologies on offer."


Interested in joining our community?
Enquire today about joining your local FESPA Association or FESPA Direct