Industry
Komori and Highcon announce strategic business partnership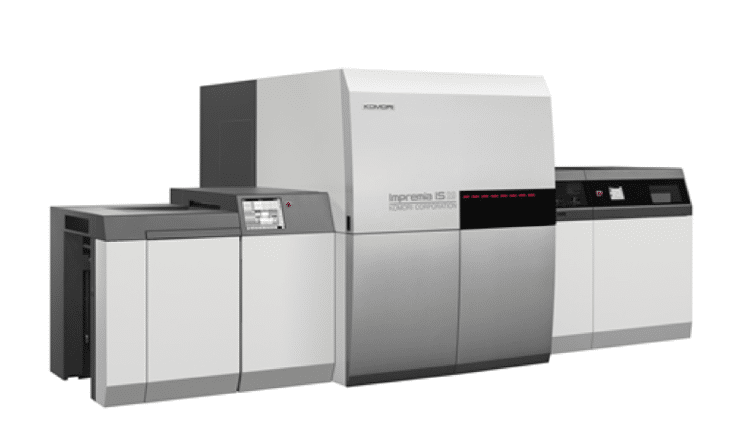 Japanese manufacturer Komori and Highcon Systems have entered into a strategic selling agreement, further strengthening the existing Highcon relationship with Komori in Japan and America.
Signed earlier this month, the deal allows Komori to sell all of Highcon's product line in the UK, France, Italy and the Netherlands, with the option to extend beyond these four countries depending on sales success.
"Our collaboration with Highcon is the first step in expanding our finishing department," said Komori marketing manager Peter Minis.
"We see there is an incredible overlap in the philosophy of the companies but also because we are making more and more print work that requires individual finishing, especially with the Impremia. We see this as having a big benefit of having the Highcon machines this close to our other equipment," he added.
Komori Europe is now in the process of installing a Highcon Euclid III digital cutting and creasing machine at its Graphic Center-Europe in Utrecht, the Netherlands, in order to support the partnership, which will be exhibited at an open house on 4 to 5 October.
Highcon's digital finishing equipment is described as 'the perfect complement' to the Komori fleet of offset presses, as well as the new Impremia IS29, 29in inkjet, sheet-fed UV printing system.
Minis commented: "We are very pleased with this partnership that highlights Komori's commitment to support our customers developing successful business models utilizing both offset and digital print, from concept to final product."
"We are convinced that our European customers will benefit from the combined expertise of our two companies, allowing them to develop and deliver innovative applications and a faster time to market."
Jens Henrik Osmundsen, vice president of global sales at Highcon, said: "We already have several joint customers and are proud that Komori, with their 100 year focus on reliability and quality, understands the true value that our technology can bring to their customers, whether offset or digital. We look forward to working together to expand the Highcon customer base."
Earlier this year, Komori expanded its Lithrone product portfolio with the launch of a larger format one-pass double-sided offset press.
Interested in joining our community?
Enquire today about joining your local FESPA Association or FESPA Direct