Industry
Komori launches Lithrone GX44RP offset press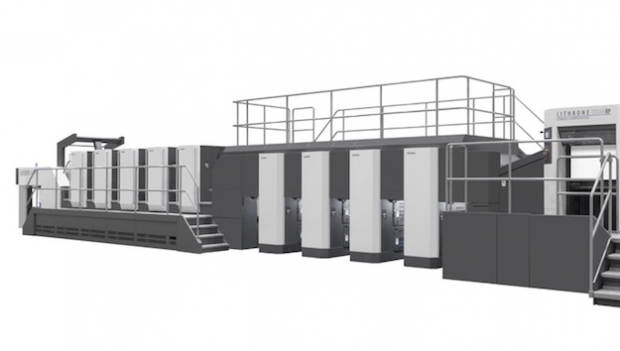 Komori has expanded its Lithrone product portfolio with the launch of a larger format one-pass double-sided offset press.
The 44-inch Lithrone GX44RP can operate at speeds of up to 15,000 sheets per hour, depending on the number of colours and specifications selected by the user, with Komori saying it has been designed to deliver, "high quality, short turnaround, high speed, stability and reduced waste in double-sided printing".
Komori adds: "The Lithrone GX44RP represents leading-edge technology and know-how to achieve printing automation, standardisation and innovation. It is a powerful platform for the new generation of printing business."
Equipped with H-UV, the machine is designed for applications like publication printing (magazines and books) and duplex package printing.
Key features include single-edge gripping which makes the margin on the tail edge of the sheets unnecessary, enabling paper costs to be cut by minimizing the sheet size; and the use of four double-size transfer cylinders, which eliminates sheet reversal and ensures stable sheet transport for handling either light or heavy stocks through.
Additionally, front and back plate imaging is in the same direction, which the manufacturer says helps to increasing efficiency in prepress.
Supported by the KHS-AI integrated control system, benderless Full-APC and the H-UV curing system, the Lithrone GX44RP expands the OffsetOnDemand experience by providing short makeready and powderless instant drying to accommodate fast turnarounds.
Komori said the press can also be optionally specified with the A-APC Asynchronous Automatic Plate Changer, the PDC-SX Spectral Print Density Control SX Model and the PQA-S Print Quality Assessment System for Sheetfed to further boost quality and productivity.
"This machine expands the OffsetOnDemand world by means of cutting-edge short makeready and powderless instant drying to accommodate very small lots and short turnarounds thanks to the KHS-AI integrated start-up control system and the H UV·UV curing system," commented the manufacturer.
"Thanks to the 44" maximum sheet size, it is possible to ensure high quality and high productivity in publication printing, such as magazines and books, and in duplex package printing."
The January launch will set Komori up for what looks set to be a busy year for the company, as it reports demand in its technology from markets around the world.
Interested in joining our community?
Enquire today about joining your local FESPA Association or FESPA Direct