Industry
Canon showcases new products at FESPA Africa 2017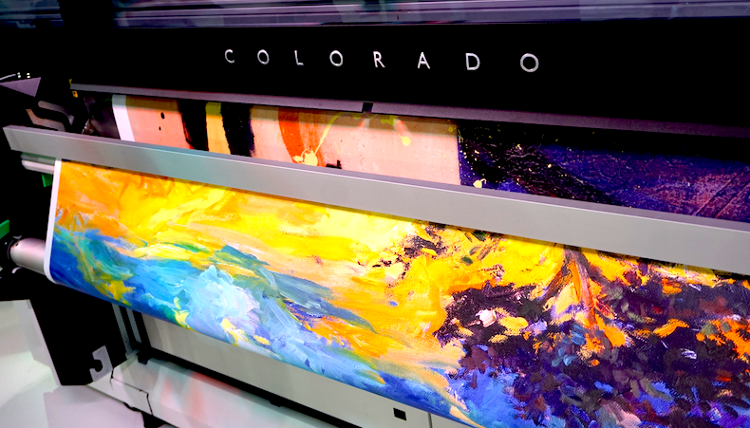 Canon introduced some of their latest products and offerings at FESPA Africa 2017, which took place from 13-15 September at the Gallagher Convention Centre in Johannesburg.
The three-day trade show broke exhibitor and visitor records, with around 120 companies representing more than 300 brands and visitor numbers exceeded last year's record with 5,839 unique delegates visiting the Gallagher Convention Centre.
The signage and print exhibition was a platform for Canon to officially launch their latest products and technologies. At the event, Canon showcased the new Océ Colorado 1640, the first of Canon's wide format printers to incoporate the new UV gel technology.
Aimed at businesses that produce indoor and outdoor applications such as posters, banners, signage, POS, billboards, window graphics, and decals, the Océ Colorado 1640 is a 64in (1.6m) roll-to-roll wide-format printer built around Canon's patented UVgel curable ink system.
It boasts a top speed of 159sqm/hr for billboards or outdoor banners – faster, Canon claims, than any other printer in this market segment – and a top speed for highest-quality, close-up indoor applications of 40sqm/hr.
The Océ Colorado is the first of Canon's new line of roll-to-roll printers built around its UVgel technology, a new UV-curable ink that instantly gels on contact with the media, resulting in a precisely positioned dot with minimal gain and virtually no satellites. It contains no water so it significantly reduces media swelling.
The UVgel printheads feature patented continuous nozzle monitoring using acoustic sampling to detect and correct any underperforming nozzles, allowing the machine to operate unattended.
Working with the attributes of UVgel, the Océ Colorado 1640 has been engineered, according to Canon, to the highest industry standards to meet the peak production requirements of businesses of all sizes, producing high volumes of wide format graphics within the short turnaround times demanded by clients.
At FESPA Africa 2017, Canon also unveiled the new 3-in-1 multifunctional inkjet printer for users to print, scan and copy at home. PIXMA TS3140 Series features Wi-Fi connectivity.
Other new ranges include three new cheque scanners to the Image Formula range, the Image Formula CR-150, Image Formula CR-120 and the Image Formula CR-120 UV.
The Image Formula CR-150 and Image Formula CR-120 series are, according to the company, capable of accurately scanning up to 12,000 cheques per day, with up to 150 or 120 cheques processed per minute respectively.
Interested in joining our community?
Enquire today about joining your local FESPA Association or FESPA Direct