Industry
Canon hails FESPA 2017 its most important ever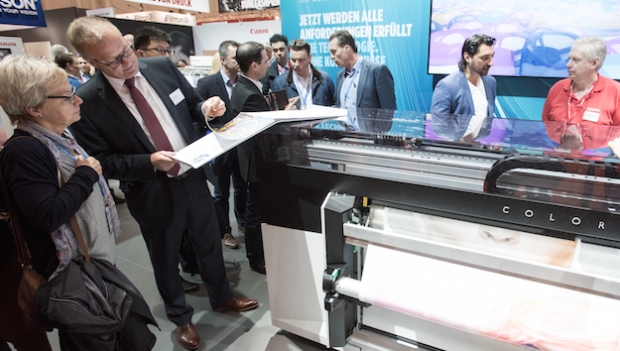 Canon is expecting 100 FESPA sales of the Océ Colorado 1640, its next-generation wide-format technology that has been handed its European debut at FESPA 2017.
The four-colour, roll-to-roll machine is the first to feature Canon's patented UVgel waterless ink technology and offers a top speed of 159sqm/hr and, according to Canon, cuts ink consumption by up to 40% compared with eco-solvent and latex printing.
While FESPA 2017 represents the commercial launch of the 1.64m-wide Colorado, with the first machines set to be shipped next month, following a series of small Canon customer events it has already secured 30 sales to customers in seven countries in the EMEA region, with France and Germany topping the sales charts.
"The response since we introduced the technology and, subsequently, the first product, has been absolutely fantastic," said Mark Lawn, director of Graphic & Communications Group, Canon Europe.
"This is a game-changing technology and this year is probably the most important Fespa we've ever done, and in terms of technology and product introduction the most significant in the past decade, since the Arizona was launched.
"I've been with Canon for 14 years and been responsible for introducing things like the imagePress and this is right up there, if not surpassing a machine like that."
Canon is showing two of the circa €55,000 (£47,000) Colorados on stand, one will be running hourly demos 'front of house' and another machine running by appointment only for private demos.
"We want people to be able to get up and close and personal with the technology, to truly understand what it enables and give them the opportunity to see what it can do for their business, for their application versatility and for their productivity," said Lawn.
While Canon is yet to unveil any other machines featuring the UVgel technology, Lawn hinted that come FESPA 2018 in Berlin more models with more features were likely to be on display.
"The fact of that matter is that we're not going to stop here, we're going to continuously innovate with the UVgel technology, because the platform is that flexible."
However, at this year's event it will show video demonstrations of a new high-flow vacuum technology for the Arizona 6100 flatbeds to open more packaging applications, including corrugated.
Also on its 515sqm booth Canon will be showing various machines from its Arizona, ColorWave, and imagePrograf wide-format portfolios running live as well as imagePress cutsheet devices.
"We want to inspire customers through an end-to-end communication campaign based on a beauty product to demonstrate the diversity of what printers can achieve with Canon technology," said Lawn.
Canon is one of the many leading brands that is exhibiting this week at FESPA 2017. The event is running from May 8-12 at the Hamburg Messe in Germany and there is still time to visit and see the latest developments in the global print market.
To find out more, about the many other companies exhibiting this week, as well as how you can attend the event, visit the official FESPA 2017 website: www.fespa2017.com
FESPA 2017 Stand-by-Stand Guides
Interested in joining our community?
Enquire today about joining your local FESPA Association or FESPA Direct