Features
What features should you look for in a large format RIP?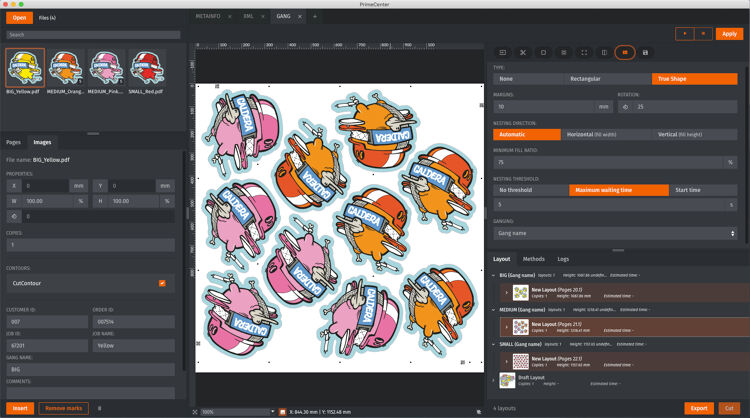 Nessan Cleary discusses how the range of features in any given large format RIP determines the overall productivity of the printer and what features usersshould look for in a large format RIP.
Every digital printer, whether it's a cheap desktop printer or a multi-million pound machine the size of a house, requires a RIP - or Raster Image Processor - to translate whatever is to be printed from a computer file to the precise dots that that particular printer is capable of producing onto a substrate. This is just as true for large format printing, but a modern large format RIP offers quite a lot more capability - some more so than others.
Many of the RIPs that are currently available will be based on Adobe's PDF Print Engine, guaranteeing a basic level of capability, such as the ability to open a wide range of file formats and to output printable PDFs. The latest version, APPE 5.5, features a Fine Line Rendering algorithm for sharper lines and more readable small text. However, in the last two years several wide format RIPS have appeared that are based on Global Graphics' Harlequin RIP, including Durst Workflow, Roland VersaWorks 6, Mutoh VerteLith and Mimaki RasterLink 7.
Many printer vendors sell their own RIP, often at little or no extra cost, and which can help differentiate one printer from another. In the past these RIPs have just been branded versions of third party RIPs but increasingly printer vendors are developing their own RIPs. However, you may find that they are limited to only running printers from that manufacturer so that you have to replace the RIP when you switch to a different hardware supplier.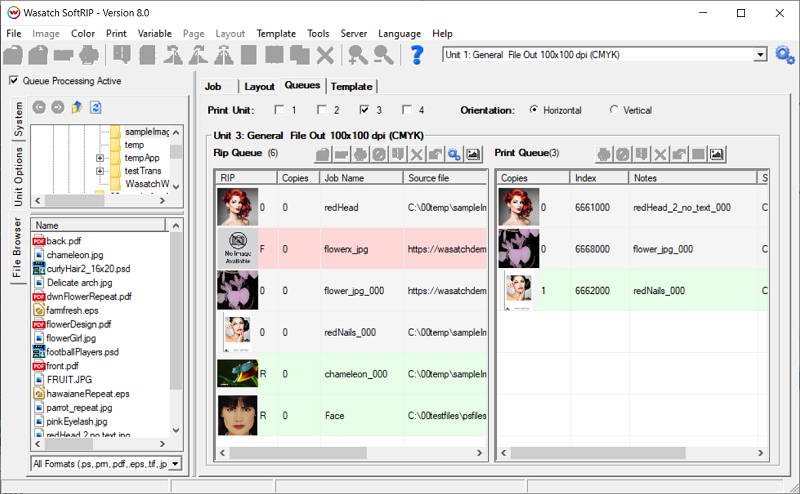 Caption: The Print Queue tab in the Wasatch 8.0 RIP allows users to prioritise the order of print jobs.
Those RIPs from dedicated software developers should offer a lot more features, which will help to future proof a business as it grows and takes on new devices. The other advantage of buying a RIP from a dedicated developer is that you only need to train printer operators on one type of software, to drive output to all the different printers and cutters. The caveat is that you may need to take out a separate subscription for the RIP in order to receive updates and new features.
Many RIP vendors will offer several versions of their software, such as a basic RIP for an entry level printer, an intermediate level for bigger, more productive printers, and a more expensive edition for running multiple printers, typically up to four machines. You'll need a reasonably powerful server to drive output to several printers, but it should allow you to balance the print jobs between all the printers.
There are certain functions that even the most basic RIP should be capable of, though some may be better than others, and offer more automation of different processes. This includes printing one job whilst RIP'ing the next, which is essential to maintaining productivity by keeping the printer actually printing and not waiting around for the next file. Equally it should be possible to prioritise jobs in the print queue, which could be to finish an urgent job, or in order to feed a constant flow of work to other processes such as a cutting table to prevent bottlenecks elsewhere in production. Also, it should be possible to archive each job, complete with all the settings used, so that you can quickly reprint the job later.
In addition, every RIP should be able to automatically gang different print jobs together and to nest them onto a sheet or roll to make the best use of the media with the minimum amount of waste. The RIP should also be able to automatically create crop marks, grommet holes and eyelets as well as cutting files that can be sent to a cutting table.
Every RIP will also offer a degree of colour management. At its most basic, this might mean the ability to read ICC profiles to determine the optimum amount of ink to lay down plus the curing or drying for any given media. The RIP should also come with a library of media profiles that can cover all the substrates you might want to use, and in some cases you will be able to edit those profiles - perhaps to get better results or to re-use a profile for a similar media.
More advanced systems will also allow you to create your own media profiles, which is handy if you want to use non-standard media. Such features typically support X-Rite's range of spectrophotometers so you should check for support if you are using a different brand such as the Barbieri LFP range.
It's even better if there's an option to optimise the ink usage, by tweaking the colour separations and saturation levels, which can lead to dramatic savings in ink costs. Another important aspect of colour management is the ability to convert spot colours, which is particularly useful for packaging and some retail POS applications.
Some RIP software will also include a degree of editing. This can be anything from making last minute changes or corrections to a file to save having to send it back to the customer, all the way up to full-blown design capability. The ability to design images using the printer software might be attractive to smaller print shops and RIPs such as SAi's FlexiSign cater to this market.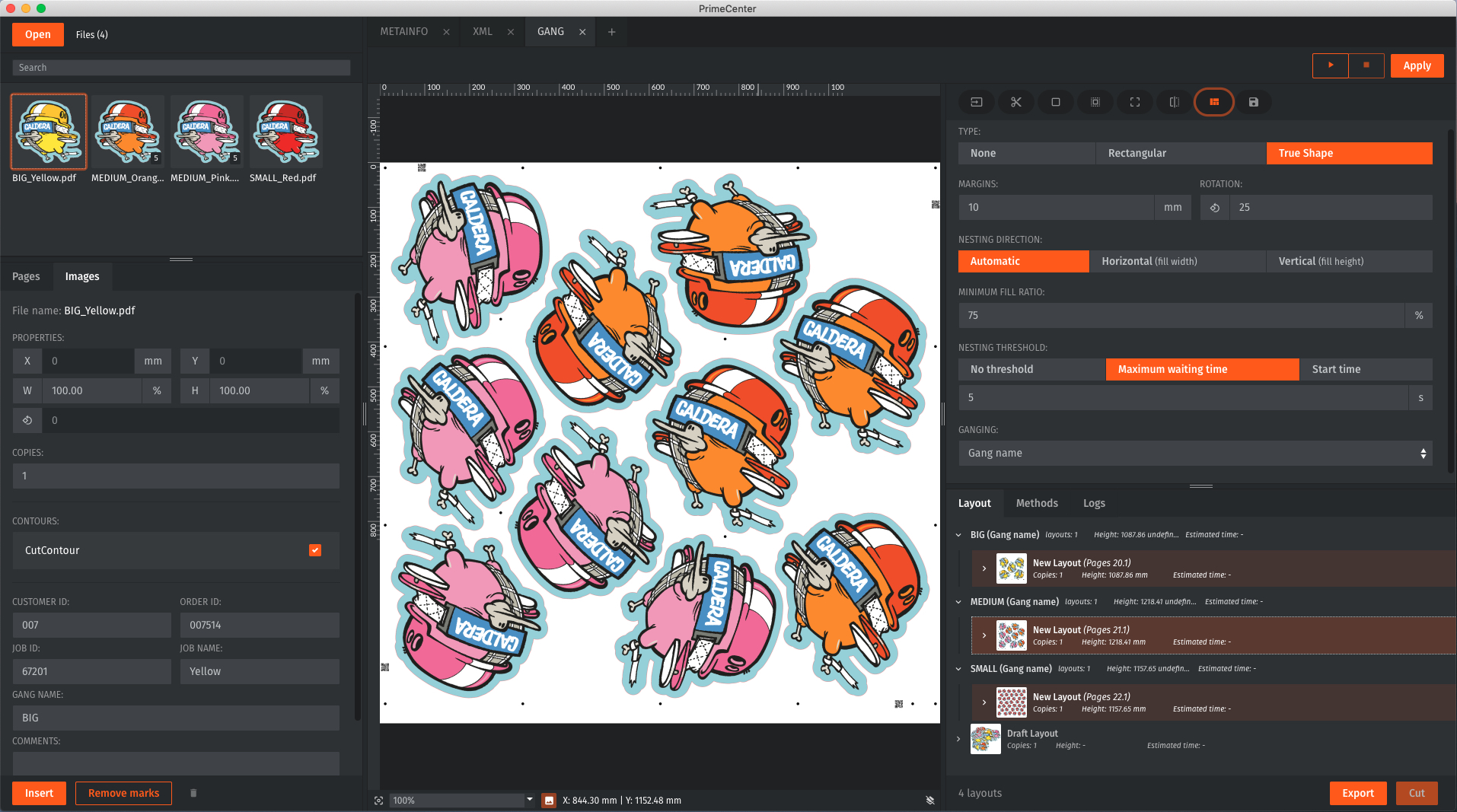 Caption: The ability to efficiently gang or nest multiple jobs on the same sheet should save money by minimising media wastage, as seen here in Caldera's PrimeCentre.
But this depends on just how much work you want to do at the RIP stage next to the printer. Many larger companies might be better off with a workflow that can split some functions away from the printer operator to a preprint studio so that the printer operator can concentrate on the actual printing. Most of the major RIP developers offer workflows rather than RIPs, such as Onyx Thrive and Caldera PrimeCenter, while Agfa has taken its Apogee prepress workflow and created a version specifically for large format users called Asanti. Equally, Esko's Automation Engine workflow, which was really designed for packaging, is also widely used to drive large format printers due to its CAD capabilities.
Of course, the other option is simply to build your own workflow by integrating different packages together. You could, for example, use a relatively basic RIP to drive each printer, with a dedicated imposition programs to take care of nesting, and separate programs for colour management, preflighting and so on.
In conclusion, the modern large format RIP is much more than just a RIP, no longer just software to drive a printer. Ultimately profit margin for most print shops depends on how many jobs you can produce, and the RIP software plays a large part in how quickly you can prepare those jobs and get them into the print queue, printed and on their way to finishing.

Interested in joining our community?
Enquire today about joining your local FESPA Association or FESPA Direct