Features
Top 20 Inspirational packaging designs of 2017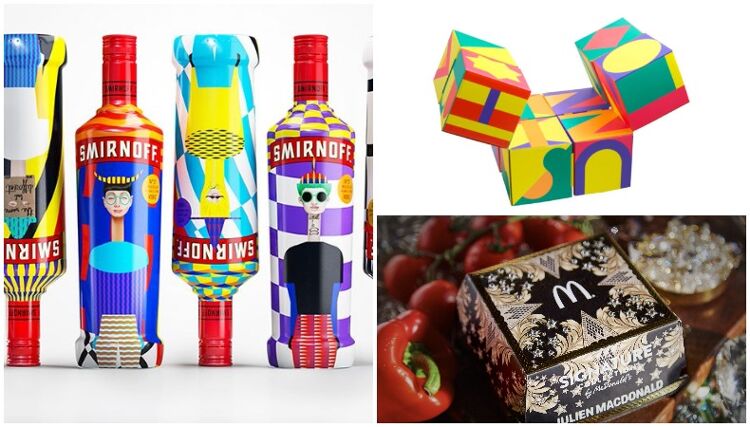 FESPA picks out some of the best examples of printed packaging work from the past 12 months.
Ask any retailer, brand or marketeer, and they will tell you that attracting the interest of a consumer in a shop is one of the most import considerations when coming up with a successful marketing strategy.
For some products, one of the most impactful ways of doing this is by creating packaging that helps the item in question stand out on the shelf. Be it a bottle of organic fruit juice, a new chocolate bar or even a box of cereal, packaging can go a long way to ensuring a product ends up in the consumer's shopping basket.
With this in mind, FESPA looks back over the last 12 months and highlights some of the best examples of printed packaging, where brands have stretched the boundaries to produce something special for the shelves.
1. LUSH packaging in action
Designer: BoxMart / Swanline Print
Description: Last year, BoxMart and Swanline Print picked up a UK Packaging Award for this special pack created for beauty retailer LUSH. The box starts out as a cube and can be continuously folded and refolded to turn into various shapes, before turning back into the original cube. To create the packaging, Swanline manufactured the cubes from recycled E-flute, printed them externally with neon colours and screen printed internally.
Picture courtesy of Converter Mag
2. Cheers to Beefeater's patriotic packaging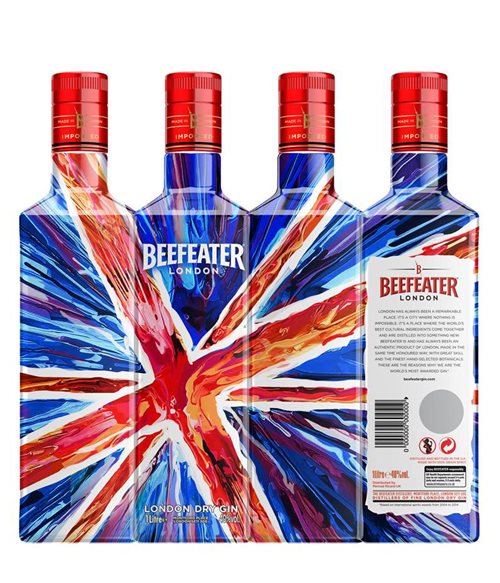 Designer: Pernod Ricard Travel Retail EMEA
Description: Beefeater unveiled this limited edition packaging for its famous London Dry Gin, featuring a design that draws inspiration from 'spin painting'. This technique sees artists uses a spinning platform to splatter paint across a canvas to create a colourful, unique image.
Picture courtesy of Pernod Ricard
3. Budweiser gets patriotic with summer design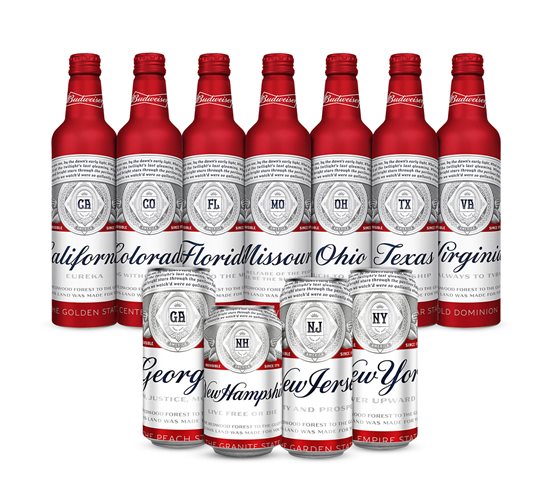 Designer: Anheuser-Busch / Budweiser
Description: Last summer, Budweiser unveiled special packaging dedicated to the US state in which the beer is brewed. A total of 12 states were featured on bottle labels and cans in a run from July through to September.
Picture courtesy of Anheuser-Busch
4. Walkers backs Leicester City in Champions League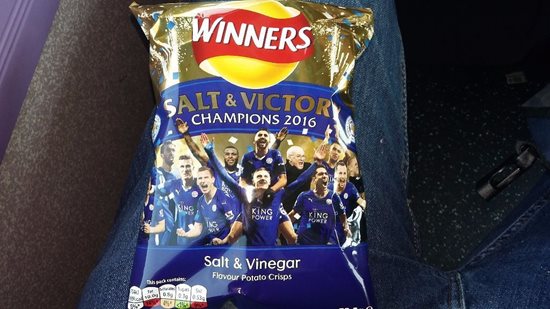 Designer: Walkers
Description: Leicester City took part in the Uefa Champions League for the first time in the 2016-17 season, after the club's heroics in the previous campaign saw it qualify by winning England's Premier League. Long-time sponsor Walkers opted to mark the occasion by renaming some of its most famous crisp flavours, changing the packaging along the way.
Picture courtesy of Gumtree
5. Damn, that's a list tasting beer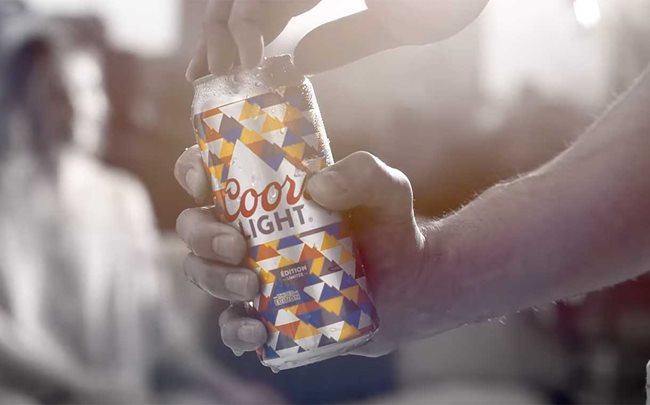 Designer: Molson Coors
Description: Famed for its colour-changing mountain icon that indicates when the beer inside the can is cold, Molson Coors took this innovation to the next level last year by developing a can that changes colour when exposed to sunlight. 'Photochromic' ink on the can is invisible until exposed to UV rays, revealing a colourful design on top of the classic grey and blue Coors colouring.
Picture courtesy of Foodbev.com
6. Beanz Means half-century for Heinz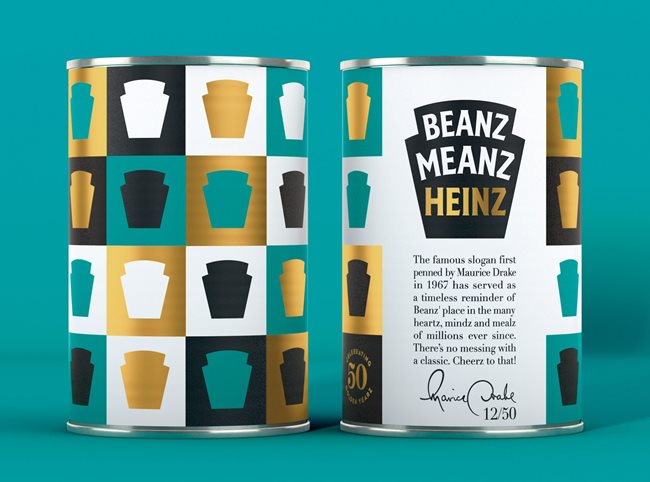 Designer: Heinz / Selfridges / Jones Knowles Ritchie
Description: Heinz joined forces with Selfridges and the Jones Knowles Ritchie design agency to create this limited edition packaging to celebrate the 50th anniversary of its famous 'Beanz Meanz Heinz' slogan. The launch included a pop-up café and window display at Selfridges in London, with all proceeds going to the Ideas Foundation charity.
Picture courtesy of Heinz
7. Take me out to the ball game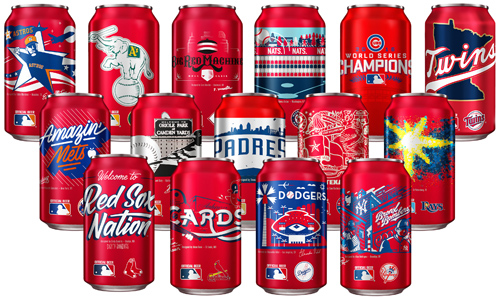 Designer: Various artists
Description: North America's Major League Baseball joined forces with sponsor Budweiser to create a limited edition series of cans to mark the opening of the new season. Budweiser enlisted the help of a number of local artists to help with the design of the cans.
Picture courtesy of AdWeek
8. Smart thinking, smart drinking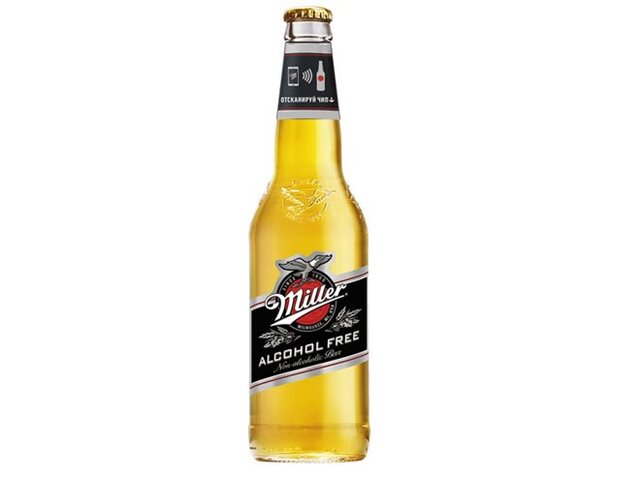 Designer: CCL Kontur
Description: CCL Kontur set a world-first by developing a bottle featuring a label with NFC tags. Produced for the Miller Alcohol Free brand in Russia, consumers could scan the bottle with their mobile device using the Shazam application to access the Miller.ru. Here, their faces would be scanned through the phone, with a playlist of music then altered to match their mood – determined by their facial expressions.
According to Packaging Europe, labels were printed on super clear material with flexo printing technology combined with cold foil stamping, while pre-programmed tags were integrated into the printed label reels prior to die-cutting.
Picture courtesy of CCL Kontur
9. Celebrate PyeongChang 2018 with Coca-Cola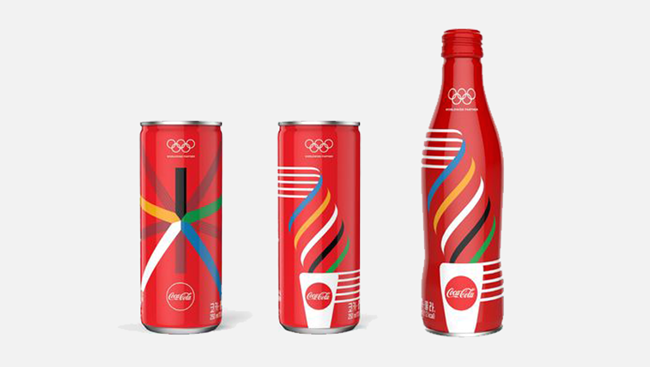 Designer: Coca-Cola
Description: Ahead of the 2018 winter Olympic Games in PyeongChang, South Korea, soft drinks giant Coca-Cola launched a limited edition range of special aluminium bottles. Each of the bottles feature an Olympic-themed design to celebrate the Games, which will take place from February 9-25.
Picture courtesy of Alubottle
10. Dumle encourages interaction with personal approach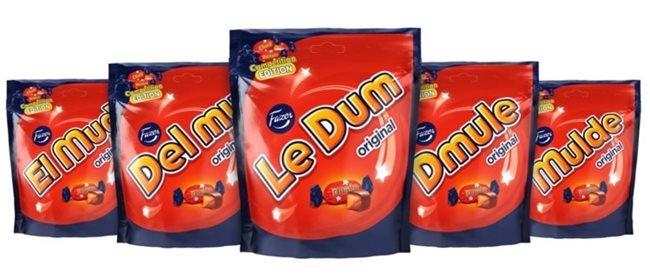 Designer: Dumle
Description: Dumle took an alternative approach to personalised packaging last year by creating five main packets featuring alternative names for its product, made by swapping around the letters of Dumle. Then, once inside the main bag, the packaged sweets inside featured over 300 words, which allowed consumers to create phrases, haiku poems, phases and word games.
Picture courtesy of Dumle
11. Play with your food at KFC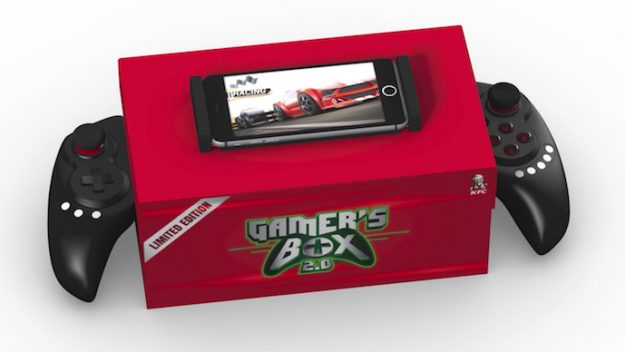 Designer: KFC/Mountain Dew
Description: Fast food giant KFC encouraged its customers to get interactive with packaging by launching Gamer's Box 2.0. The limited edition packaging featured a smartphone mount and two halves of a game pad. KFC worked in partnership with Mountain Dew to develop the innovative packaging.
Picture courtesy of KFC
12. Orangina shakes thing up with upside down cans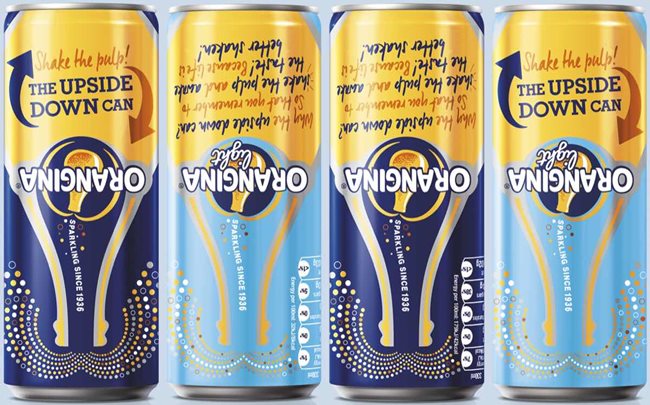 Designer: Lucozade Ribena Suntory
Description: Soft drinks brand Orangina issued a subtle reminder to customers to mix their beverage before drinking it in order to enjoy its full taste. Cans were printed upside down, encouraging consumers to turn the drink over (while still closed!) and begin the process of mixing the orange pulp inside.
Picture courtesy of Foodbev.com
13. Stand under Mondi's umbrella with Spashbag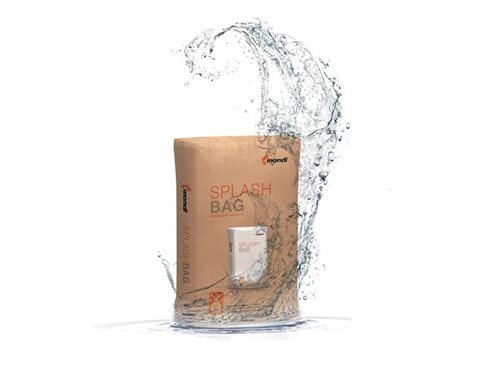 Designer: Mondi
Description: Mondi built on the success of its Splashbag product by launching an updated version that triples its rain resistance to up to six hours. Splashbag, which features an outer ply of Mondi Advantage Protect sack kraft paper, also prevents moisture ingress for up to five days, offering a flexible solution to both retailers and consumers.
Picture courtesy of Mondi
14. HP toasts to successful packaging trial
Designer: Yarza Twins
Description: Last year, HP joined with designers the Yarza Twins and Smirnoff to launch the beta programme of HP SmartStream Designer for Designers, a suite of design solutions that enable designers to randomise and personalise packaging. In response to the brief 'Every one the same. Every one different', the Yarza Twins used the software to create individualised packaging for Smirnoff.
Picture courtesy of HP
15. Designer burgers?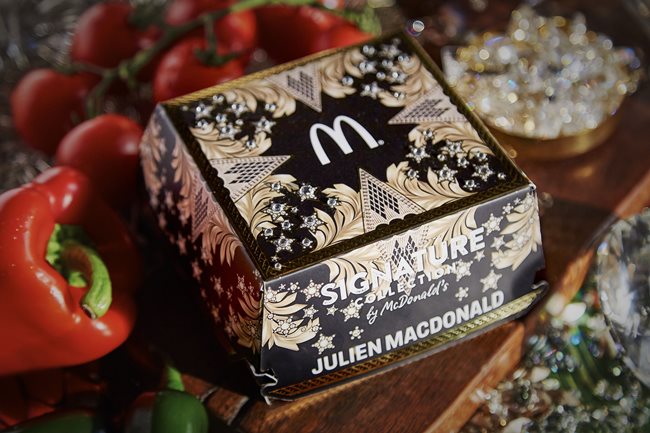 Designer: Julien Macdonald / McDonald's UK
Description: This unusual pairing saw fashion designer Julien Macdonald link up with fast food chain McDonald's UK to produce a luxury, limited edition box for the company's famous burgers. The black, gold and silver box had a print run of just 1,000 boxes and was used to promote the new Signature Collection of gourmet burgers at McDonald's.
Picture courtesy of McDonald's
16. Sustainable focus for Parkside Flexibles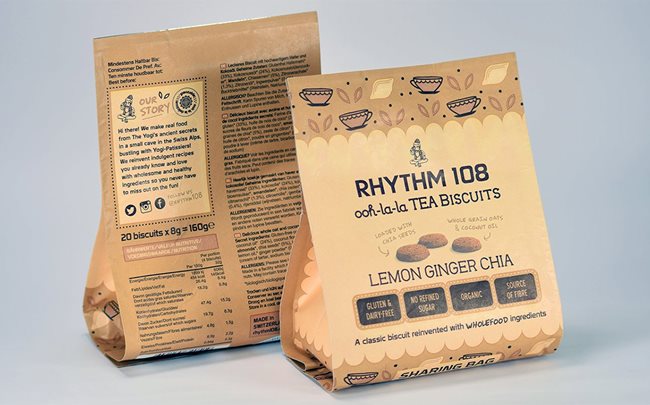 Designer: Parkside Flexible / Rhythm 108
Description: With many brands focused on the impact their packaging has on the environment, Parkside Flexibles came up with a unique way of helping to ensure sustainability. Working in partnership with Rhythm 108, the company developed a sharing bag manufactured from eucalyptus trees. The bags can be printed with colourful and creative designs.
Picture courtesy of Foodbev.com
17. Sugar…oh honey honey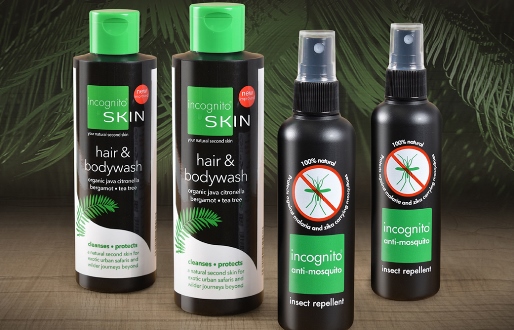 Designer: Spectra
Description: Another entry in the environmentally friendly category, Spectra came up with this packaging made from biopolymer, which uses ethanol from sugarcane waste. The biopolymer replaces oil-based HDPE, which benefits from 96% renewable raw materials and can be recycled with normal HDPE.
Picture courtesy of Spectra
18. Masking bottles with classy designs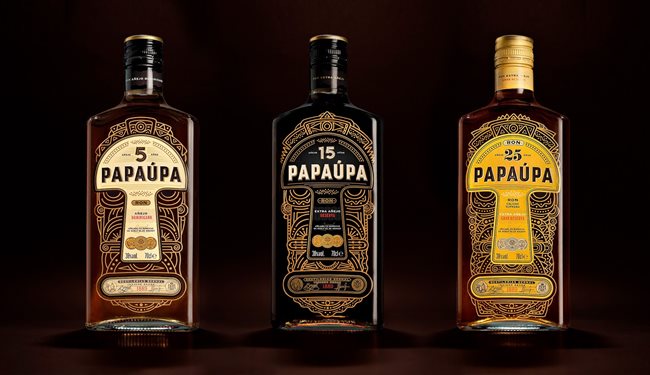 Designer: Estudio Maba
Description: Estudio Maba came up with this creative design for Dominican rum brand Papaúpa. The design features organic strokes that form a totem-like mask, celebrating the rich history of the Dominican Republic.
Picture courtesy of Estudio Maba
19. Maximising shelf presence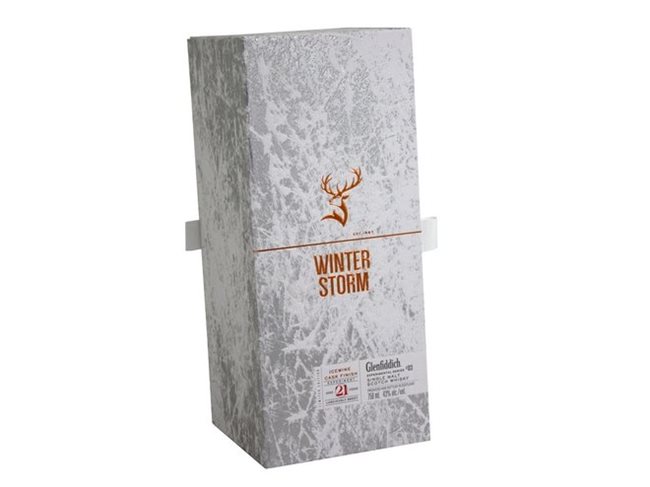 Designer: Glenfiddich
Description: Glenfiddich came up with this stylish packaging for Winter Storm, one of the products in its Experimental Series of new whiskies. The snowflake effect was achieved using litho print on white matt uncoated paper and silver hot foil stamping, according to Packaging Europe. This was followed by an all-over emboss and bronze fluting to highlight the name and logo.
Picture courtesy of Glenfiddich
20. I want to play a game…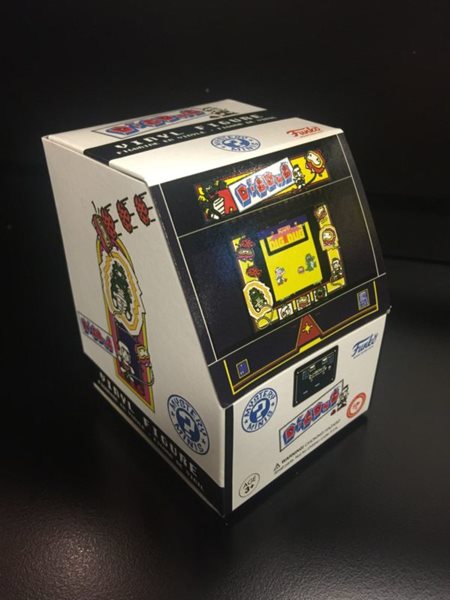 Designer: Funko
Description: Packaging is usually designed to show consumers what is inside, but it seems the element of mystery can work just as well. This Funko Mystery Minibox takes the form of a classic arcade game, while at the same time disguising what toy is on the inside.
Picture courtesy of BleedingCool.com
---
Discover the opportunities for inkjet in packaging at FESPA Global Print Expo
From the examples featured here, its is easy to see how much innovation there is in the modern print packaging sector, as well as the potential for growth in this market. Much of this creativity would not be possible without the use of specialist printing techniques during the production process.
FESPA will be paying tribute to this contribution at FESPA global print expo this year, which runs from May 15-18 in Berlin, Germany. One of the main attractions at the event will be the dedicated 'Digital Print for Corrugated Packaging and Display Feature', where visitors will be able to learn more about the opportunities for print companies in the digital corrugated packaging market.
Taking place alongside the main exhibition, the event will see experts in corrugated packaging offer visitors an insight into the role print has to play in this sector, as well as advice on how they can be successful in this market.
To register for the event, view an up-to-date floorplan and find out more about the various special features that will run at FESPA 2018, click here to visit the event's official website.
Need more inspiration? Have a look at the Top 20 Printed Packaging in 2016
Interested in joining our community?
Enquire today about joining your local FESPA Association or FESPA Direct