Features
Realising the value of going green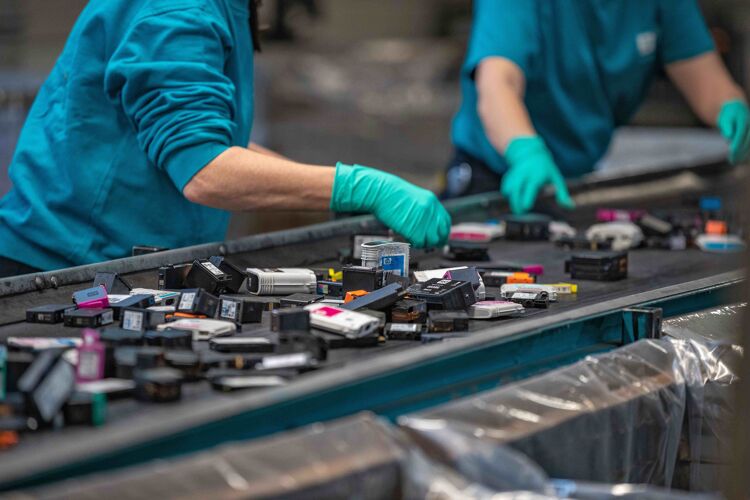 With a rising amount of printers moving to a more environmentally friendly way of working, FESPA.com looks at some of the major benefits of going green and how these can help businesses improve.
'Sustainable', 'green-minded' and 'eco friendly' are some of the key buzzwords that have become commonplace in the industry in recent years, as the issue of protecting the environment has become increasingly important for companies active in the print industry.

Of course, being kind to the environment and painting yourself in a new, greener light is certainly an attractive prospect when it comes to bringing in new work from those customers that place a huge amount of importance on their printed work being sustainable.

However, when taking a close look at this subject, it becomes clear that there are more benefits to 'going green' than the obvious points. Here, FESPA.com speaks with some of the manufacturers and suppliers committed to providing greener materials, and finds out more about some of the latest solutions on the market.
Rising demand for greener products
One of the most diversified suppliers active in the print market is Drytac, which specialises in adhesive-coated products such as graphic films, window films, double-sided tapes, self-adhesive print media, label stock, industrial adhesives, and heat-activated and pressure-sensitive laminates and mounting adhesives.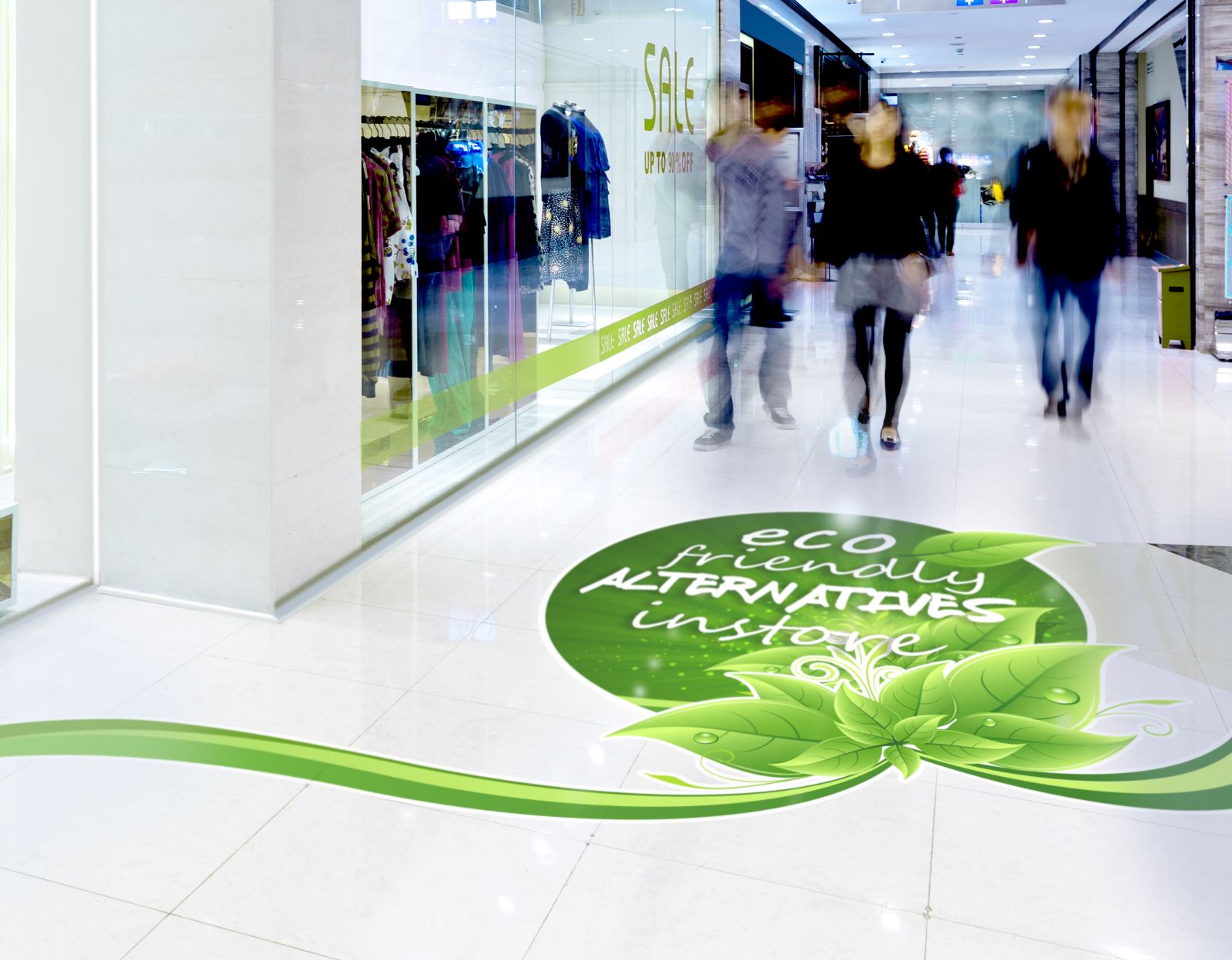 Caption: Drytac is rolling out a range of PVC-free solutions, including alternatives using its flagship adhesives.

Shaun Holdom, global product manager at Drytac, says that as the print industry is a part of a global community, it has an important part to play in looking after the planet and its resources.

"Every print business should be looking at ways to reduce energy consumption, move away from using toxic substances and recycle where possible," Holdom said. "Meanwhile, customers for print are also going to look towards using environmentally friendlier products where possible.

"While in the past higher prices for these products have sometimes caused barriers commercially, there is now a greater choice which can offer viable alternatives to explore – and there is a larger customer demand for them."

Holdom goes on to outline the importance of education in terms of going green in print, saying there is a lot of incorrect information about printed products, which is misleading print consumers and end users.

"Everyone needs to be armed with the right information so they can understand the impact of the product they decide to use," Holdom said. "Another big issue – and this is not unique to printing – is the technology and infrastructure around recycling.

"Although most products can be recycled in their purest state, once they have a process applied it becomes more difficult. For example, PVC can actually be recycled without an issue; the problem comes when the different types of PVC (monomeric, polymeric and cast) are mixed. A ton of monomeric PVC can be recycled but once it is mixed with other PVC types it becomes effectively worthless."

Drytac is one of the leading voices in promoting printing as an environmentally friendly industry, and has a whole range of products on offer so support this. It is currently rolling out a selection of PVC-free solutions, including alternatives using its flagship adhesives.

These include Drytac SpotOn Syntac, a polypropylene-based alternative to PVC that utilises uses its SpotOn water-based easy-apply adhesive technology.

"SpotOn Syntac can be used as standard printable material for most applications – compatible with all devices including aqueous-based inkjet printers – or paired with our Interlam EcoTex polypropylene textured laminate to create a unique printable slip-rated product," Holdom said.

"Also over the summer, as a direct response to market demands for flooring, we launched Polar Floor PET 170, a slip-rated, single-part textured printable material which uses a base film with 40% recycled polyester in its construction. Following these launches in coming months will be PVC-free versions of our popular Polar Grip and ReTac products."
Keeping your sustainable focus
Also well placed to offer green guidance and solutions is Antalis, which recently launched its new 'Future Focus' promotion, designed to reward customers and support their businesses and environmental goals through the rest of 2020, and beyond.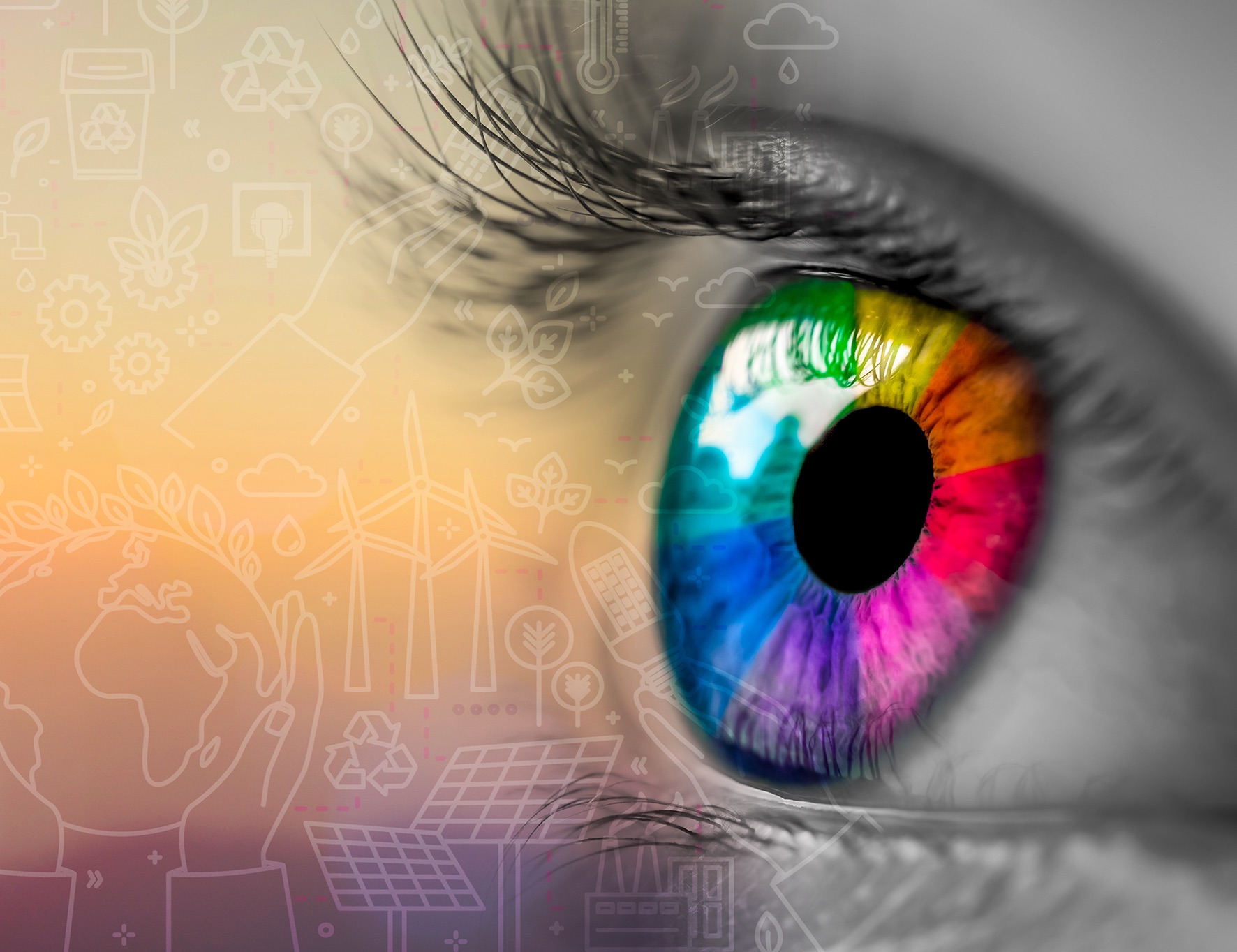 Caption: Running from September 1 to November 30, the Antalis 'Future Focus' promotion has been designed to reward its customers and support their businesses and environmental goals.

Running from September 1 to November 30, the promotion will allocate points to customers on all of their Antalis purchases, while additional points can be achieved when purchasing specific product lines and carbon offsetting materials or through online trading.

Companies that accumulate the most points by the end of the period will be in with a chance of winning a number of green-minded prizes, including an electric van, carbon offsetting their business for a year, or offsetting all their Antalis purchases.

Bruce Munro, commercial director for papers and visual communications at Antalis UK, said getting involved with schemes such as Future Focus, and enhancing your green image in the process, offers a number of benefits – especially in the current climate.

Munro said: "It's easy to lose focus on this when you're trying to simply get stuff out of the door or keep a business running, but with UK government packaging waste targets coupled ongoing concerns about the impact of packaging, particularly single-use packaging, it's important that businesses continue to give it the attention it deserves.

"We all have a role to play when it comes to the environment, and clients will want to know that their suppliers have considered all aspects or their impact on the environment as well as how suppliers can assist them in achieving their own sustainable goals.

"It is important to make sure that you are ready for the environmental challenges ahead and are working with credible and likeminded partners."

Building on this, Munro said that since January of this year, all products available from Antalis are now eligible to be carbon offset, which means manufacturing carbon emissions can be offset by supporting forest preservation and woodland creation programmes. All products in the creative papers portfolio have already been carbon balanced via the World Land Trust.

Antalis also continues to work with manufacturers to source effective packaging products using fewer single use plastics and other non-recyclable materials.

The company is certified to the international standards for Energy (ISO:50001) and Environmental Management (ISO:14001), and also continues to reduce its environmental impact through the energy savings reported via ESOS and shall report to the new Streamlined Energy Carbon Reporting (SECR) in 2021.

Munro added: "We continue to work with our supply chain to bring sustainable solutions to market."
Great for the bottom line and customer engagement
Aside from consumables and materials, print companies can also improve their green image by ensuring the kit they are running meets certain standards. HP is one of many leading manufacturers that places great important on developing new solutions with environmentally friendly features.

Colin Easton, large-format printing channel team lead at HP UK, said that for the company, sustainability is core to its vision of making life better for everyone.

"The word 'sustainability' refers as much to business longevity as it does to environmental impact – the businesses who will survive challenging periods are the ones who consider both the present and the future," Easton said.

"Reducing waste and energy consumption are great for the bottom line, but also for customer engagement.

The public is demanding more ecological products and services, and research has found the majority of printers have altered their business strategy accordingly.

"A significant proportion said they have invested in kit that is environmentally certified or energy efficient and most have made investments without raising prices. Print businesses who haven't taken such measures run the risk of losing work to competitors who have."

With this in mind, Easton drew attention to some of HP's latest solutions, such as the three new product ranges that launch this month – the HP DesignJet T200, T600 and Studio series.

All three are made with a high proportion of recycled plastic – up to 30% – and are designed to be more sustainable across their entire lifecycle than other comparable products.

As well as emitting up to 7.3 tons less carbon a year than comparable large-format printers, the solutions use up to 95% less ink for routine maintenance and work with free, convenient HP ink cartridges, which are recyclable through the HP Planet Partners programme.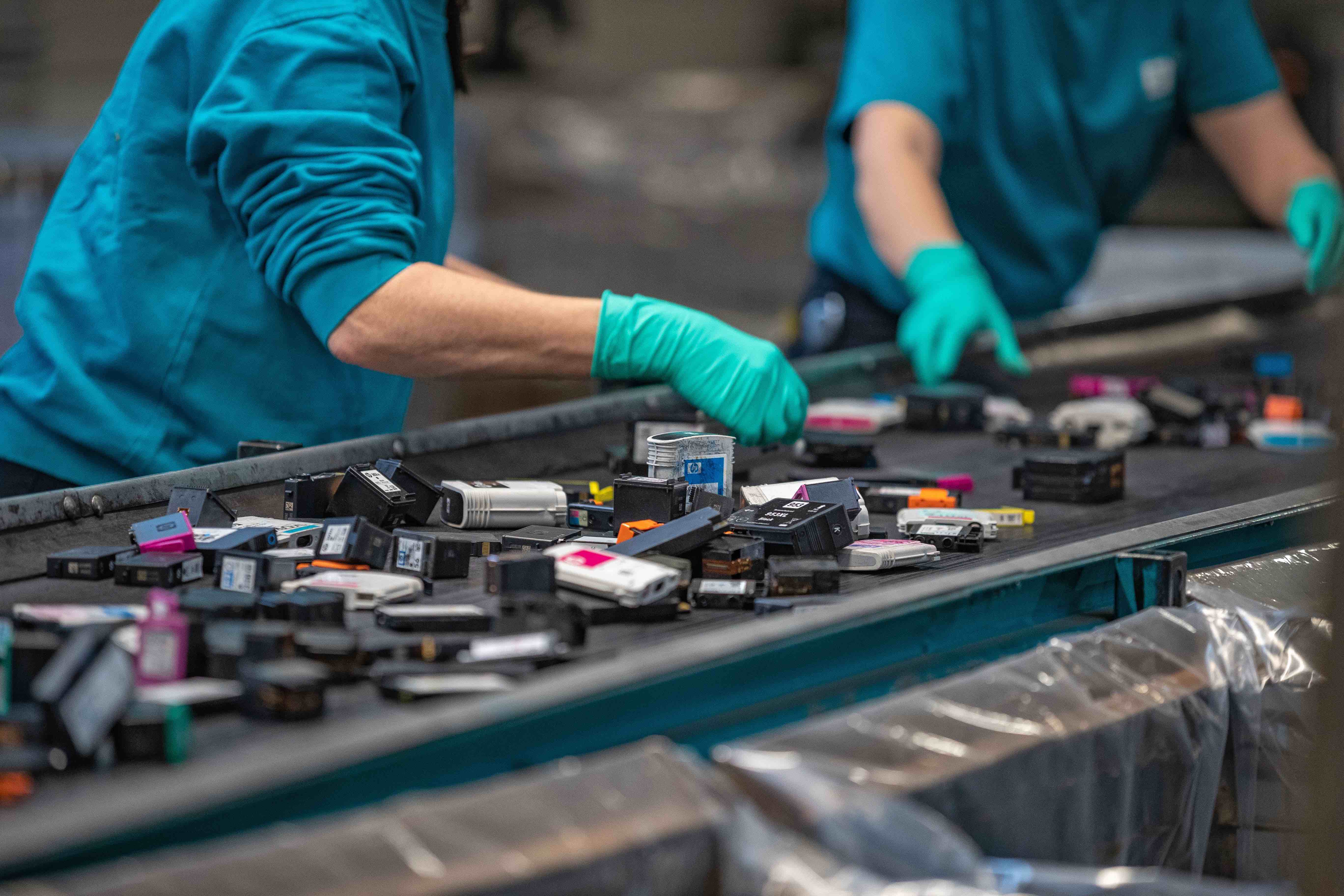 Caption: HP's Planet Partners programme allows customers to recycle their used ink cartridge.

"All of these printing solutions combine superior sustainable credentials with outstanding results," Easton said. "Not reacting to the needs of our changing planet as an industry and a society, however, presents the ultimate danger."

Easton's closing comments offer an effective conclusion to the discussion; if you are not focusing on improving your environmental credentials, then you may be seen as being part of the problem and painting yourself in a bad life. However, if you are to boost your green image, not only will you be looked on favourably by customers, but also ensure you are doing your part to protect the world around us.
Interested in joining our community?
Enquire today about joining your local FESPA Association or FESPA Direct