Features
New and exciting products from FESPA Global Print Expo 2022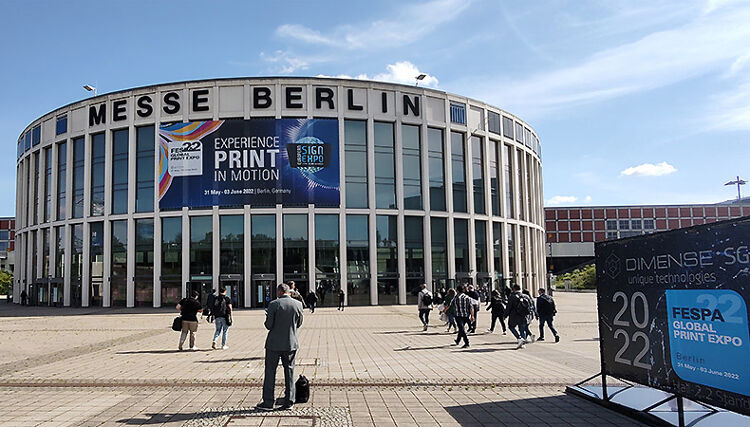 FESPA Global Print Expo 2022 in Berlin that took place from 31st May – 3rd June. The exhibition showcased a number of impressive new products to boost digital printing productivity.
Following on from the successful FESPA Global Print Expo 2022, how to boost productivity in the digital printing sector is a fundamental question. With growing costs and a significant shortage of skilled labour, it's an important, ongoing topic. Let's investigate some suggestions from hardware and software manufacturers.

"It's not just about software and hardware but how the components work together to boost productivity." said Dr. Thomas König, CEO of Typico GmbH from Austria. Dr. Thomas König attended the Berlin show to investigate new products and solutions. "While our company made it through the pandemic, restarting normal operations has been more challenging than expected, as many skilled staff have left the industry. Automation and a streamlined workflow have helped us to boost our productivity."

Dr. König emphasized that hardware or software no longer makes much difference. An ecosystem where both work together and form a digital workflow from the point of receiving customer data, right up to shipping is necessary.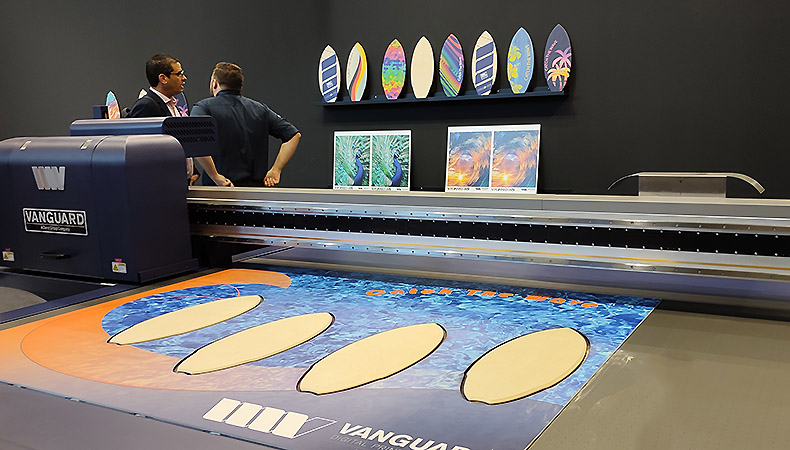 Caption: Two flatbed printers from the Durst Vanguard's product line were introduced at FESPA Global Print Expo 2022. The VR6D-HS and VK300D-HS covers the mid-range performance spectrum at an attractive price/performance ratio. Image credit: S. Angerer
Productivity boost through Integration

The exhibition's Platinum Sponsor, Durst Group showcased their "Production Excellence" initiative. A new P5 500 LED roll-to-roll printer with a printing width of 5,20 m was introduced as well as the new Durst P5 Double 4 options for new and existing customer. This pushes the envelope in terms of productivity, as it doubles output on the P5 350/HS and P5 210/HS with a second CMYK print head row.

"With the Durst P5 500, Durst once again demonstrates its full focus on the reliability of its own printing systems for unattended production processes. With the integration of Durst Workflow Software and the introduction of new functionalities, we are also achieving a significant increase in efficiency," said Andrea Riccardi, Head of Product Management, Durst Group.

With Production Excellence, Durst pursues a holistic solution to make the production cycle as efficient as possible, from pixel output. Durst's printing systems combined with Durst software gets the maximum out of any printing production.

Gold Sponsor, Brother introduced their new Myze Textile Printing Solution. It has been developed for Direct-to-Garment (DTG) printing, emulating a retail kiosk solution for the entire process from design to the finished T-Shirt with no additional software required. This offers an increase in productivity for printers with a main focus on B2C garment printing.
Productivity and versatility for SMBs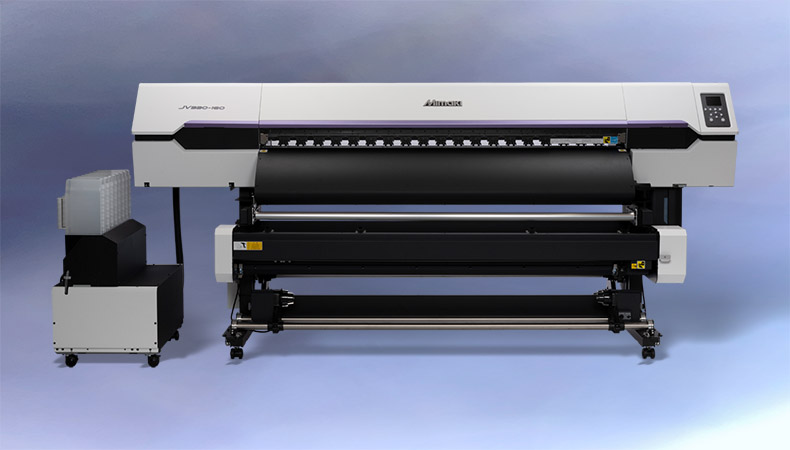 CAPTION: The new Mimaki CJV330-160 eco-solvent inkjet printers feature productivity-boosting features like the new media changer that allows three rolls of media to be loaded simultaneously. Image credit: Mimaki

Following the success of FESPA Global Print 2021, this was the first major European trade show for Mimaki after COVID-19, Mimaki returned as a gold sponsor to FESPA Global Print Expo 2022. At their stand, there were 2 new productive eco-solvent inkjet printers, the JV330-160 and CJV330-160. They have innovative features such as the new media changer that allows 3 rolls of media to be loaded simultaneously, and the XY slitter, which provides in-line X-axis and Y-axis sheet-fed cutting.

"Our strategy to provides customers with versatile, productive yet cost-effective printers have been tremendously successful" said Arjen Evertse, General Manager Sales EMEA at Mimaki Europe B.V. "In the 2021 financial year we sold more units than in the last pre-pandemic year 2019. With our large engineering team and decades of experience in digital printing we strive to offer our customers productive, effective, and reliable machines for Sign Graphics, textile printing and 3D printing. We experienced another huge increase in machines sales in the industrial inkjet segment, where we are often approached from well-known companies across important industries. Digital printing helps them to produce smaller, high value personalised or regionalized items with ease and speed."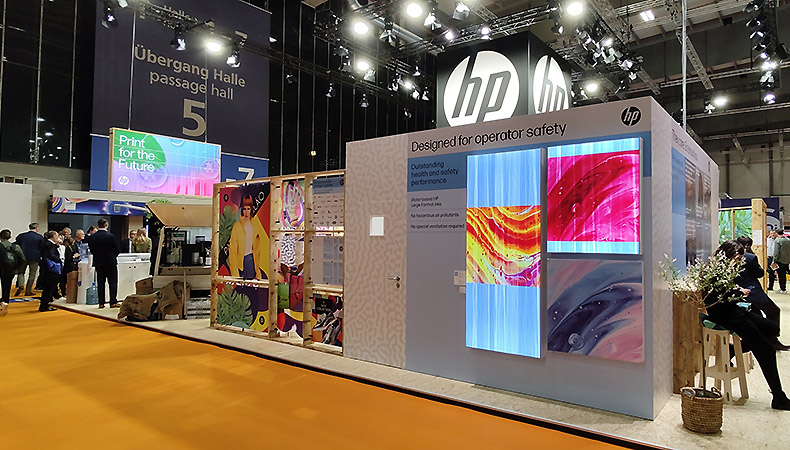 CAPTION: HP´s stand at FESPA Global Print Expo 2022. Sustainability and productivity was a key focus at their Hall 25 booth. Image credit: S. Angerer
Productivity and Environment
Another sponsor of the exhibition was Gold Sponsor HP who focused on sustainability on their stand. They showcased their highly productive Latex and Pagewide XL product range and HP Designjet solutions. Keeping with the "Print for the future" theme of the exhibition, a wide range of topics in modern print production were covered. Daily presentations from experts on topics such as circular economy and supply chain management encouraged thousands of visitors, a testament to printers looking for solutions to boost productivity but keeping sustainability in workflows. Combining hardware, software and finishing options on digital printing powerhouse.

Interested in joining our community?
Enquire today about joining your local FESPA Association or FESPA Direct