Features
Let´s get clean: Maintenance in the Printing Industry
Ensuring equipment is clean is an important part of any printer´s daily routine. Doing so ensured that the both your business's investments and the environment are protected.
Cleaning swipers and removing dust is not everyone's favourite task, especially after a long shift. Today, equipment is relatively low maintenance. In the past, early generations of solvent printers required up to 90 minutes of daily cleaning to operate reliably.

Today, most printers do automate regular cleaning cycles. Depending on the ink technology, it is still advisable to set aside time for manual inkjet maintenance, especially after an extended period of little or no use.

With all ink technologies, there are 3 main reasons for nozzle clogging, which is the most common reason for machine failure:
ink solvent evaporation
sedimentation
dust
Whilst most modern printers have intelligent compensation software to ensure a few clogged nozzles don´t ruin a print job, it is important to remember that manufacturers did not design this as a long-term solution. A clogged printhead needs to be recovered or replaced soon, which in most cases turns out be costly and/or labour intense. That is, not even considering any problems related to printer downtime in general.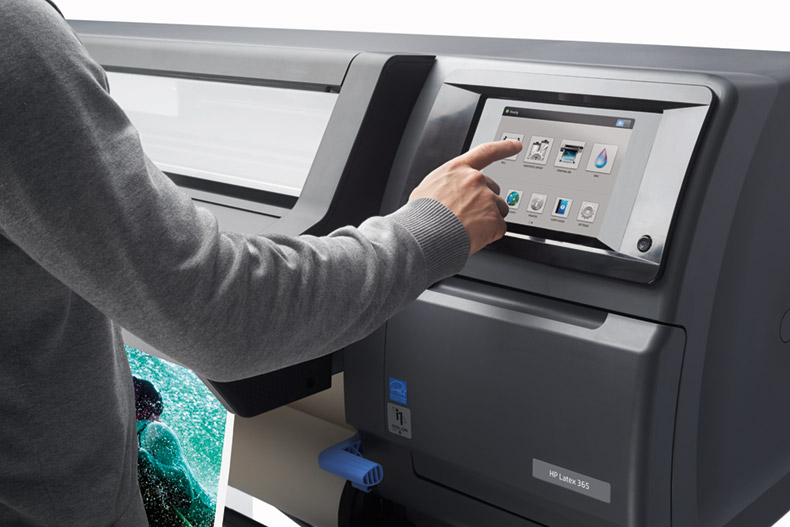 Caption: Most printers today have very efficient self-cleaning options. (In picture: HP Latex 365). Image credit: HP
Keeping Your Printer in Shape
When a printer is not working correctly this leads to workflow disruption, delays, overtime working and potentially unhappy customers. Thankfully, there are some easy steps to minimise chances for printer downtime:

Regular cleaning cycles (yes, even when you're on holiday)
Follow instructions from your printer´s manual about suggested cleaning cycles. If this is not possible (e.g. while on holiday) make sure a reliable person has a regular suggested maintenance routine.
Maintaining stable environment conditions
The section most overlooked in any printer´s data sheet is the one giving the suggested environmental conditions. Especially the corridor for temperature and humidity is quite narrow with inkjet printers, and, while most of the time not immediately damaging, straying from it will affect reliability.
Monitoring ink shelf life
While most people are aware that inks have shelf lives, they will find it hard to track this during busy working days. Old ink will disintegrate and or sediment. It is prone to clog or damage nozzles. Also, no amount of cleaning can help once a disintegrated ink has run through a printing system. Checking dates on delivery and setting automated notifications helps to monitor on shelf lives.
Investing in good ink quality
Especially in busy offices and factories, the using high amounts of ink can be expensive. Poor ink quality may lead to extensive damage in a printer. While there certainly are cost-efficient high-quality third-party ink options, a cheap no-name solution could ruin your printer despite your best cleaning efforts.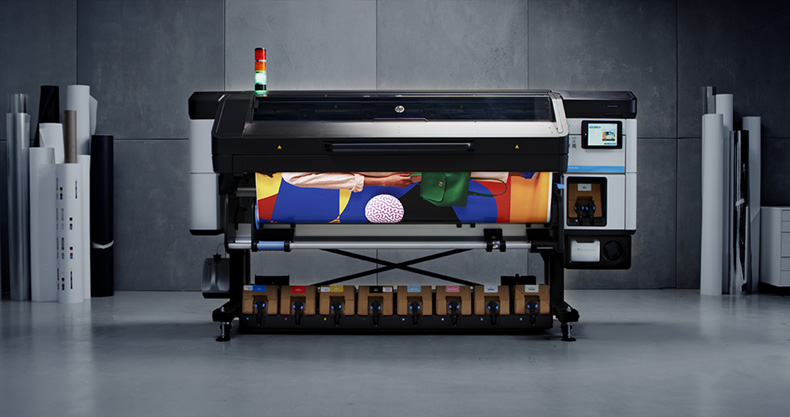 Caption: Environmentally friendly cardboard cartridges with HP Latex 800w. Image credit: HP
Cleaning to Help Protect the Environment
Printing involves the use of chemicals, many of which are potentially dangerous to personal health and the environment. Analogue printing usually requires lots of cleaning fluids, usually solvents. Therefore, most Central European screen-printers have chemical management and recovery systems in place. In several countries, for decades it has been mandatory to have this system in place.

However, in the inkjet printing industry dedicated chemical waste management plans are quite rare, even amongst larger printers. Regulators often ignore this, in some cities in Germany it was legal to dispose of an industrial inkjet cartridge in the household waste bin for years.

Often printers flush their nozzles with regular printing ink during an automated cleaning cycle. It should be part of a regime to help protect the environment to ensure that ink cartridges and bottles are properly disposed of. Many manufacturers have collecting systems in place. More recently, companies like HP have replaced plastic cartridges with bags protected with a cardboard box, so the amounts of synthetic materials needed for disposal decreases.

Cleaning fluids, unless in cartridges, are usually not part of a manufacturer´s collecting scheme. This is the same for any wipes and cloth stained with cleaning fluids. These usually contain large amounts of solvents. Evaporating solvents are not only an environmental health and safety problem, but, depending on the exact type, also a fire or combustion hazard. Collecting them in closed, fire-retardant boxes for special treatment disposal should therefore be part of any responsible cleaning regime. In addition, any filters replaced while maintaining a printer must go to hazardous waste, as it contains many potentially dangerous chemicals.
Investment Protection and Investing into the Future
Keeping a printer clean helps to protect the investment, as the machine will most likely live longer and retain a better re-sale value. Ensuring machines last longer through a strict cleaning regime does help in reducing carbon footprint.

Even smaller printers use many valuable resources, as it requires numerous high-tech materials to build them. Being able to use them much longer significantly reduces the amounts of printers produced per year, thus saving resources for later generations.
It is evident that cleaning a printer can be time consuming, but a regular cleaning regime is also a very valuable opportunity to positively impact the environment. Therefore, isn't it worth it even if it is a little inconvenient?
Interested in joining our community?
Enquire today about joining your local FESPA Association or FESPA Direct