Features
How to print sustainably and protect the environment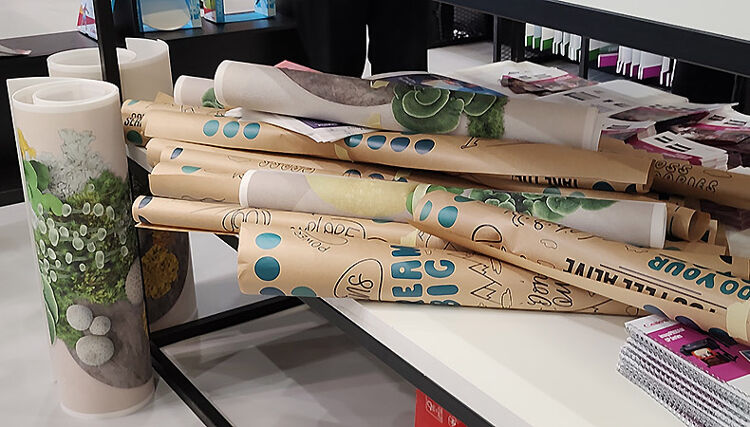 Sustainability is a key factor when it comes to making new products. This also applicable to print products, but what does this mean for printers? Sonja Angerer discusses how printers can adapt to the new sustainable market?
The economic situation and the growing trend towards online shopping has affected the digital printing industry. Posters and any of the sort of wide format printing are rarely seen in many cities.

In addition, the consciousness on carbon footprint and sustainability has also impacted these ongoing changes. In 2016, as per the Federal Ministry for the Environment, Nature Conservation, Nuclear Safety and Consumer Protection, 250 kilogrammes of paper and cardboard were consumed in Germany per capita. Nearly 90% of this was created by graphic and office applications and packaging printing. This excludes the common plastic and textile printing substrates.

Consumers, particularly younger consumers, are less willing to buy into the wide format printing industry. The printing industry has had to urgently act and actively demonstrate that they can print more sustainably, protect the environment and remain relevant to their customers.

This article looks at 3 issues that printers can address so that they can print more sustainably:
Substrates
Production process
Futureproofing
This is based on a
broad definition of sustainability
, accepting that the environment, the economy and the social sphere are all equally important.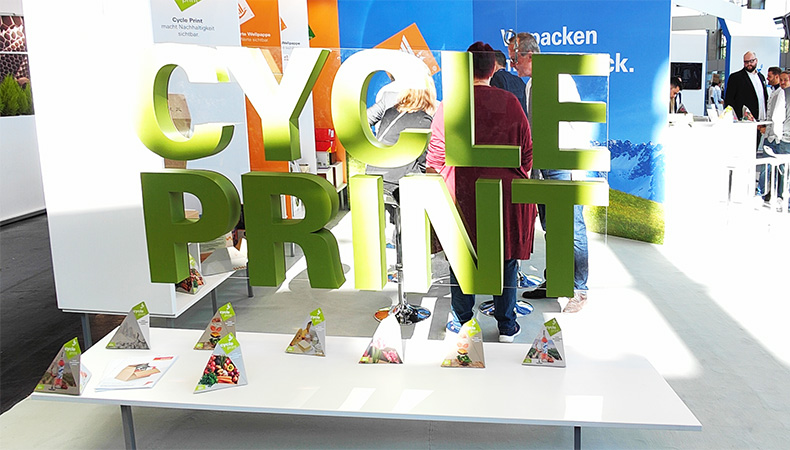 CAPTION: The topic of sustainability is also taking up a lot of space in (digital) packaging printing. Photo: S. Angerer
Sustainable use of substrates in printing
The digital printing industry, with its extremely short production cycles and special requirements for print substrates, has for several years paid little attention to responsible procurement. However, a few changes in substrate selection can lead to a significant reduction in CO2 emissions.
1. Buy right
Just in Time orders cause high CO2 emissions by delivery alone.
Suggestion: Increase inventory and initiate collective orders with partnered companies where necessary. This reduces emissions and costs.
2. Build supply chains
Constant changes in suppliers, typically from countries outside of the EU, make it difficult for printers to assess how fairly consumables, primary products and accessories were produced.

Suggestion: Build relationships with reliable and local suppliers who can offer essentials at short notice and can prove their supply chains.
3. Choose material carefully
As cheap and as durable as possible: usually print buyers have demands that are very difficult to meet with sustainable production methods.

Suggestion: offer prints only on recycled materials or materials that can be recycled easily, reducing the number of substrates. This also results in lower waste.
4. Pay attention to recyclability
Digital print products are designed solely to meet customer requirements. This leads to a mix of materials and a large amount of composite material that often ends up in landfill.
Suggestion:
Print products should be
redesigned from scratch so
that they can be easily be recycled.
CAPTION: In many Central European countries, large posters have become a rare sight. Printers have not made enough of an effort to determine how they can print sustainability. Photo: S. Angerer
Sustainmability in the production process
The production process is responsible for the share of printers CO2 emissions; however it also defines if a company is economically sustainable and fair as an employer.
1. Calculate power consumption
Digital presses typically require much less energy than a screen or offset press. Therefore, this can be why power consumption is only a secondary consideration for many printers. Particularly when it comes to printing equipment, laminators, cutting tables and any other production machinery.

Suggestion: Consistently investing in energy efficient machines where possible and shutting down machinery that isn't used for an extended period.
2. Refurbish building
Printers that have been running for a long time, often operate in buildings that are considered unsustainable by today's standards: Wasteful lighting and heating, inadequate insulation, outdated fume extraction.

Suggestion: Upgrade buildings, use LED light instead of neon, invest in fume extraction or recycling of solvents.
3. Not all electricty is made the same
Many printers purchase electricity on an industrial tariff from their local provider simply because that´s what they've always done.

Suggestion: Look for green electricity providers or install solar panels on the company roofs.
4. Avoid waste
A large amount of waste is often produced during the production of digital prints: Offcuts, misprints, transfer paper or cover foils.

Suggestion: Waste can be significantly reduced by combining several jobs on one substrate roll and improving nesting.
Sustainable management is important for the future
Businesses in the printing industry can only hope to remain relevant if they ensure that their businesses operate in an environmentally and credible manner. Important consumer groups no longer just consider the brand's image, but also the brand's values.
1. Thinking long-term instead of short-term profits
With capacities growing bigger than demands and the margins still tight, printers are often tempted to use cheaper substrates, reduce staff and cut services to make ends meet.

Suggestion: Long term customer loyalty and sustainable growth can only be achieved through reliable quality and good values.
2. The process is as important as the product
Consumers want to buy from companies they like with good brand values however, printers don't usually provide much information about their corporate history and philosophy.

Suggestion: A blog, using social media accounts or frequently attending industry meetings gives a company credibility.
3. Be a considerate employer
Printers are finding it increasingly difficult to find qualified and skilled workers, junior or senior level. The large workload and unusual working hours that many companies require doesn't help.

Suggestion: Instil an appreciative atmosphere, opportunities to progress and planned working hours make companies attractive and futureproof.
Conclusion: Sustainable printing is a must
For printers, sustainability is not only about the environment but about the existence of the entire industry. Sustainable businesses with a strong public presence will be the ones operating long-term.

Depending on their customer base and location, printers are dealing with the pressure to be sustainable at across different levels. To remain relevant, the industry must consider the efforts needed as a requirement to not only the individual printers but their customers and suppliers as well.

Main image caption: Photo: S. Angerer

Interested in joining our community?
Enquire today about joining your local FESPA Association or FESPA Direct