Features
How to choose an MIS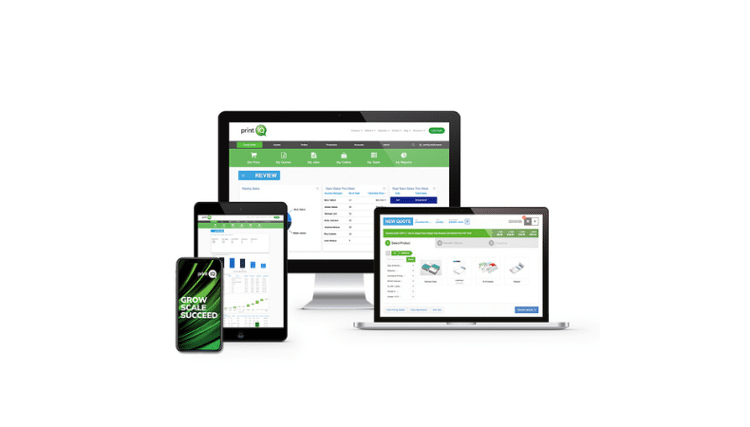 Management Information System software has become an essentially component in running a modern printshop but the implementation will determine its success.
A Management Information System, or MIS, is probably one of the most complex pieces of software that most print businesses will encounter. And just as there can be enormous variations in the way that different print shops work and the customers they serve, so there is no one-size-fits-all MIS that will just work out of the box for everyone. This makes it difficult to figure out exactly what an MIS can do for you, and what it might cost. But perhaps a better starting point is to ask what a properly implemented MIS can save you?

An MIS is about two separate things - business information and workflow automation - and connecting these things together should lead to less waste and therefore more profit. This applies just as much to small companies as to large enterprises.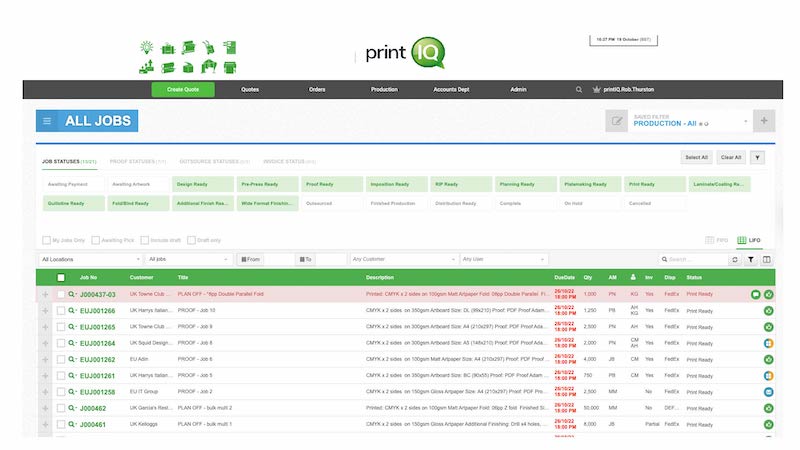 Caption: The MIS should be able to show an overview of the status of all the jobs in hand, as in this image from PrintIQ.

The original premise behind MIS software was to give the management a thorough understanding of all the costs and problems in a business in order to make the right decisions. The only way to really understand all of your income and outgoings is to use a centralised system that's connected to everything from the orders coming in to the number of paper clips the accounts department is getting through. This means that the major selling point behind an MIS is not so much the functionality of the software itself, but the skill that the team has in integrating with other vendor's software.

That has lead logically to having the MIS automatically running some of those other systems and determining how the different jobs are pushed through the various production departments. This mostly means production workflows and in theory, setting up a system based on hot folders could also allow jobs to be passed automatically from one process to the next. But an MIS does much more than this. It automatically applies all the information from the job ticket where appropriate, for printing, finishing or invoicing, without any errors or duplication. In addition it collects data to produce reports on how the business is running, and it can trigger actions elsewhere, such as ordering more substrates when needed as well as indicating where there are problems such as if one particular machine needs maintenance than expected or if jobs are being held up in one process or another.
Modular architecture
Most MIS offer a core set of features plus a number of optional modules so that print shops can tailor the MIS around their own needs. Although most MIS will work across different print disciplines, most large format users will have specific requirements, even more so if you are also printing to textiles. At the very least, this means taking into account the large substrate sizes in use, both for rolls and rigid media. The MIS should also support the different types of finishing commonly found in large format printing, including cutting via a digital cutting table or router, as well as hemming, welding, eyeleting and so on.

A fundamental feature of any MIS is the ability to estimate jobs and to send out quotations for work. This means being able to take into account all of the relevant costs, including the raw materials and the staff labour as well as the running costs and depreciation of the equipment being used and determining a reasonable margin for each job. In some cases there might be a choice of ways to produce a job with different implications for the estimate.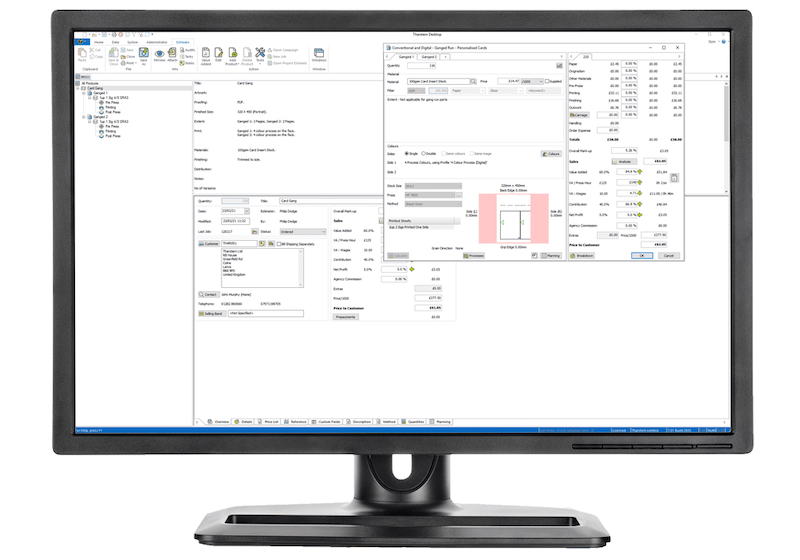 Caption: The MIS should be able to show an overview of the status of all the jobs in hand, as in this image from PrintIQ.

The estimating module should be closely tied to the planning and scheduling feature because you want to have the MIS pick the most efficient production method when scheduling jobs for that shift, but you will lose money if the estimate assumed a cheaper form of production. Ideally the scheduling should be dynamic, able to update automatically to take account of new jobs as they come in, based on their required delivery dates and synergies with other jobs.

This in turn assumes that the MIS either includes its own imposition and ganging module or is closely tied into whatever software you have for this. This is especially important for large format work where it's fairly common to have multiple jobs ganged together on the same boards to save costs and many of those jobs will have irregular shapes that need to be nested together. It goes without saying that the system should be able to distinguish between jobs for different clients. It's equally important that jobs for the same client can be split into their different parts, for example, a retailer might want the same type of display but split across different retail units that might have different size requirements. Mixing these jobs together will save time and raw material costs but the system has to be able to separate them for delivery and invoicing.

The CRM module should allow the sales staff to liaise with customers, to turn quotes into orders, and to track the progress of those orders. At the minimum that should mean chasing up artwork for delivery and ensuring that everyone in the approvals loop has signed off on the proofs.

Most MIS do include an e-commerce module though there is some argument that a dedicated Web-to-Print program might be more suitable. It really depends on the scale of each individual business and the type of customers that you are catering for. Some wide format divisions will be part of a wider commercial print group, or might rely on customers making one-off orders and paying by credit cards, while others may just want to enable regular customers to make repeat orders on account. There are so many variations that Web-to-Print really needs a separate article.

The MIS should include some sort of inventory management to ensure that you don't run out of anything that's needed for upcoming jobs, such as a particular substrate as well as for purchasing regular items on time, including equipment maintenance parts, to avoid any last minute panics. Ideally this should also extend to managing your own supply chain so that you understand the costs of substrates and can take advantage of bulk purchasing or other offers.

When it comes to fulfilment, at the very least the MIS should be able to generate a delivery notice. Some will also book the delivery in with a courier or mailing company, and some will go further still and connect directly with different courier companies' systems to work out the most cost-effective form of delivery based on the customer's requirements, including when different parts of a job have to be sent to different locations.

Finally, most MIS will have an accounts module, but it's probably more common to integrate with dedicated accounting software, especially given that most accounting software is quite well-established.
In conclusion, even though most MIS vendors nowadays market their software as part of a production workflow, the true value of an MIS lies in the ability to identify the strengths and weaknesses in a business. Ultimately, an MIS should pay for itself by helping to cut out waste and produce jobs more efficiently.
Interested in joining our community?
Enquire today about joining your local FESPA Association or FESPA Direct