Features
Creative Cloud has competitors for sign work
Simon Eccles shares how Adobe has dominated the global market with their array of creative programs for print, web and video. Simon also shares alternative creative programs from Adobe's competitors including CADlink, Alludo, Corel, Quark and Serif Affinity.
In the earlier days of computing, there used to be a saying: "nobody gets fired for buying IBM." While IBM's dominant position has faded in the 21st century, a similar phrase could now usefully be applied to Adobe.

For the past two decades, Adobe's suite of creative programs for print, web and video have dominated the global market. While a lot of this is on merit because they really are very good, the dominance also owes a lot to Adobe having bought and closed a lot of its competitors. Another factor is Adobe's clever marketing policy of bundling its apps together at superficially low prices, initially as the Creative Suite in the early 2000s and currently the subscription-only Creative Cloud.

There's also the inertia factor – if a majority of operators and prospective recruits are already experienced with Creative Cloud apps and don't know anything else, then you're going to be discouraged from trying alternatives because you'd have to retrain everybody. After all, Creative Cloud works and nobody got fired for buying it!

However, Creative Cloud isn't quite a monopoly and there are still some strong alternatives available, some that have dedicated features suited to sign making and related large format work.

There's nothing to stop you trying and running alternative programs alongside Creative Cloud for when you need particular features, as normally the non-proprietary files can be swapped around between them.
Creative Cloud plans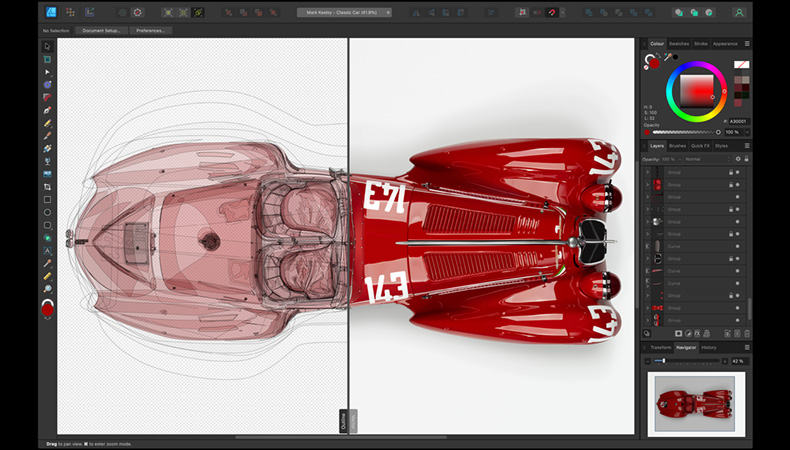 For individuals, the complete Adobe Creative Cloud plan is £743.88 per year, ie £51.98 per month inc VAT. The business plans cost a bit more per seat, but allow centralised management and syncing across multiple seats. If you stop paying, Creative Cloud stops saving your files.

The Adobe Creative Cloud apps relevant to print are Photoshop (image editing), Illustrator (vector design), InDesign (layout) and Acrobat (PDF editing and preflight). There's also the very useful InCopy collaborative add-on for InDesign users, that allows text to be edited and reflowed.

These print-relevant apps can be rented individually (the entry level Photography plan is a bargain as it includes Photoshop and the Lightroom raw processor/asset manager for a mere £9.98 per month), but if you choose all four it costs more than a plan for the whole suite, which also gains you all the video, animation and web applications even if you rarely need them.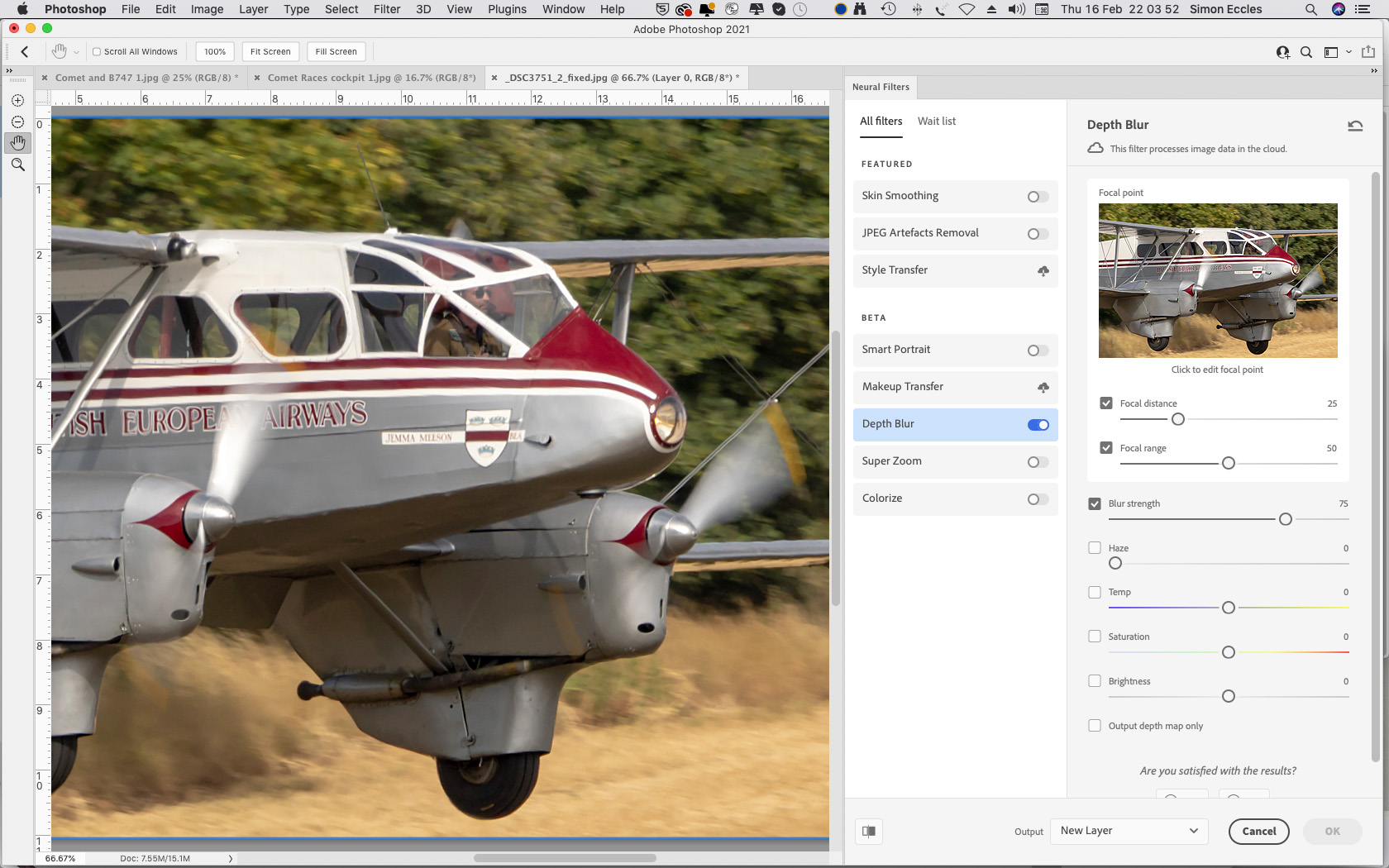 All apps run on Windows or Macintosh, including the current very fast Apple Silicon hardware. There are iPad versions of Photoshop and Illustrator as part of the plans, though they are simplified or stripped-down. There's a web browser version of Photoshop in Beta (Lightroom CC is online too).

Most subscriptions give online access to a large font library, plus large collections of stock photos, vector clip art, templates and video/audio clips. There is also a lot of online training material and user groups.

Good though the Adobe apps are, they are generalised, with no dedicated features for sign and display work. Some alternative layout suites, from CorelDraw and CADlink in particular, do promote themselves specifically to these markets.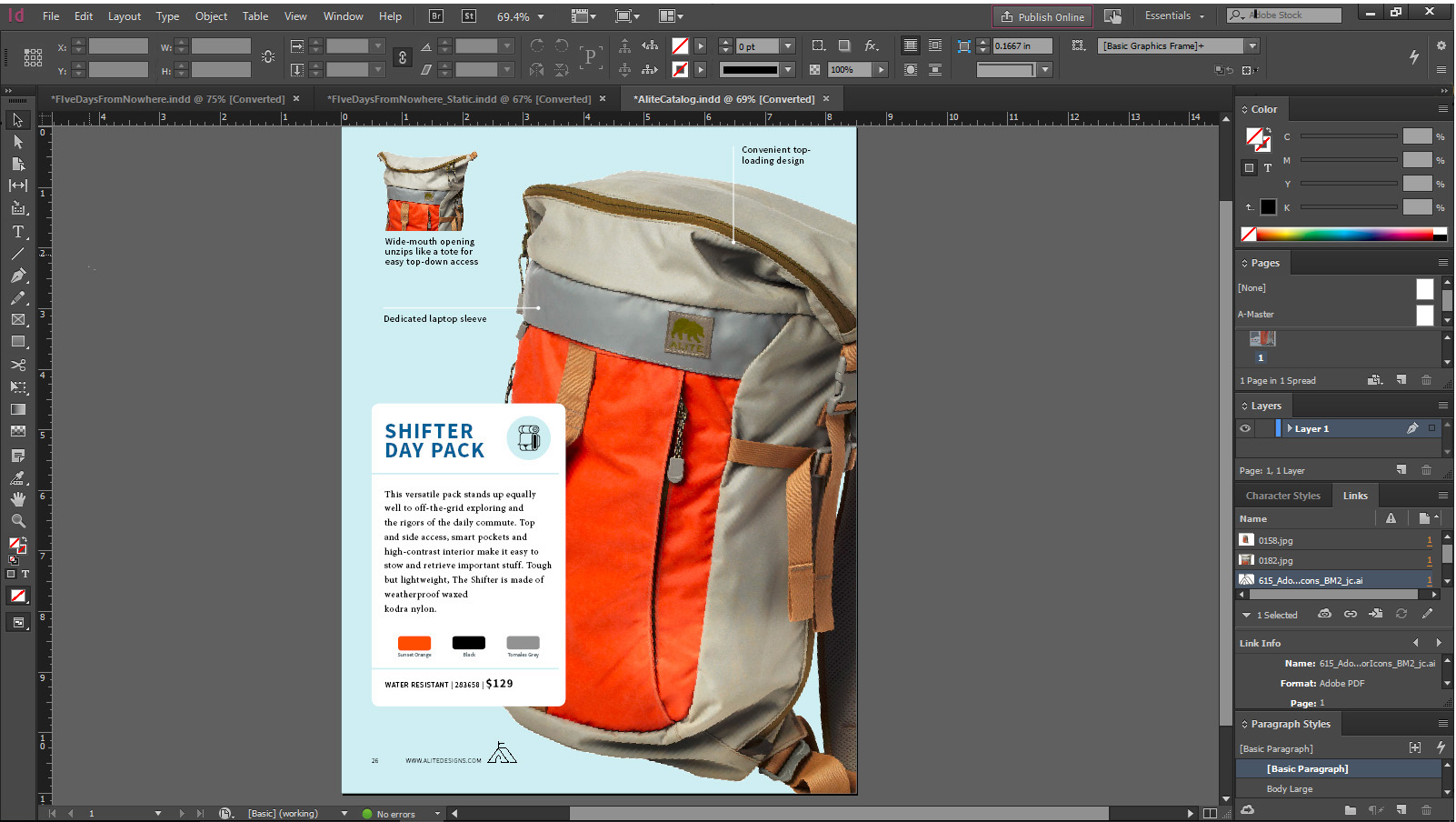 All of the Adobe print apps are very "mature," in that they have been available for many years – more than 30 in the case of Illustrator and Photoshop, and more than 20 for InDesign. They are still updated regularly, but until recently it looked as if there was little left that could be added to keep users interested in paying to renew. Hence the subscription model that locks them in, because Adobe switches them off if they stop paying.

This is starting to change, however, with Adobe's increasing adoption of genuinely new artificial intelligence (AI) and machine learning features to automate things that would be difficult or time consuming to do manually. Sensei is Adobe's collective term for this, first introduced in 2017 and expanded since. Sensei-based menus actually process your choices online on Adobe's servers and return the results to your program.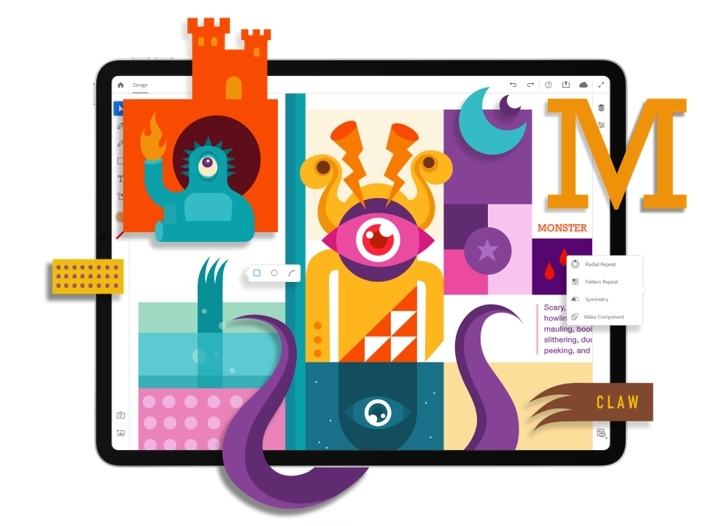 So far the effectiveness rather depends on your expectation – for many years Photoshop has been able to "intelligently" fill in some areas (which it calls "content aware" fills) by cloning and adapting similar areas, but the results don't suit everyone. Sensei is making this faster and smarter. Recently, Photoshop gained automatic subject detection and selection, user-defined object selection, and a one-click delete and fill tool that can detect objects, remove them and then replace them with content aware backgrounds as a single action. There are also "neural filters" that change colour effects, restore battered old photographs, or even alter facial features, such as a smile.

In Illustrator, Sensei provides an improved method of vectorising imported photographs. Lightroom has a Sensei search tool to find similar images within libraries. InDesign's 2022 introduction of an intelligent text wrap that detects the main subject in images appears to be Sensei-powered. There are Sensei features in Adobe's movie and animation applications too.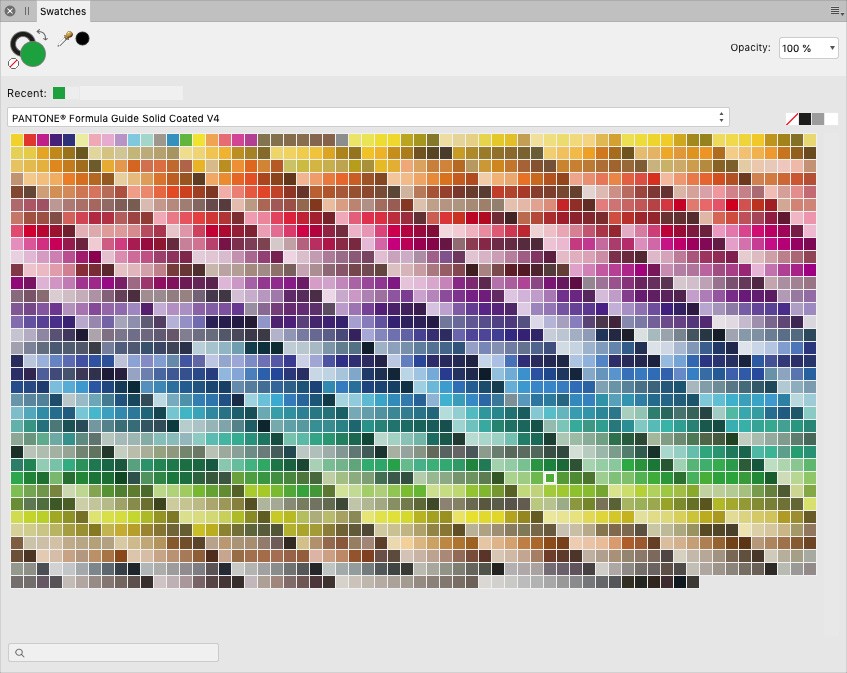 Sensei is clever stuff and if not yet always perfect, it's often good enough, and likely to get better in time.

AI is now being employed by some of the third party plug-in developers, particularly for noise reduction and upscaling, helping them to stay relevant. It works particularly well for noise reduction in raw conversions, and some types of automatic pattern generation or colour variations.
Adobe and Pantone libraries
Last year Adobe and Pantone caused a stir by announcing, with little explanation, that the Pantone colour libraries would be removed from Creative Cloud apps by July. Instead, users were referred to a Pantone app called Connect, which at the time of the announcement cost £42.92 per year per seat, but was soon doubled to £89.99 (or £14.99 if you pay monthly, for an annual total of £179.88).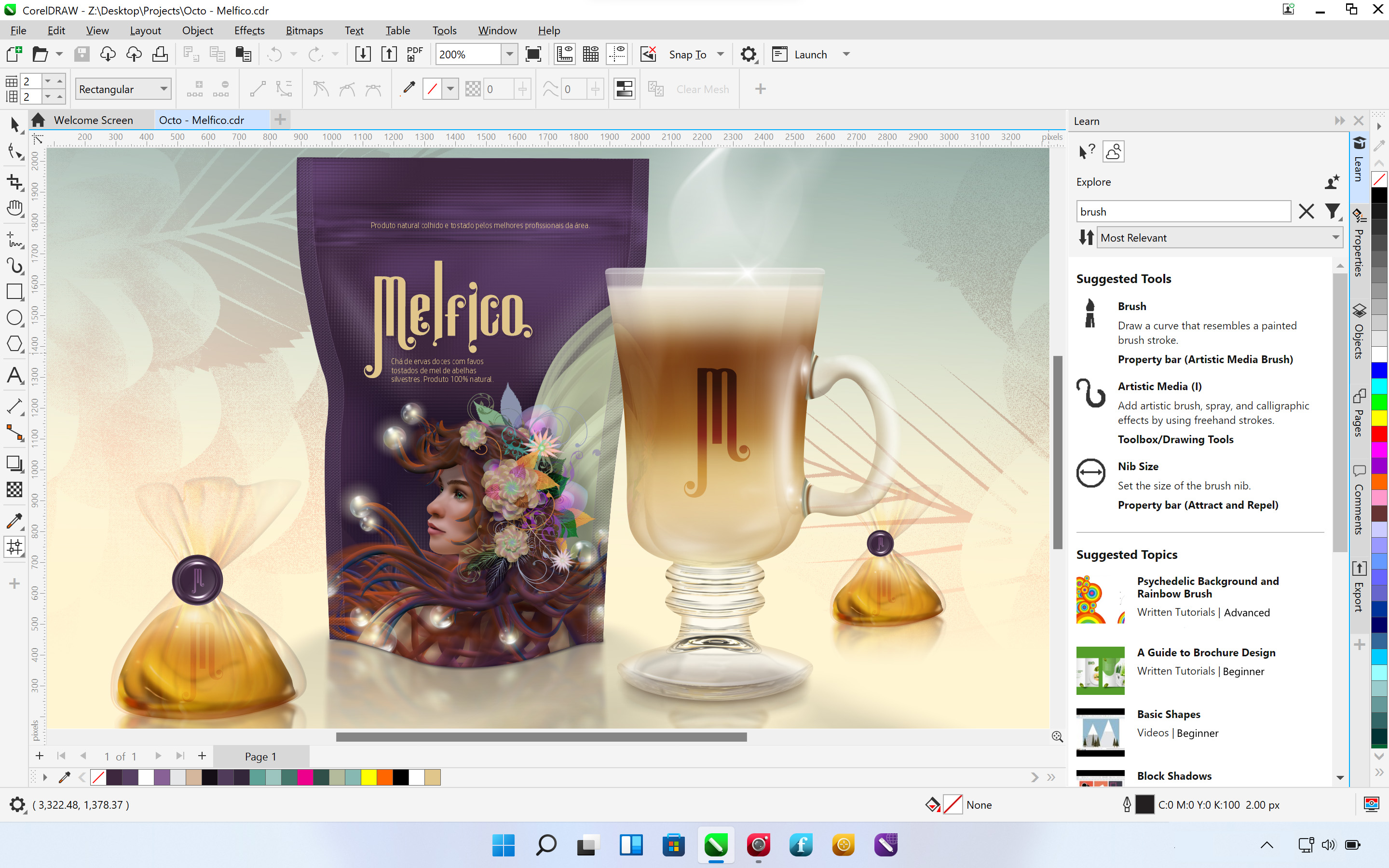 Requests to Adobe and Pantone to explain this were stonewalled, but it appears that Pantone wanted to earn more and Adobe didn't want to pay. For more detailed information, see Paul Sherfield's January 2023 update on the FESPA website, here: www.fespa.com/en/news-media/features/a-new-update-on-adobe-and-pantone-colours. In the same story Sherfield also mentions that Adobe has recently stopped supporting the old PostScript Type 1 fonts in Creative Cloud, recommending that these are replaced with OpenType equivalents.

Developers of rival applications, such as Corel, CADlink and Serif, don't seem to have any issues with Pantone (or Type 1), and continue to supply the libraries as they always have done.
CADlink
CADlink is a long-established developer of the SignLab series of design and workflow software. These are rarities in that they are dedicated to large format work for signage, vehicle wraps, direct-to-garment and related applications. They can be bought with perpetual licenses, but subscription options have been introduced in recent years.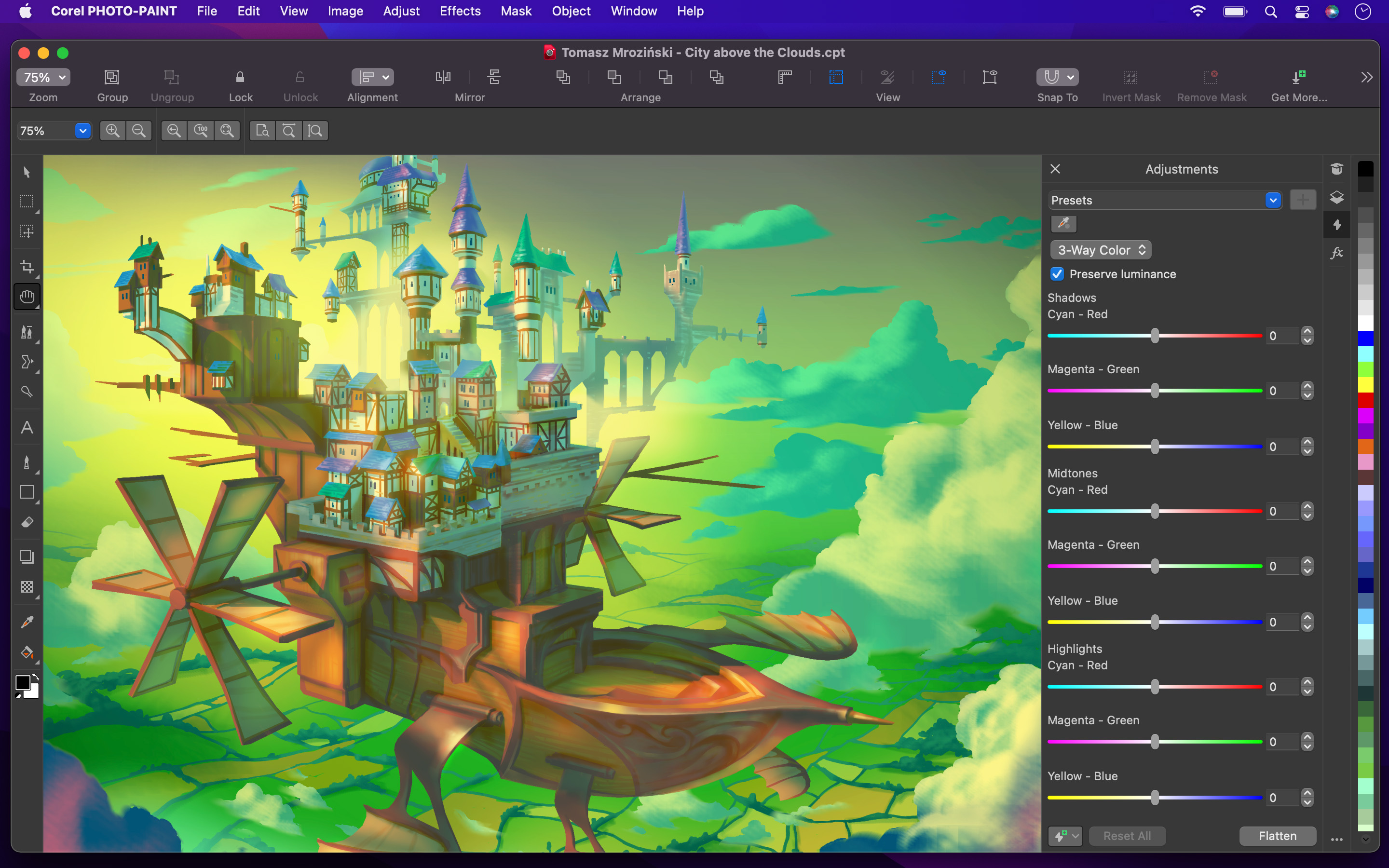 Last year CADlink was bought by EFI, retaining the original development site and management in Ottawa, Canada, but making the software available through its global distribution network. Since then EFI has split off its Fiery software operations, including CADlink, as a separate business unit (though still part of Siris which owns EFI). Fiery develops the XF series of Rips for large format printers, plus EFI IQ cloud-based print and management systems, so there are potential future synergies with CADlink products.

CADlink SignLab DesignPro is the base sign design package priced at £495 for a perpetual license. It allows the creation of both bitmap and vector design elements. SignLab CutPro costs the same and is optimised for contour cutters with features such as Power weed, nesting control and a long list of cutter drivers. SignLab VinylPro, at £995, is for vinyl cutting work that also may involve printed design elements.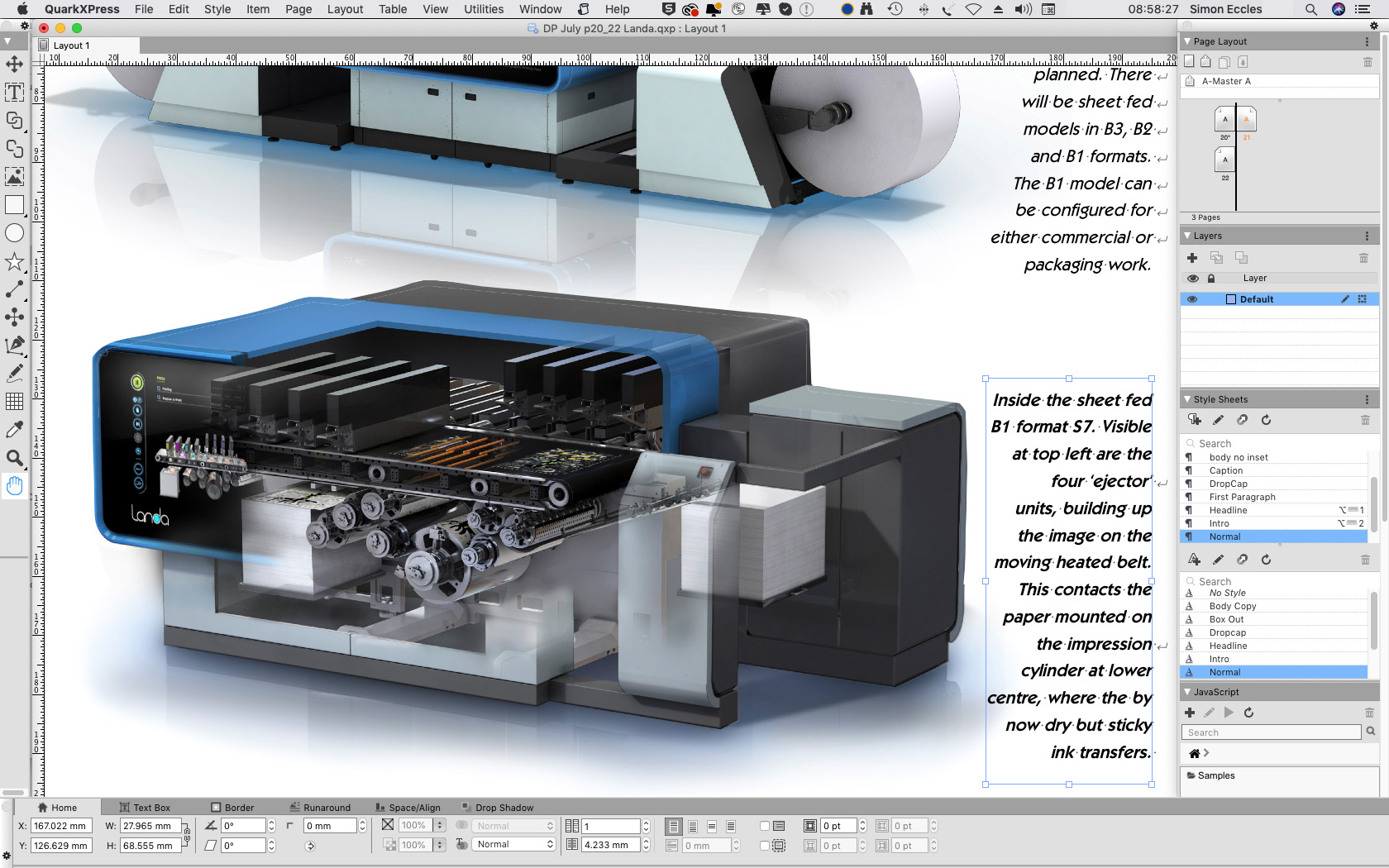 SignLab Print and Cut at £1,995 is an all-in-one production package, combining built-in raster and vector graphics tools with workflow management. The Visual Production Manager workflow tools can handle imports from other apps such as CorelDraw, Illustrator and Photoshop as well as SignLab's own graphics and outputs via drivers to most large format brands.

There are special dedicated versions for Mimaki's Rasterlink and Roland's Versaworks Rip workflows. Add-on modules include Pantone palettes, ICC or device link colour profiling, and integration of the FluidMask app for making image cutouts. CADlink also has its own Rip, DigitalFactory, in a range of configurations for different applications, starting at £995.

CADlink also makes specialised variations of SignLab, including FilmMaker for creating screen printing masks; EngraveLab, for working with engraving machines; and ProfileLab for CNC machines and routers.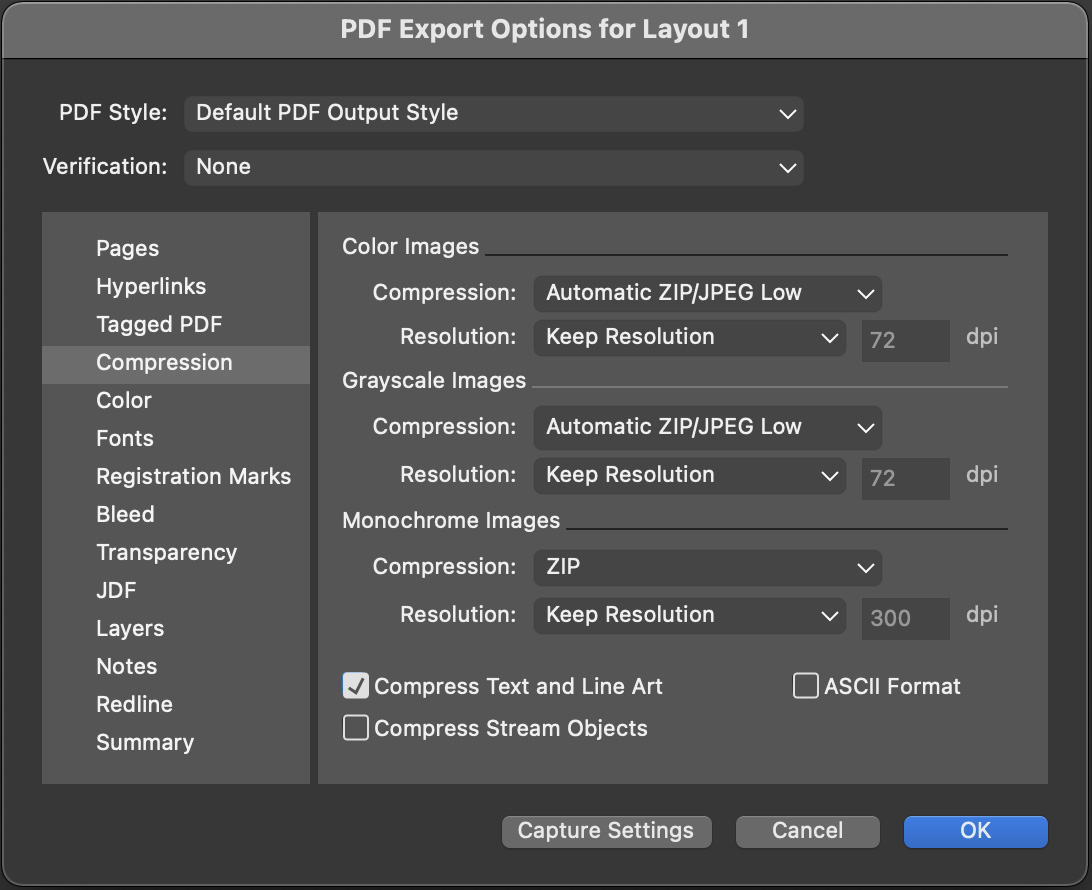 Alludo and Corel
Alludo is a new name for the long-established Corel Corporation, announced last September. The company has a long history in the design and print industry, particularly with its flagship CorelDraw vector graphics and layout application. It's strong on clip art support for signage and vehicle wrapping (with regularly updated libraries of vehicle outlines that are useful for designing vehicle wraps), and before the Covid lockdowns would regularly run demos and seminars at signage shows.

Alludo also bundles its Photo-Paint image editor into the CorelDraw Graphic Suite, plus Corel Font Manager app, AfterShot HDR (a raw photo processor) and PowerTRACE (a well-regarded photo to vector converter). There is access to 7,000 clip art images, 1,000 TrueType/OpenType fonts, 1,000 stock images, 180 templates and 600+ fountain blend, vector and bitmap fills.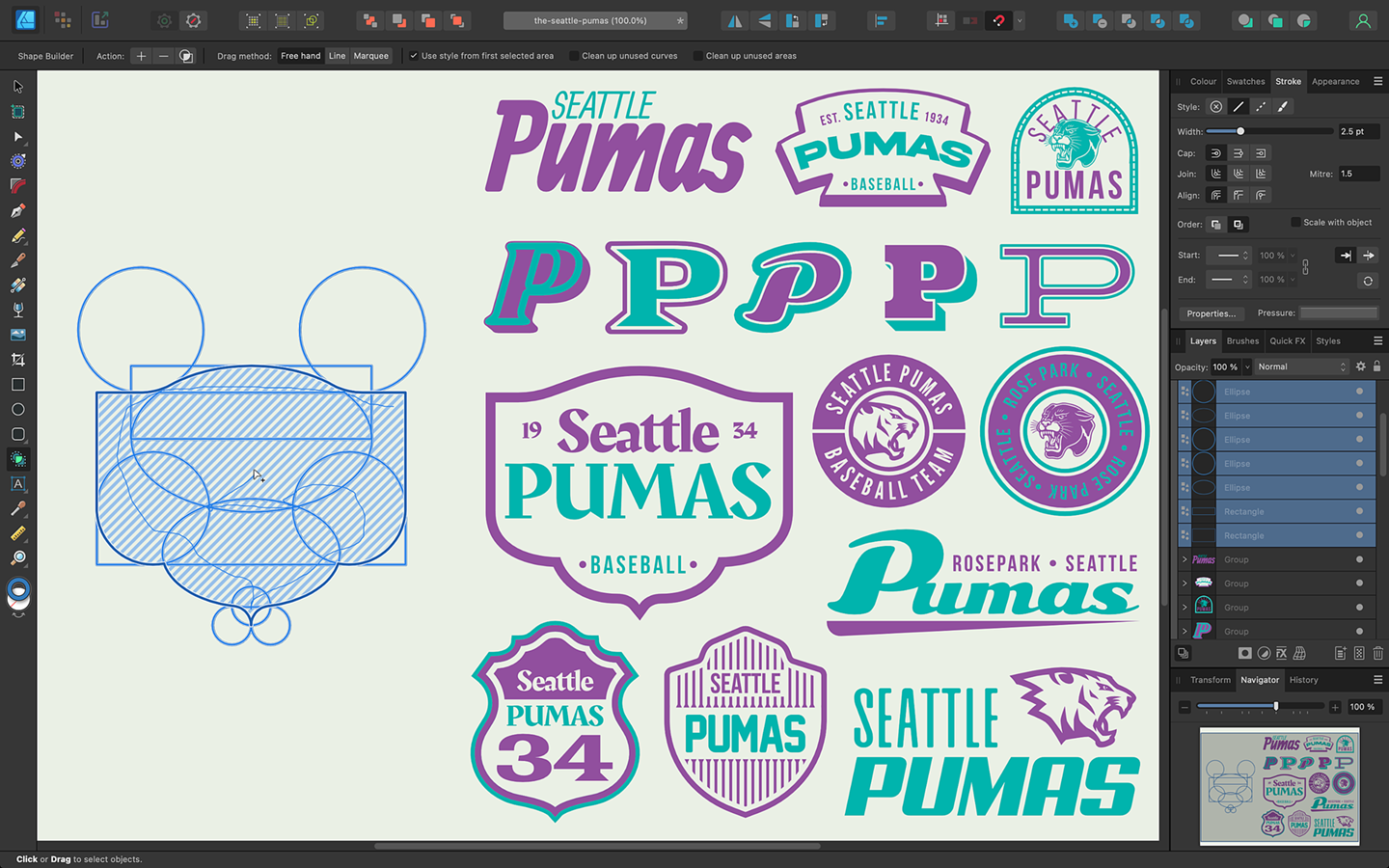 Corel/Alludo has offered a subscription version alongside a perpetual license for several years, but the 2022 update was subscription-only – perpetual is still the 2021 version. There's normally a yearly update in March/April, so one for 2023 is due soon.

CorelDraw Graphic Suite costs £26.59 per month (£319 per year) for the 2022 subscription version, or £659 for the 2021 perpetual license.
Quark
Quark Software's QuarkXPress was the first layout program to really suit the needs of professional newspaper and magazine publishers in the late 1980s and early 1990s, with particularly good typographic and process colour controls, and it was flexible enough to handle signage and other large format work as they went digital.

Since the introduction of Adobe's InDesign in 2000 its market share has really tailed off and Quark has changed hands several times. The current owner presents XPress as a content generator within its broader enterprise Quark Publishing Platform, though it still works perfectly well as a standalone app.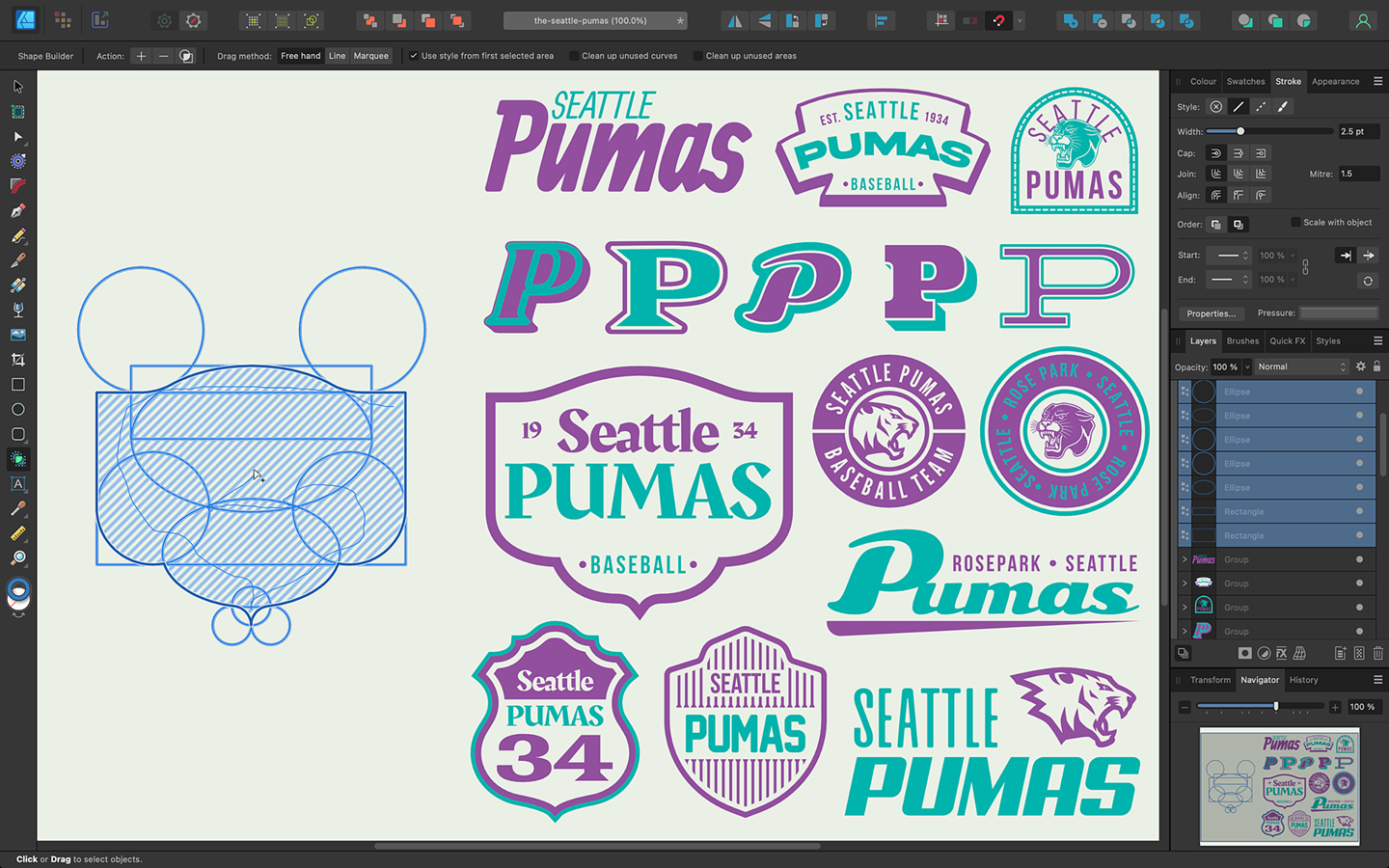 XPress can still match InDesign almost feature-for-feature, and has better support for eBooks. Since 2018 it has been able to import and convert InDesign IDML document files. Pantone libraries are still built in. There are yearly updates, most QuarkXPress 2023 last November, with more support for long documents and eBook creation, and the Picture Content Variable to control image updates across multiple layouts in a project – useful for multi-part signage.

In 2017 Quark controversially introduced a £517 perpetual license that was only updated if a £221 annual "Business Advantage Plan" was paid for. A more attractive alternative introduced in 2022 is a £184 per year subscription, working out as £15.33 per month including support and updates.
Serif Affinity
One of the pioneers of desktop publishing software in the 1980s, Serif Software is a British company that seven years ago reinvented its product range to suit the new era of affordable downloadable apps. Its Affinity range offers professional features with perpetual licenses at very low prices. The three apps are: Designer, a vector drawing equivalent to Adobe Illustrator; Photo, a Photoshop equivalent; and Publisher, for layout similar to InDesign.

Last October Serif updated all three as Affinity Version 2, and the current prices are £59.99 each (for Windows or MacOS), or £19.99 for full-function iPad versions. You can buy all three for £144.99. This is a significant saving on all the other design apps we're looking at in this story.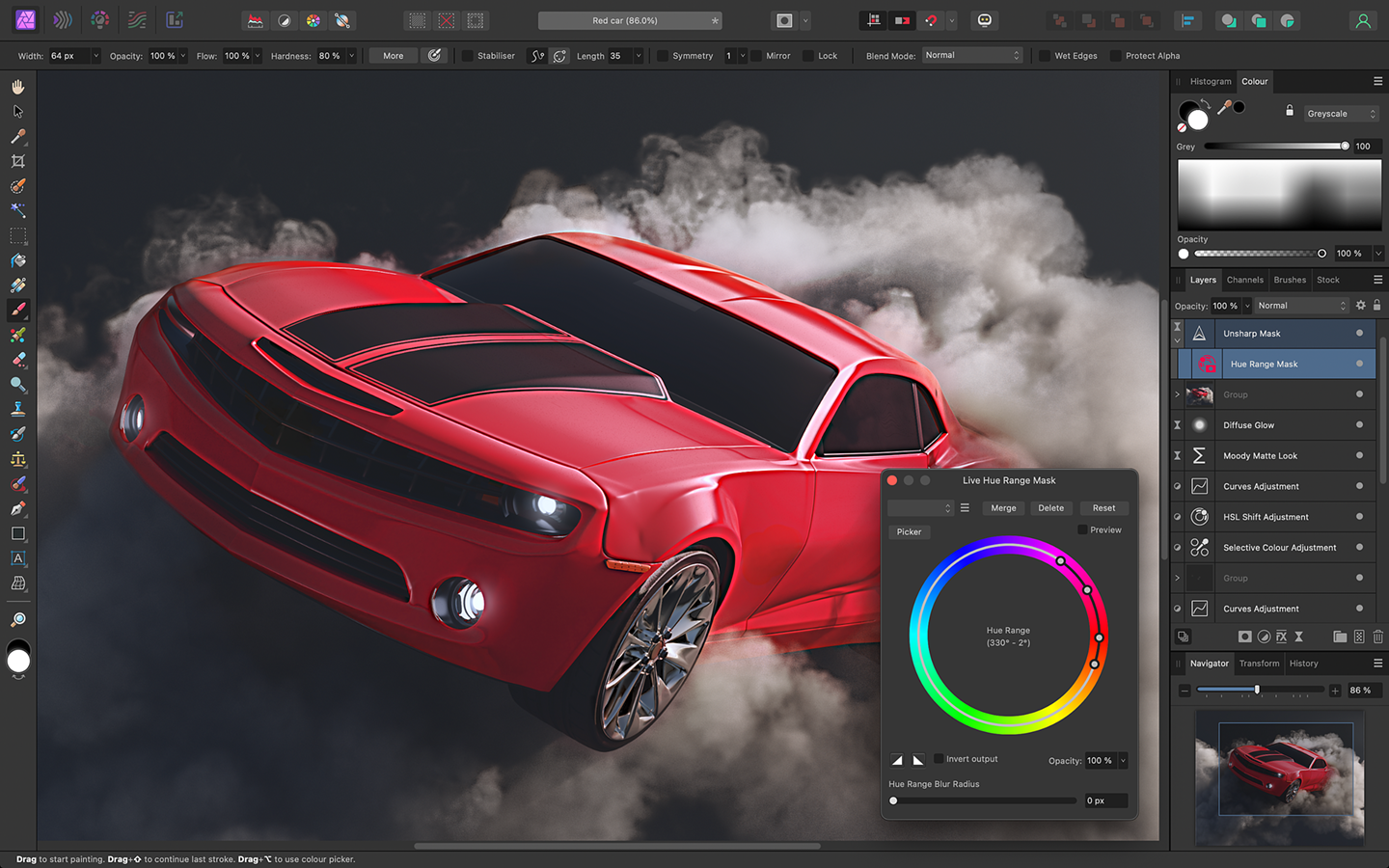 Each app can be bought and run on its own, but if you have all three then Publisher's StudioLink feature lets it edit placed images using the tools from Photo and Designer. Affinity 2 may not have quite the same range of features, but really there's not much you could do in Creative Cloud that's impossible with Affinity.

Affinity Version 2 includes Pantone 4 libraries and Serif says there will be an update to the latest version 5 soon.

So, perhaps nobody gets fired for buying Adobe, but it's not always the best fit for some printing requirements and it's definitely not the lowest-cost choice in these days of squeezed profits.

Interested in joining our community?
Enquire today about joining your local FESPA Association or FESPA Direct