Features
Choosing the right plotter for your signage business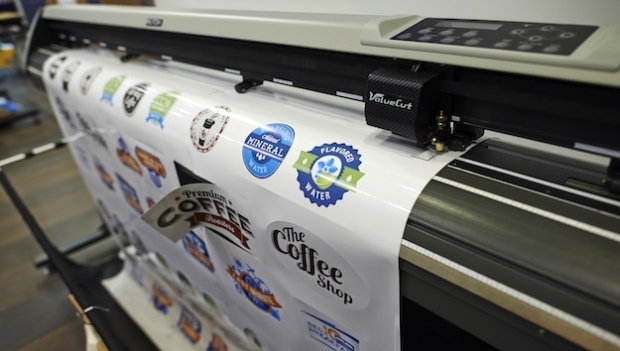 So far in this series we've looked at cutting tables and routers but now it's time to turn our attention to the cutting plotters that are so often paired with roll-fed printers.
Cutting plotters are mainly designed for cutting relatively thin flexible media like vinyl. Typical applications include vinyl lettering, as well as cutting out pre-printed stickers, decals and even some short-run labelling applications. They're considerably cheaper than a cutting table and should easily pay for themselves in a relatively short time frame.
Obviously any cutting plotter should be capable of cutting right through flexible substrates such as self adhesive vinyl. But they should also offer options such as perforation and cutting only part-way through a material to create a tear-off line.
It's important to check the cutting force and that any prospective plotter can handle the type of substrates that you intend to use. Otherwise, choosing a plotter is mainly a case of balancing its cost versus the cutting speed and the volume of work that you have.
What's available?
There's a fair number of cutting plotters available so rather than go through them all we'll highlight some of the most common and the features you can typically expect from these plotters.
Thus Mutoh sells the ValueCut plotters, available in three widths - 610mm, 1320mm and 1830mm. They take media up to 0.8mm thick. They use a drag knife and can accelerate from a standing start up to 4.2G and have a cutting force up to 600g, which allows them to cut at a speed of 1530mm per second.
Mutoh has also thought about the print and cut workflow, which is essential if you're going to be able to put the prints through a cutter with accurate registration. The Mutoh cutters come with FlexiStarter software for adding cutting paths to design files. It can also create a reference mark for the ValueCut machines to locate the design.
Mark Rammant, product specialist for Mutoh, adds: "You can also create marks in a graphic design software like Illustrator. You can import these into the FlexiStarter software and it will automatically put these contour lines through using a chosen spot colour and swatch name by recognizing this spot colour as cutting data."
He says that the ValueCut plotters will also recognize cut paths from other programs such as Onyx RIP, which also supports print and cut workflows.
Summa also has several vinyl cutting options. The standard Summacut is available in 142cm and 164cm widths, while the newer D140 FX, only comes in the 142cm size. This can cut at up to 113cm per second with up to 3G acceleration and up to 400g knife pressure.
Summa also has the more heavy-duty S class, designed for high volume industrial work. These are available in two series: the D-series use a drag knife and can cut with a force of up to 400g; the T series uses a true tangential knife and can apply up to 600g cutting force.
They're available in four sizes with cutting widths of 74cm, 120cm, 135cm and 158cm. They can cut at up to 1000mm per second with optional take up rollers and media racks available for the largest two sizes.
All of these systems use an automated optical system that picks up marks on the print to align the cutting blades and all support barcodes. There's also an optional camera system for the S2 T-series.
Mimaki has the CG FX series, available in 760mm, 1300mm and 1600mm widths. They're designed for vinyl work and will take media up to 0.25mm thick. They can apply up to 400g of pressure and cut at up to 100cm per second. There's an optical sensor to detect registration marks on the print and they come supplied with Mimaki's FineCut plug-in that works with either CorelDraw or Adobe Illustrator.
Mimaki also sells the CG-SRIII series, also available in three sizes, with cutting widths up to 606mm, 1070mm and 1370mm. These can bring 500g of pressure to bear but only cut at up to 70cm per second.
Print and cut
The alternative approach is to integrate the cutting directly into the printer, which saves both cost and space.
Mimaki has hedged its bets and also sells integrated machines based on its solvent printer engines. Thus the CJV300 is a version of the JV300 while the entry level CJV150 is based on the JV150, both with integrated cutters and at a slightly higher price point. In both cases the specifications for the print engine remain unchanged.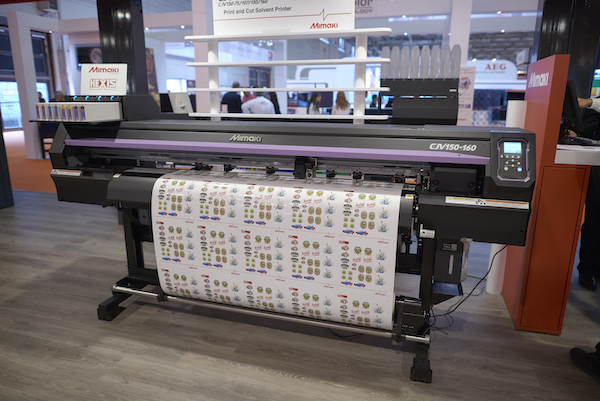 Mimaki sells both standalone cutting plotters and integrated print and cut machines such as this CJV150 solvent printer.
Roland has long favoured this approach and also sells a number of printer/cutter machines with both solvent and UV printers. Thus the LEC UV printers come in 760 mm and 1371 mm widths and can cut at up to 600 mm per second with a blade force of up to 300g. There's also a desktop UV print and cut machine, the BN20.
Roland also sells several solvent printers, such as the 1.6m wide XR640. The specifications for the cutting part of this printer are similar to the LEC models – with a maximum cutting speed of 600mm per second and cutting force of 300g.
Conclusion
There are two main advantages to using separate devices for the cutting and the printing. Nick DeCock, Mutoh's marketing manager, argues that there is a different economic model for the two machines, explaining:
"The composition of a cutting plotter is mechanical whereas a printer consists of ink lines and wet parts that come in contact with the heads. Also, there is an accelerated development in printers so it's better to buy separate printers and cutters."
The second argument is about volume. As Decock notes: "First, you have a cutter that can work standalone from the printer. With an integrated machine you can only print or cut but can't do both jobs simultaneously."
That said, an integrated machine will almost certainly be cheaper than buying two separate devices and so might be a good starting point to test the market. There's no issue of registration as the print is already in the machine so it's a relatively simple process and can add value to the prints for very little additional time and cost. Ultimately, the choice is down to the volume of work that you have to handle.
Other articles in this series of finishing options include different types of cutting tables for the wide format market, and routers and the differences between these and cutting tables.
Cutting to the point at FESPA Digital 2016
FESPA Digital 2016
will this year play host to a number of companies involved in the cutting sector, each as keen as the other to show off their new products and demonstrate to visitors the various benefits of investing in this kit.
Visitors that utilise some form of cutting in their production processes may also be interested in various sessions that will feature in European Sign Expo during the 2016 show.
The Signage Seminars area will host a number of inspiring and educational sessions including daily knowledge sharing conferences, workshops, live demonstrations and Q&A sessions with leading industry representatives.
To find out more about the different companies exhibiting at the show and to view the full seminar programme for this year's event, visit www.fespadigital.com. For FREE entry don't forget to use code: AEOZ0104.
Interested in joining our community?
Enquire today about joining your local FESPA Association or FESPA Direct