Blog
Performance Versus Impact with Antalis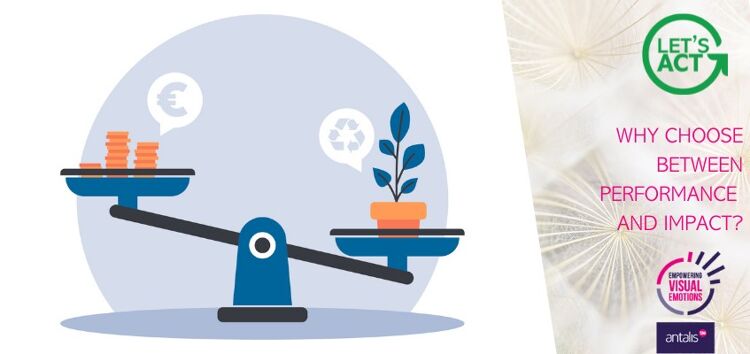 Performance continues to be key, but environmental impact is also a top consideration when making product choices. From eco-design to print settings, Antalis shares how environmental responsibility and product performance can go hand in hand for optimum results.
High performance or low environmental impact. Why choose?
Looking back to several years ago, environmentally friendly alternatives were pretty scarce. Expensive, "techy" and offering limited resistance, few businesses could choose the compromise of these choices. Today, the landscape for low-impact materials is favourably changing and, at Antalis, we're proud to be playing our part to identify the new options, make them available to our customers and facilitate the switch.
Identifying the "real" need
In order to help make eco-designed solutions the new standard, there needs to be a switch from the historical belief that such materials cannot deliver suitable durability and performance. However, it's interesting to consider the actual use of POS materials. Often, POS materials are needed only for short-term timescales: events, product launches, seasonal campaigns and so on. In other words, these solutions don't need to live forever and durability expectations are sometimes overrated. That's why changing perspectives is paramount.

For short life cycles, valuable and responsible end-of-life is becoming a key element of performance; addressing not only the expectations of our customers but also their users and distributors. Also with lighter options to reduce impact of transportation.
Empowering Print Service providers and brand owners
Switching to more responsible solutions is an idea that most customers welcome, but of course, they don't want to compromise on quality. Antalis are able to deliver solutions adapted to the latest generation printing and cutting technologies through in-depth collaboration with manufacturers, offering genuine quality and cost-effectiveness.

Nevertheless, this conversion requires adaptation. This is why Antalis is focusing a massive amount of importance on customer support. This translates into comprehensive documentation to adapt printing and converting settings and thorough onboarding processes to ensure our customers are prepared for change. The more we empower our partners, the easier this positive transition becomes.
A responsible approach to our value chain
Combining high performance and low impact is mainly a question of collaboration. Our experience of customers' needs helps us share specific expectations with producers, making it easier to deliver materials that tick all the boxes, including end-of-life criteria. For instance, by adopting a hands-on approach from conception, Antalis has come up with a strong line-up of cardboard-based solutions - such as Coala Air Board, DISPA® and Katz Display Boards – credible alternatives to foam PVC that are gaining traction at most retailers in Europe.

Depending upon the required application, these products deliver all you expect from a sign and display board: a flat, smooth surface and excellent printability, rigidity and strength. Made 100% from paper, they promise reduced environmental impact and easier end-of-life disposal. These products highlight the true advantages of customer, distributor and manufacturer collaboration!

In some cases innovation is still in progress and our partners have strong R&D programmes for instance to find true alternatives for Self adhesive applications. In the meantime we can target specific applications, like we do for internal window advertising with our new Coala Paper Stick R : a removable self adhesive FSC paper.

At Antalis, we are committed to making strides towards more eco-friendly alternatives becoming the new normal. Join us on our journey!
So how to make the transition happen?
We are deploying attractive and reliable alternatives to standard plastics through sheer innovation: PVC-free plastics, bio-sourced plastics and fibre-based materials. In other words, we are striving to create more virtuous product life cycles by firmly integrating circular economy principles into our business models.
Positive change can only be accelerated collectively. This is why we see massive importance in our ability to empower our audiences by helping them make more responsible choices. It's the purpose of our
Green Star System™
- a user-friendly eco-rating platform.
These words are also an invitation to manufacturers, suppliers and customers. Each one of us has a role to play to create synergies and make an impact. It's the purpose of Antalis
Green Star System™
.
So let's act together for more sustainable Visual Communication!
Antalis are premium supporters of FESPA's new feature,

Sustainability Spotlight

.

FESPA's Sustainability Spotlight show feature will provide useful, informative and actionable advice to address the needs of People, Planet and Profit.
Nicolas Coupry
from Antalis will be speaking during the show and will discuss how to better understand the true difference between types of materials used and how to switch to more eco-responsible alternatives without compromising on performance.
To find out more about
FESPA Global Print Expo 2022
and to register to attend, visit
here
. Entry is free for members of a
FESPA national Association
Interested in joining our community?
Enquire today about joining your local FESPA Association or FESPA Direct