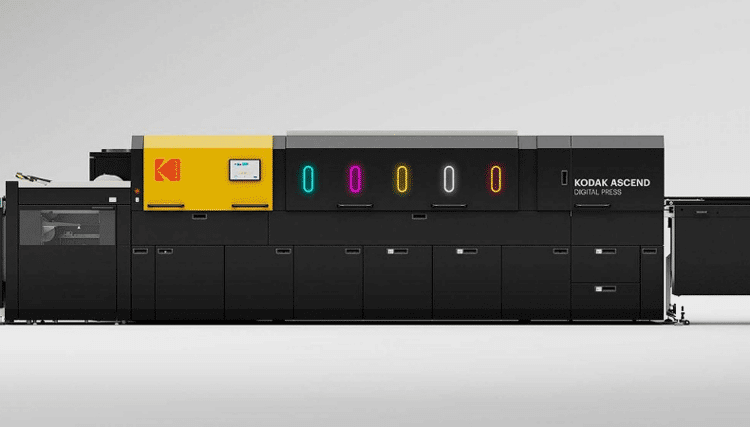 At a press conference one year ago Kodak underscored its commitment to digital print media production, restructuring and sustainability. The mantra was repeated recently during the announcement of the Ascend dry ink press, one of this year's few truly exciting new digital press announcements.
In the press conference CEO Jim Continenza declared that Kodak is "stronger than we've been in years". The company's shareprice doesn't fully support that: shares trade at around $6.65 down from a 52-week high of $13.90. But they rose with the announcement of Ascend.
The Ascend press
Kodak's Ascend electrophotographic single pass, duplex, sheet fed, digital press prints on the heavy stocks used in POP and folding carton applications, from 148 gsm to 687 gsm. For such applications, Kodak claims the Ascend is more cost effective than flatbed digital presses. The Ascend prints CMYK+1 and there are 13 possible embellishments including foil, pearlescent, opaque white and antimicrobial dry inks, which are sustainable and readily deinked. Gold and dimensional inks are in the pipeline.

Dry inks also mean there's no need for priming or special substrate treatment and the single pass technology assures perfect registration with no risk of substrate distortion. The Kodachrome inks print up to 98% of Pantone colours and spots can be printed on auxiliary units. Inks are food safe for indirect applications. The press prints 600 dpi, with 256 grey levels and runs at 572m2 per hour, printing 3600 A3s per hour. Changeover is eight minutes which Kodak claims is six times faster than the competition. Orders are being taken with a view to release in 2022.

Institutional investors may see Kodak as a bit of a lost cause, but this is a mistake. Kodak has de-leveraged its balance sheet and culled superfluous resources and development efforts. The business is more sustainable and its environmental impact reduced. Disciplined focus on core markets and continued commitment to research and development for both digital and analogue print applications frame the rest of the picture.
A digital platform
The Nexfinity, the Prosper Ultra C520 announced last year and expected "soon", along with the Ascend digital presses, should drive Kodak's future digital prosperity. However the company is focused on analogue and digital convergence evident in the printing sector, so investment into Sonora processless plate technology continues. Software in the form of Prinergy workflow pulls it all together.
Prinergy Access
Kodak is moving its customers online using Microsoft Azure web hosting for production management. Prinergy, Kodak's workflow technology, is now subscriptions based. Prinergy Access Workflow Software is accessed via browser so its tools can be tailored to the needs of individual subscribers, from single press companies to organisations with multiple presses across numerous sites. Providing Prinergy on line means printers do not need to invest inhouse: workflow management's all online. Software tools on subscription is not a new idea, however competitors such as HP's Print OS, billed as a print operating system, do not have the apparent simplicity and convenience of Prinergy Access. A remote model could cut inhouse emissions for Kodak customers, because they will not have to maintain production software or the associated hardware. The model takes the industry another step closer to full automation and increased process efficiency.
Modern Litho's view
Jim Tomblinson of Modern Litho invested in Prinergy On Demand Business Solutions because "we couldn't afford not to" and "[aging] MIS technology was holding back the company". It compromised Modern Litho's ability to serve customers and grow the business. Now Kodak and its partners provide the development thinking and are a single point of contact for Modern Litho. Tomblinson said: "we are now able to share the load" across its four sites, adding that young people coming into print have a more rewarding prepress work experience with the model.

The newly announced Prinergy Access is an open ended database, connecting users to advanced technologies. It's an platform for sharing jobs and data across all sites.
It's all one
With Prinergy Access Kodak has a single digital infrastructure supporting both workflow and MIS. The unification of prepress workflow and MIS could provide Kodak with considerable opportunities to attract new customers. And Ascend is a key platform for the company. Kodak will introduce more Kodachrome inks for wider application scope.

As the print industry evolves new applications, particularly in packaging, Continenza recognises that "plates [are] going to be around a lot of years". Investments in Sonora, digital printing and workflow are investments for the "sustainability of the printing industry". Technology is moving print away from harsh chemicals, environmentally hostile inks and resource intensive processes. Kodak is currently conducting a full sustainability study within the business because "we are totally commited to sustainability". This applies to planet and company alike.

Cover Image: image courtesy of Kodak

Source Information: This article was produced by the Verdigris Project, an industry initiative intended to raise awareness of print's positive environmental impact. This weekly commentary helps printing companies keep up to date with environmental standards, and how environmentally friendly business management can help improve their bottom lines. Verdigris is supported by the following companies: Agfa Graphics, EFI, Fespa, Fujifilm, HP, Kodak, Miraclon, Ricoh, Spindrift, Splash PR, Unity Publishing and Xeikon.

Interested in joining our community?
Enquire today about joining your local FESPA Association or FESPA Direct