Tomorrow's World
Innovations in textile printing: transparency and traceability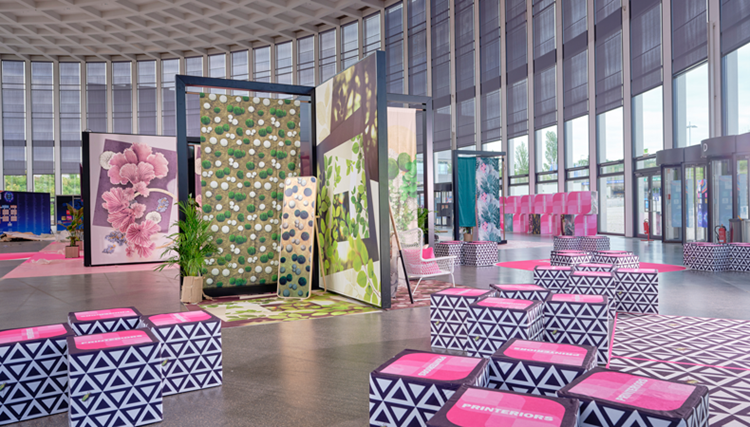 Speaking at the FESPA Global Print Expo 2022 in Berlin, Debbie McKeegan, FESPA's Textile Ambassador, explains how new innovations and ways of thinking are helping Europe's textile industry become more sustainable.
The textile industry is not known for being particularly environmentally friendly. Why does that need to change?
Whoever's buying your printed materials needs to be assured that they have been created efficiently with environmentally friendly processes and that they have been sourced responsibly. The industry is moving to an era where transparency and traceability are the new normal – no question about it. Clients and consumers need clarity. Circularity must be built into the lifecycle of all the products we manufacture, and the textile industry is considering its historic impact and eco-regeneration very seriously.
What else is driving this trend?
The print industry itself is also driving that change and has a new vision for the future. Companies don't want to have capital invested in stock that ultimately will be discounted if not sold. Nearshore manufacturing allows the retailer/buyer to take action and to take advantage of reduced lead-times. Doing so enables the buyer to stay in tune with sales data and to react using close-proximity production – which is both cost- and carbon-efficient. If you look at the fashion industry, 75% of the product's price is there as a safety net, so if they can produce print on demand closer to home: then they have 45% more margin to play with. Their capital is turning more quickly, so nearshoring and reshoring are strong strategies because they are better environmentally and financially. There's definitely been a huge swing in that direction, which has run in parallel with the acceleration in e-commerce sales, where we had 10 years' worth of growth in the first six months of lockdown.
How has the pandemic impacted the shift towards sustainability?
Research and development within the industry didn't stop because of lockdown, it carried on zooming ahead. Also, what has happened post-COVID, with the issues that people have had within their supply chains, is that there has been a huge appetite for more sustainable production, alongside growing consumer awareness of emerging, sustainable green technologies. The actual clients that the industry supplies, beyond the print community, have had exactly the same issues. Certification is also really important, and so the industry has been working on all of these things in the background, and now they've come to the fore.
What are some of the innovations improving sustainability for textiles?
At FESPA, there's a lot of focus on the signage and wide format graphics industry, but all of those technologies used by the industry over the years are now being adapted towards textiles and interior decoration. So, for example, UV technologies that were built for the signage industry have massive applications for interiors, where you need durability and good colour yield. We now see those technologies moving into that space, and you see convergence from exhibiting printers looking for new markets that they can use that technology for. We've also got lots of great developments with Latex inks and dye sublimation from companies like HP, which have all created fantastic new software, machinery, head technologies, colour chemistry and coatings for the interior décor and fashion markets. There's so much creativity in our industry. Applications and technologies spill over from one market to the next to disrupt conventional marketplaces. Primed for disruption is the interior décor industry.
How are these innovations being used in practice?
Let's look at the HP Latex range, which has disrupted the décor market massively over the past 10 years. There are many notable trailblazers across the globe, all of which use technology to disrupt markets and capitalise on the creativity and efficiencies of digital production. John Mark Ltd are a fine example. As a UK digital printer, printing 3,000 metres of wallpaper per day, they offer a super-quick service, exceptional creativity, and an impressive collection of printable materials such as mica, pearlescent materials and natural surfaces such as seagrass and cork. But Latex isn't just for wallcoverings, within Printeriors you can see many examples of mirrors, vinyl films, ceramics and other applications. Latex is an eco-friendly process and consumers are looking for sustainable production, printable substrates and applications that are kind to the environment. There's been lots of developments, machinery has become more affordable, and all of those innovations are encouraging entrepreneurial growth in the market.
Are these new products more expensive for customers to buy?
Wallcoverings are traditionally an industrial market for mass manufacturing. If you were to look at a company like Graham & Brown, they might produce 40,000 metres of print per day in one of their factories using huge machines for mass production. Those production methods may never be matched on price at volume, but that's not what a lot of people want, and a huge part of the market is changing. If you were an interior designer five years ago, you would have to commit to 20 rolls of wallpaper, for example. Now, you can choose and design your own wallpaper, and have one roll made of 10 metres for €70 – delivered in three days. It's amazing.
What more can be done to improve the sustainability of the textile industry?
All across Europe, governments are pushing ahead with different forms of mandatory regulation and compliance within all sectors, and it won't be long before our industry has to face that. NGOs are also pushing the agenda, and that's fantastic because the information is getting down to the consumer. At the end of the day, we are manufacturers who produce for our clients, so it's important we manufacture sustainably. It's never been more important to actually invest in sustainable technologies – in doing so, you're preparing your business for the future, while also attracting the right people to your business. The next generation do not want to live in a world of waste.

I also think the consumer has a social responsibility to change their behaviour too, and its only through knowledge-sharing that any of us can do this. But there is a lot of greenwashing out there. Its currently impossible to track and trace the supply chain in a 360 format, but once we can, our manufacturing community will be able to source responsibly.
Become a FESPA member to continue reading
To read more and access exclusive content on the Club FESPA portal, please contact your Local Association. If you are not a current member, please enquire here. If there is no FESPA Association in your country, you can join FESPA Direct. Once you become a FESPA member, you can gain access to the Club FESPA Portal.