People in Print
Sign of things to come: South African sustainability pioneers win FESPA Award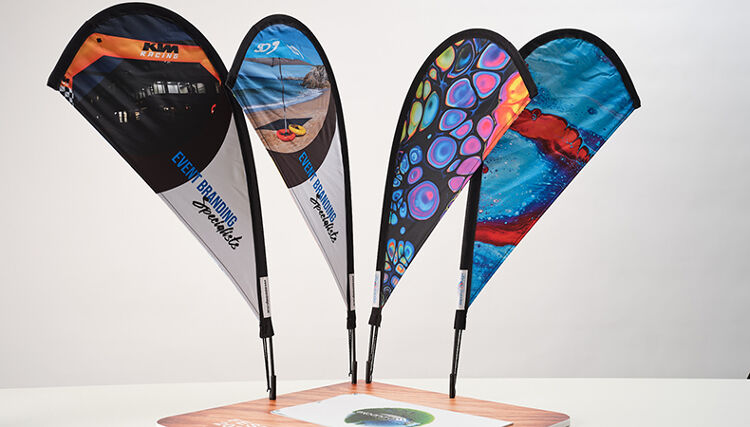 Wade Bartlett, General Manager of Expand A Sign, describes how a unique mini product display allowed his team to showcase its talents.
The South African company won the FESPA Bronze Award in the Roll To Roll Printed Textile category. The entry demonstrated the use of the EFI Reggiani ONE 1.8 metre sticky belt, their Reggiani NEXT 3.2 metre and three Roland FP740s, along with Monti Antonio heat pressing transfer calendar machines. By weaving 100% South African generated waste into recycled fabric locally in Durban, significant emission savings and reuse can be achieved. Any production waste is adapted to provide waterproof ponchos and school bags for children in deprived areas.
Could you give us the history of your company?
Our story began in 1997 in South Africa, and today we are a global leader in the world of event branding. With offices in Durban, Cape Town, Johannesburg, Mpumalanga, and Atlanta, as well as an extensive network of international sales representatives on every continent, we are truly a global force in the world of event branding. Over the years, we've retained a core, unshakable belief in providing our customers with superior quality branding solutions. This has set us apart in every market, allowing us to become a must-have for renowned brands – including 87 of the world's top 100 brands – as well as thousands of local and international brands and events.
What was the brief for the award-winning entry, and what were you attempting to achieve with the work?
We wanted to showcase to the world the extraordinary craftsmanship that defines us here in South Africa. Our goal for perfection is best witnessed in person, as the level of quality of our printing and finished products meets the highest quality standards. Photos can only capture a fraction of the magic, which is why we submitted a mini product display that allows you to truly appreciate the skill and attention to detail that goes into each and every one of our products.
How were you inspired to do the work?
We are inspired by the work and culture we have established here. As someone who is passionate about the craft and creative potential, this project became an exciting opportunity to showcase our creativity and present it to the world.
How long did you have to complete the project?
I embraced the thrill of spontaneity – and after a bit of procrastination – it took me 1 week to complete the project.
What are the benefits of the material choices (printers, inks, substrates etc) that you made?
At Expand A Sign, sustainability is a fundamental part of our brand's DNA. It is something that we as a team are extremely passionate about and we're constantly seeking new ways in which sustainability remains at the forefront of our supply chain, manufacturing, and product development. The FESPA Awards were a great opportunity for us to showcase how we can provide consumers with high-quality branding in an environmentally sustainable way, by utilising rPET fabric and non-toxic, water-based inks in our sublimation process.
What have been the key challenges relating to technology, materials, installation, design, sustainability, etc?
Sustainability is no longer about doing less harm; it's about doing better, and innovation is only innovation when it's sustainable. We had to develop a display that could easily be shipped and assembled by someone at FESPA with no knowledge of how our products work, while ensuring we didn't compromise on quality.
How have you overcome those challenges?
With 26 years of working closely with some challenging customers, often with near impossible logistical challenges, we're constantly thinking innovatively in terms of efficiencies and ensuring that the customer is always satisfied with the end result.
How many people were involved in the project?
Three members from our management team assisted with conceptualising the display, then it was over to our technicians in the various manufacturing departments to bring this vision to life.
What's your favourite aspect of the product?
We provide customers with with tailor-made branding solutions that cater to their specific needs, it gave us an opportunity to create something that was truly bespoke, whilst showcasing our unwavering commitment towards sustainability.
How sustainable were your processes?
Innovation should never come at the expense of our environment. Each component is 100% manufactured in South Africa – from the fabric to the rods, and the plastic components utilise recycled nylon to help reduce our carbon footprint. With dye sublimation printing, we utilised a non-toxic, water-based digital printing ink solution.
What does winning a FESPA award mean to the company?
We are greatly honoured and deeply humbled that our efforts have been recognised by FESPA, which is arguably the gold standard in print excellence. This award is testament to the great lengths to which we have gone over the last 26 years to ensure that our customers have peace of mind that their brand is in very capable hands.
Become a FESPA member to continue reading
To read more and access exclusive content on the Club FESPA portal, please contact your Local Association. If you are not a current member, please enquire here. If there is no FESPA Association in your country, you can join FESPA Direct. Once you become a FESPA member, you can gain access to the Club FESPA Portal.