People in Print
Interior del Fuego wins FESPA Award: bringing Latino vibes to Dubai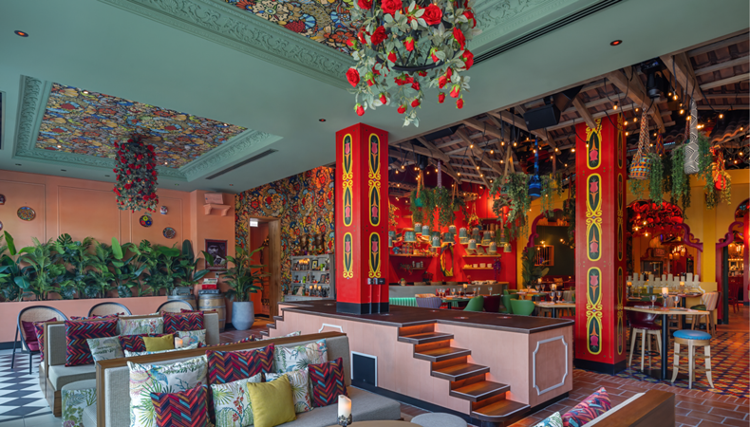 How Printpac's Wallart Designs division transformed a restaurant in the Middle East into a dazzling vision of South America.
Printpac subsidiary Wallart Designs' striking interior for the En Fuego Restaurant at Atlantis The Palm in Dubai was designed and developed in Adobe Illustrator by Bishop Design, and printed on an HP Latex 1500 with water-based inks. The wallpaper created was HP PVC-free durable suede wallpaper. The production was REACH compliant, GreenGuard Gold and FAC certified in order to meet the requirements of food service environments. The company won FESPA's Silver Award for Printeriors.
Tell us a little bit about your company.

Wallart Designs is a new division that has been running for over six years under the helm of Printpac ME. This division comprises 15 print décor specialists, and we specialise in printing customised or bespoke wallpaper, all on eco-friendly and sustainable materials.
What was the brief, and what were you attempting to achieve with the work?

Bishop Design LLC (Dubai) approached us in June 2022 asking to print and install wallpaper for a food and beverage outlet in Dubai with the following criteria: "The wallpaper needs to be high performance, easy maintenance and washable." We used the HP PVC-free durable suede wallpaper which checked all the boxes. Since this is a Latin restaurant, and the South American culture is known to be colourful and vivacious, we used our HP Latex 1500 printer, which reproduces vibrant and flamboyant colours. The original design supplied by Bishop Design was in a vector format, and the final print quality was immaculate.
What in particular inspired you on this job?

The colours and design of the wallpaper were quite vibrant and loud. This made it very intriguing, and we really wanted to see how the outcome of the print would look in the restaurant.
How long did you have to complete the project?

Two months from inception to the actual installation.
What are the benefits of the material choices (printers, inks, substrates etc) that you made?

HP Latex 1500 printer and latex inks offer numerous benefits. They are eco-friendly, reducing the impact on the environment. Non-PVC substrates are also used, further enhancing sustainability. These choices are healthier and eco-friendly, and ensure recyclability and compliance with environmental regulations, making them a sustainable option.
What were the key challenges involved in the project relating to technology, materials, installation, design, sustainability, etc?

The biggest challenge with this project was the fact that wallpaper was required on the ceiling, which at points was over five metres high. When using scaffolding for wallpaper installation on walls and ceilings at heights, several unique challenges arise. Safety becomes a primary concern, and you need trained personnel with experience working at high levels. Maneuvering scaffolding in confined spaces can be difficult, affecting accessibility and creating obstacles for precise application.

Furthermore, handling and aligning large wallpaper sheets while on scaffolding demands extra caution and coordination. Proper securing of materials and tools is essential to prevent accidents and ensure a smooth installation process. Wallpaper installation on ceilings and walls can pose several challenges. Matching patterns and aligning seams can be tricky, requiring precision and expertise. Additionally, dealing with corners, light switches and electrical outlets demands careful cutting and fitting.
How did you overcome those challenges?
We ensured that the installation team was well-trained and experienced, and thoroughly prepared the surfaces before installation to create a smooth and even base for the wallpaper. We also used precise measurements and cutting techniques to match patterns and align seams accurately. Laser guides and templates can be helpful in achieving uniform results.

Strict safety protocols were also implemented, including the use of harnesses, safety rails and personal protective equipment to minimise risks associated with working at elevated levels. Experienced supervisors oversaw the installation process, providing guidance and assistance when needed, especially during challenging tasks.

We also created mock-ups or samples before the actual installation to test patterns and alignment, helping to identify and address potential issues early on. After finishing, we conducted a thorough inspection to identify any imperfections and make necessary touch-ups or corrections promptly.
How many people were involved in the installation?

One supervisor and four applicators.
What's your favourite aspect of the product?

The opportunity it afforded to work with renowned designers, a fit-out company and world-class photographers.
How sustainable were your processes?
We used eco-friendly printing technologies like latex inks, which have lower environmental impacts compared to solvent-based inks. Wallpapers were made from recycled or responsibly sourced materials and non-PVC substrates reduce environmental harm.

We also used energy-efficient printing equipment and machinery, and reduced waste by optimising material usage and recycling leftover materials wherever possible. Installers were trained to minimise waste and use environmentally friendly adhesives and tools during installation. Transportation routes were optimised to reduce carbon emissions, and sustainable packaging was also used.
What does winning this FESPA award mean to the company?

For Wallart Designs, winning the FESPA Silver Award holds immense significance. Firstly, it validates our commitment to delivering top-notch printing solutions to our clients. It also serves as recognition of the hard work and dedication of our team members, who have consistently aimed for excellence in their craftsmanship.
Become a FESPA member to continue reading
To read more and access exclusive content on the Club FESPA portal, please contact your Local Association. If you are not a current member, please enquire here. If there is no FESPA Association in your country, you can join FESPA Direct. Once you become a FESPA member, you can gain access to the Club FESPA Portal.