People in Print
Graeme meets Lorenz Boegli at Atelier fuer Siebdruck in Switzerland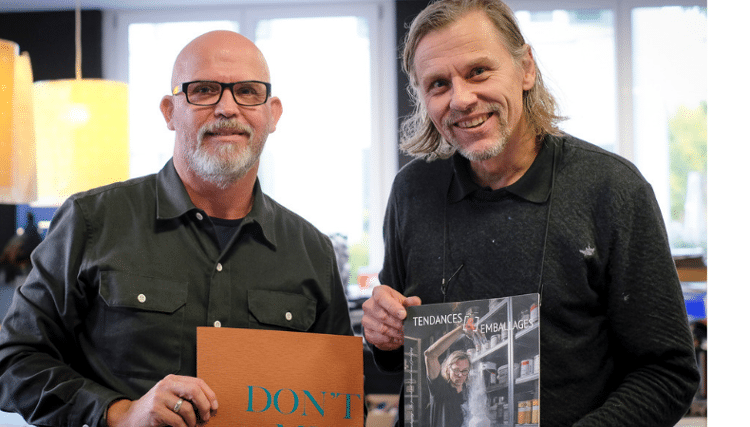 Graeme Richardson-Locke interviews Lorenz Boegli, the owner of Atelier fuer Siebdruck and student of Michel Caza. Lorenz demonstrates a command of screen printing that places him among the very best in the world.
One of the great privileges of my role as Technical Support Manager at FESPA is that I get to spend time with some of the most respected figures in our community.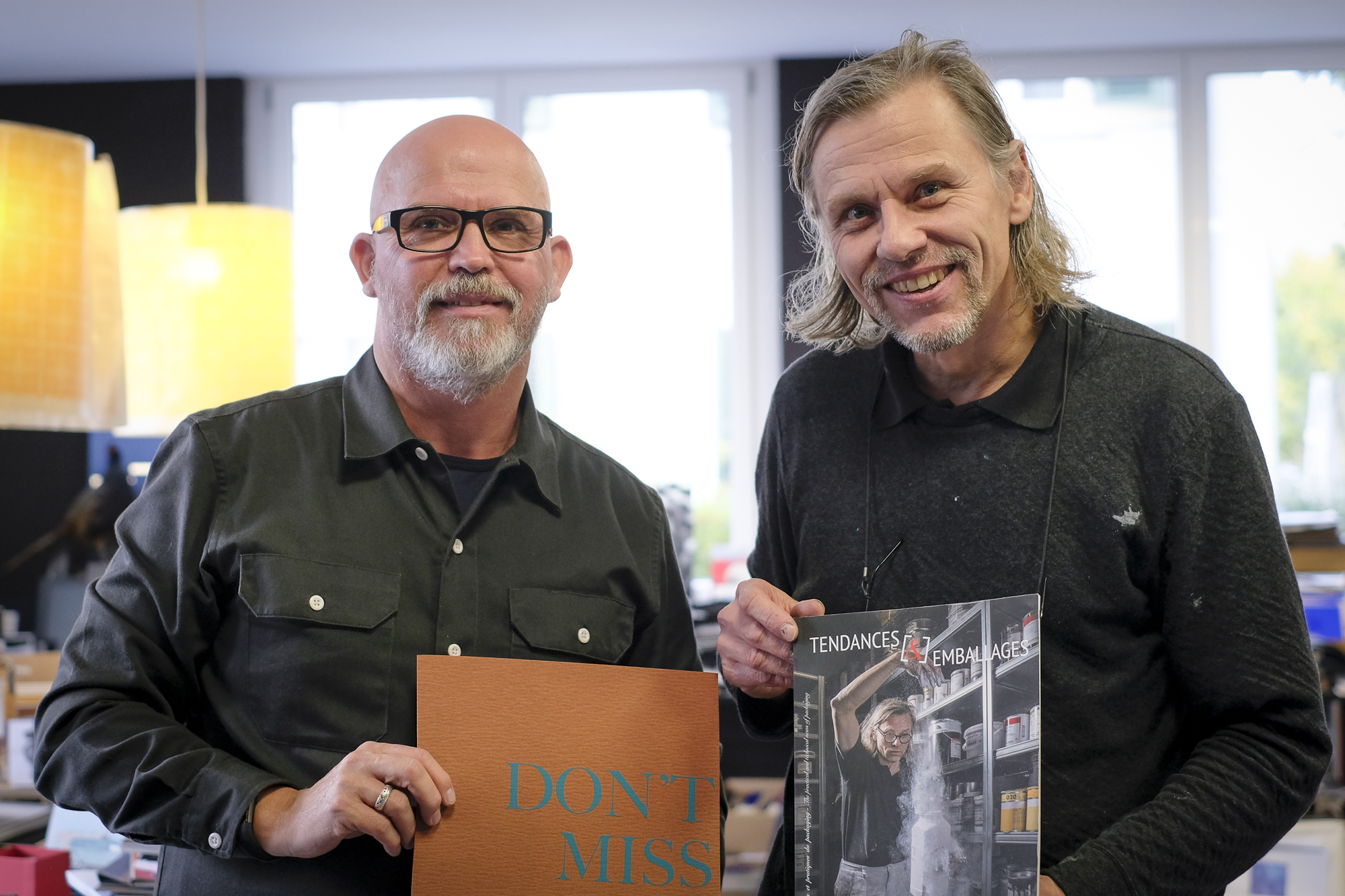 Graeme Richardson-Locke with Lorenz Boegli at Atelier fuer Siebdruck's print plant in Müntschemier, Switzerland.

Lorenz Boegli, the owner of Atelier fuer Siebdruck, winner of over 140 international print awards since 1995 and student of Michel Caza, demonstrates a command of screen printing that places him among the very best in the world. Fuelled by passion and a meticulous approach coupled with more than 30 years of experience, he understands how to achieve the finest results. His process involves developing a concept, such as his recent work in creating RGB prints using Merck's iridescent pigments in inks, to print on black where the screen printing of red, green and blue creates white.

Close-up from Creativ verpacken cover in RGB with Merck's iridescent pigment​.

This has to be seen to be believed as it is counterintuitive for most of us (honoured as Best in Show at FESPA '19, cover of Creativ verpacken). While the impact is best realised by careful image selection, there is no doubt that this method generates prints that appear to come alive as light hits their surface.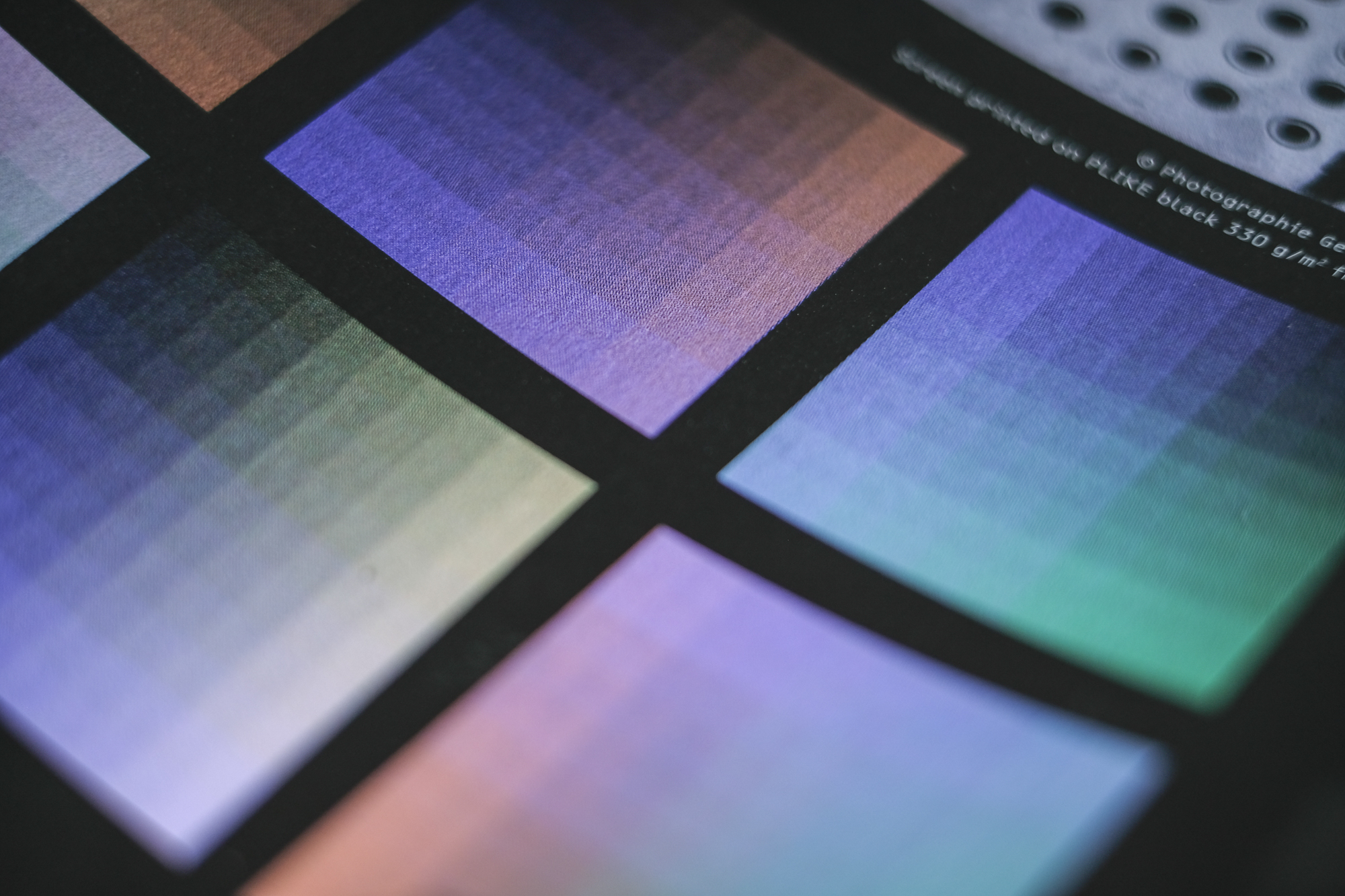 Tint patches showing some of the colours available from RGB printing.​

Lorenz prints this work at screen rulings of 90 – 120 lpi, and while this is special in itself, he also prints up to 300 lpi with no moiré using indirect stencils on a cylinder press. Colour management is an important consideration at Atelier fuer Siebdruck and Lorenz has created ICC profiles on linearised presses to ensure accuracy in colour reproduction. With many claiming the demise of screen printing, Lorenz is a living, breathing example of how screen print is in fact unrivalled in its creative application. The business is supported by a client list that would be the envy of most, from Patek Philippe to Chanel and Hermès. The typical applications are covers for catalogues and invitations where a great deal of luxury are the only appropriate offering to the clientele. Lorenz also has a reputation as a master printer in the fine art market – he has worked with many leading internationally acclaimed artists. A recent and ongoing project is to screen print very limited runs using seven colour process extended gamut at 120 lpi on prints at A1 size.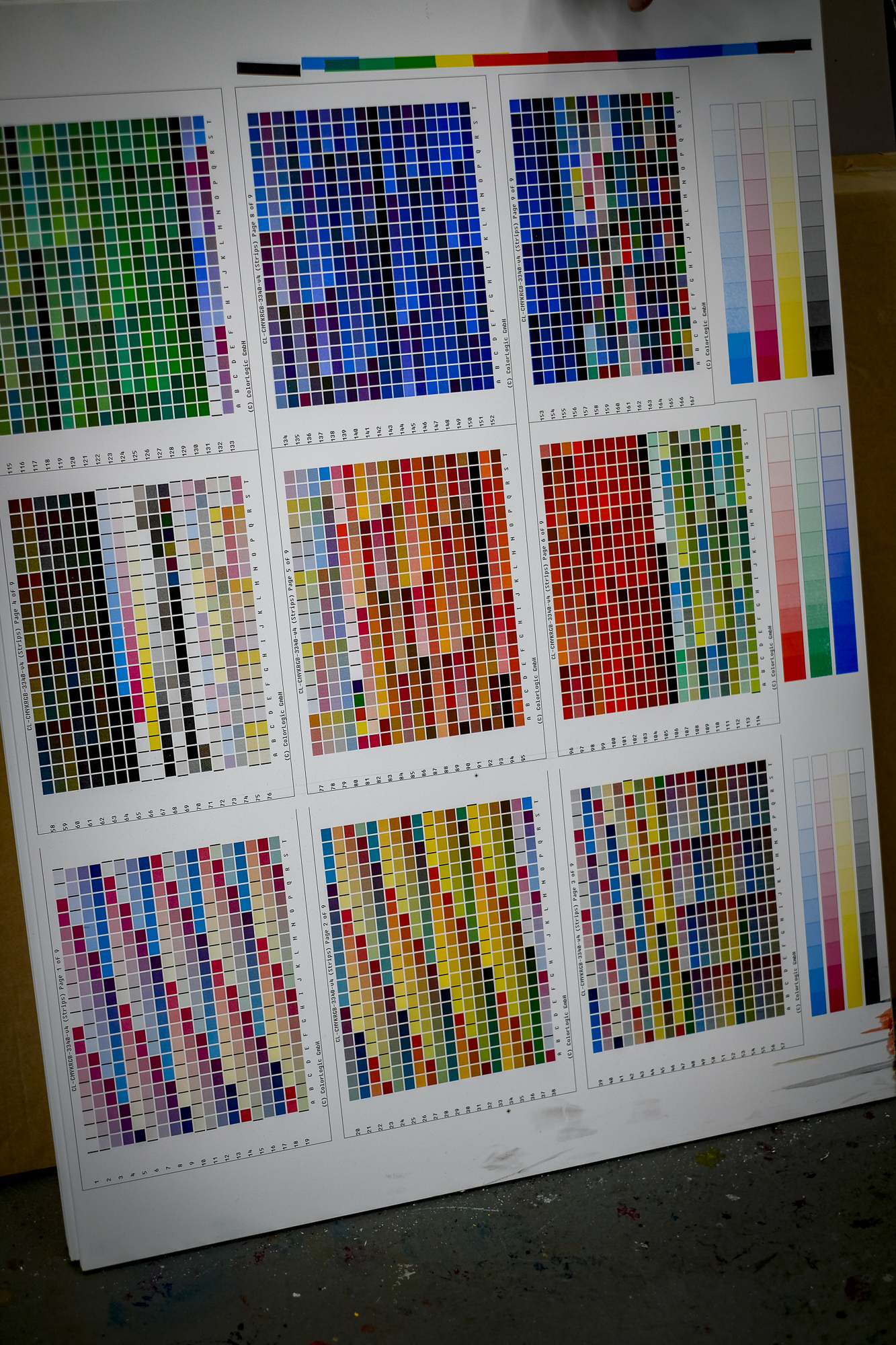 Caption: Here's a press sheet showing the ICC test chart for CMYKOGV screen printing.

The artist Urs Fischer typically creates artwork digitally with an iPad before creating analogue editions. These prints are created with CMYKOGV so that the gamut is huge, when you see the colours you'd expect only to see such saturation on an RGB monitor. If you're wondering, these editions of two to three per image sell for £75,000 each.

The reason this printing company is as strong as ever is the amount of effort made in R&D, up to 10% of production time is spent developing new finishes that Lorenz will sample to his key clients – this is the only way keep them excited and looking to the next project.

In nearly 35 years in screen and digital printing I rarely meet a printer with this degree of enthusiasm and energy, we can all learn from this approach. Lorenz Boegli was a great host during my visit and I'm pleased to say has been willing to answer my series of interview questions. Please read on to see his responses.
When did you first hold a squeegee?
I began at 16 as a signwriter and spent half my time screen printing block colours in 1981. This was followed four years later by an apprenticeship with Albin Uldry, who was one of the most famous art poster printers in Switzerland.
When did you realise that you'd found a job that would become a life-long passion?
By working with Albin Uldry who offered the scope to understand everything from colour matching, to halftoning, leading four-colour process with 100% solvent-based screen inks.
How did you become an intern of Michel Caza?
My professor at college gave me an article by Michel Caza from a German screen printing magazine. At this point, I felt that I must visit Michel and after setting up the visit I asked him if I could work for him, to which he said:Ffor how long? I said one year, to which he said: When can you start? That was 1991 and I'm still going strong…
Which occasions have made you feel most privileged?
Having qualified under Albin Uldry, I then made my way to join Michel Caza. I thought I was a knowledgeable printer until I started working for Michel. At this point, I had a complete about-turn and knew that I was about to embark on learning a whole new way of thinking.

Having been with Michel for two weeks, an old man walked in and I recognised him, it was José Mercier, the Swiss artist who then invited me to the 40th anniversary party of Le Tamis, a leading French-published European screen printing magazine.
What pearls of wisdom would you offer to the younger members of our community looking to establish their future in print?
Having come from a normal family, I entered the art world and learned the relationship of culture and art through screen printing. My advice to younger people is to find a profession, irrespective of whether that means going to university, that can engage your interest and fuel your passion for years to come. We all have to work, but it won't feel like work if it's your passion and will always be rewarding. Also, have realistic expectations and trust that progress will come if you work hard.
What has motivated you to solve challenges where others may have just changed direction?
I have unlimited energy from being a sportsman. I feel that it is in my power to change things, to create newly printed objects from which I want to touch people. The quality of my prints motivates me the money is a secondary motivator.
Do you feel that environmental responsibility is a pre-requisite for any company trading or a luxury to be enforced by the government?
Our power is generated by solar, we use both solvent and UV inks in our printing process for which we pay a levy based on our consumption (3 CHF/kg VOC), our waste water is filtered and managed to fall below environmental discharge limits. All of our waste material is segregated and disposed of in accordance with Swiss environmental legislation. All in all, we meet our obligations but can't claim to be perfect as some materials are difficult to reprocess.
I am interested to understand whether you think it better to choose a 90 lpi over a 120 lpi AM screen if it will allow you to better control TVI on press?
Of course it is easier to manage a raster of 90 lpi and keep within control limits; however, while the priority is to ensure consistency, there are many arguments that support the use of much finer halftones of up to 300 lpi for artistic reproductions.
As a world-class screen printer within FESPA's community, do you feel that the federation is still as relevant as it was before YouTube and the internet disrupted business networking?
For me, the benefits of meeting people at FESPA events offer the chance for quality discussions that can't be equaled by online media channels.
I trained as a screen printer and then added digital printing to my skill set, so I feel that there are many opportunities to combine the processes. Where do you see the benefits in this multi-process industry?
Screen printing has been used and retains its role as being a partner to other technologies.
One challenge that our industry faces is how to make a new generation of designers aware of the excitement that interactive print can generate. Having printed everything from Fragrance ink to reflective glass beads to react to smartphone flashes, my experience has been that many designers aren't aware of the awesome things that screen print can add to their projects. What do you think we can do to change this situation?
I can't see a simple solution – we only have access to a tiny percentage of designers as most are engaged in digital design. Their experience of screen printing is to print a basic poster. I recently spoke at the Creative Paper Conference in Munich where 500 graphic designers attended a conference called the Analogue Revolution and came away feeling that screen printing is a form of entertainment in this community.
Having achieved so many creative innovations over your career do you have any burning desire to do more with your expertise?
The process is so flexible that there will always be an inspiration to keep developing, new samples generate new forms of stimulation as we have shown with iridescent, metallic and cosmetic pigments over more than 20 years.
I think of FESPA as a family, a community within which we can learn and meet our peers. I choose the spirit of abundance over the spirit of scarcity and have found many rewards for that approach. When printers say that they haven't got time to be a part of their industry association what comment would you offer?
My insurance is innovation, it is an essential element of my business. I seek inspiration and understanding through many sources. The phone isn't programmed to ring with screen printing enquiries – it is our role to make them happen. In this, knowledge is power and FESPA offer easy access to a large talent pool to seek information.
You have travelled around Europe and left your mark in its many countries – where would you like to go next?
I'd like to visit Japan as I have the greatest respect for their craft skills and I'm planning on spending more time in Italy to develop sales.
How do you like to spend your vacations?
With only four weeks in the summer, I like to explore neighbouring countries, particularly Italy and France.
Have you got any questions for me?
My question to you is, what do you see in my prints?
After some thought, my response is 'wonder'.
Become a FESPA member to continue reading
To read more and access exclusive content on the Club FESPA portal, please contact your Local Association. If you are not a current member, please enquire here. If there is no FESPA Association in your country, you can join FESPA Direct. Once you become a FESPA member, you can gain access to the Club FESPA Portal.