Features
The wallcoverings industry is set for disruption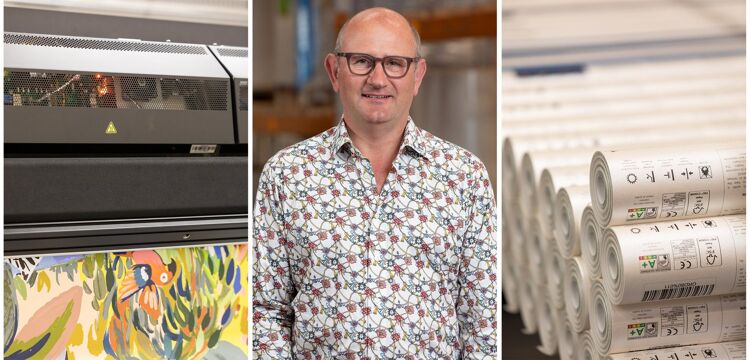 Debbie McKeegan speaks to John-Mark Watson to learn more about his lifelong passion and love for the wallcoverings industry, manufacturing and its nuances.
When digital inkjet technologies first emerged some twenty years ago the graphics industry was the first marketplace to be disrupted and to digitize production. Closely followed by the wallcoverings industry. Early adopters specialized in graphic, photographic reproductions and the off the shelf customized wallpaper- the wallpaper mural was born.
The next chapter in this evolution is attributed to the knowledge and skill of the digital pioneers. Pioneers with a deep understanding of traditional wallcoverings, the marketplace, its community, and the creative edge that needs to be deployed for commercial success.
This is the story of a new era of digital production for roll-to-roll wallpapers, where creativity flourishes at any volume, to carve a new industry, freed from mass production and where technology is developed in partnership with the print pioneer.
In today's interview we talk with John-Mark Watson of John Mark Ltd who has utilized HP technology to build an impressive production facility, and a company that nurtures the creative community and the advancement of digital technology.
We Sat Down With John- Mark Watson To Learn More About His Lifelong Passion And Love For The Wallcoverings Industry, Manufacturing And Its Nuances.
When was John Mark Ltd founded and what machine output did you have back then?
"We started in May 2012. We had one HP LX 600, the second generation of the Latex technology from HP. Soon after that, we then bought a small L26500, as a sampling machine. AVA CAD CAM provided us with our RIP, and our colour management system. But back then in the early days, we couldn't we get color samples from large machine to print on a small sampling machine and vice versa. It was never close enough - in wallcoverings a close match isn't a colour match. Finally, and I attribute this progress to the help we received from Jane Rixon at HP, AVA were allowed access into the HP software, and the issues with colour matching and colour continuity were finally resolved.
The following year, May 2013, we then bought a LX 820, and then bought the second LX 820 in November 2013. So, in total, we had 3 large wide width printers and 1 small sample printer. And I must say, in those days, they were very temperamental, they were nothing like what they are today. We were pushing those machines, to the limits, they were really only designed for doing small signage and graphics and we were actually producing hundreds and hundreds of rolls of wallpaper through them right from the very start. I was there in production running 24/7 all on my own. I had one guy doing pre-press and sending the work from the iMacs to the HP printers. I was doing all the delivery notes. I wasn't doing the invoicing, but I was preparing everything else.
I would have thought our total volume in a week would have been producing about 400 rolls of wallpaper. The early days in digital manufacturing, across the board, was difficult work for everyone".
"The support we received from the HP team has been instrumental in our success. I'd like to credit Jane Rixon of HP and Doug Gilbertson from Paper Graphics for their continued guidance, support and assistance. Over the years we done a lot of business and have become great friends, Doug was best man at my wedding last year".
Ten years later, John-Mark what is the output volume of John Mark Ltd today?
"We've got seven machines and we're doing generally around about 120, 10m rolls of wallpaper per day on each one. We print six days a week, it's around about 5000 rolls. We are the world's largest digital printer for wallcoverings. And we use more ink than anybody else in the world. But you've got to remember that wallcovering print is full coverage, that's where the ink volume comes through. We now operate using 7 HP Latex 1500 digital printing machines, running dual rolls." John Mark Ltd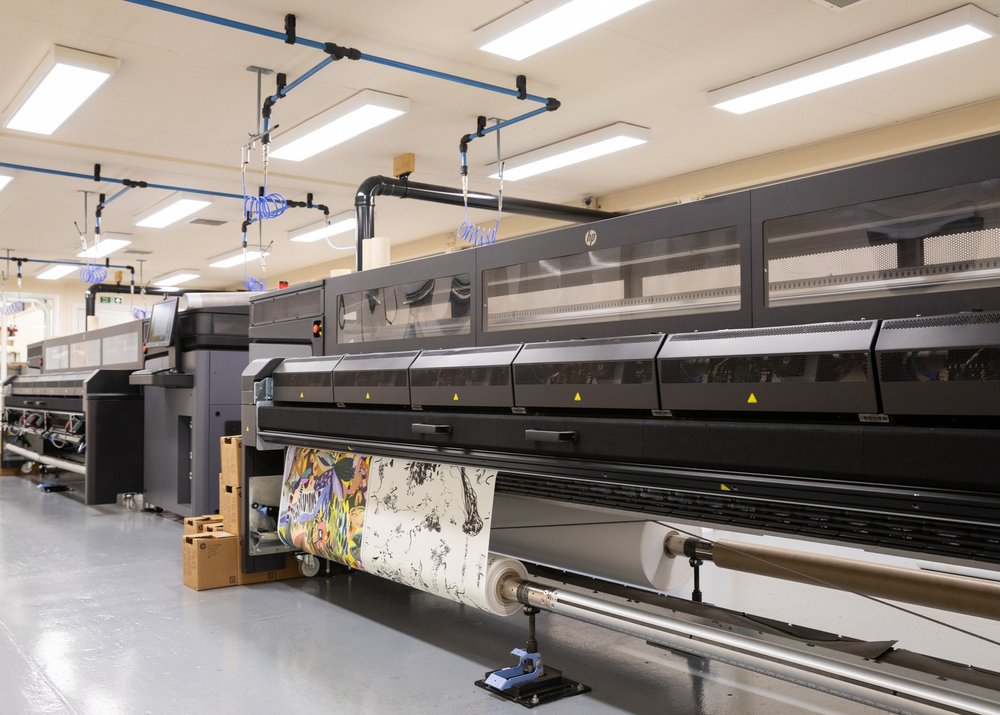 "We also recently purchased a HP Latex 800W and are making marked progress with this new technology. The white ink opens lots of creative applications for coloured grounds and layered print effects. More on that later – watch this space."
Why have digital technologies has such an impact on the wallcoverings marketplace?
"I think it's just minimal setup - no stock – and print on-demand. Some of the world's biggest brands are now working with us on-demand. Don't get me wrong, we love stock orders, we always will love the volume. But why have a warehouse full of printed SKU's when you can get your manufacturer to make it and deliver it direct to your customer?"
"But there's still an awful lot of administration at the moment in every order. And the reason for that is a SKU driven business. And you know, you only want one number to be out on a SKU, and it's all wrong. You have almost got human contact at every level because we're dealing with brands predominantly, who send you a written PO. We check every detail and write it all up, then send back for them to approve. You don't just produce something we are meticulous, and we work hard to excel in our customer service."
Over the years John Mark Ltd has grown to employ 17 full time staff. The factory manufactures 24/7 running an automated nightshift, thanks to HP software which can alert the remote production team should any errors occur.
John-Mark Has Built His Company By Investing In Relationships
He supports and nurtures his employees, customers and suppliers. Spending hours in production – at the heart of the business, this is where he is happiest. The business has quadrupled in just a few short years, the team accept and resolve each and every challenge as they arise with a can-do culture.
John-Mark added "I know what to do and how to build companies, our expansion has been organic, its natural and pragmatic. When we have challenges, we cross those bridges as we come to them and resolve the issues. I love the glory days when you're pressing the button for 1000 rolls. And that's what really gets me out of bed, I just love to see production and to satisfy customers, you know, and having that boost when they send an email back and say, thanks so much for doing such a thing. It's brilliant, you know…that's when you get a real kick isn't it?"
"I've worked with these customers for the last 30 years. Quite a few of those designers within those companies have actually moved from one company to another, but they've all followed me from one company to the next. As the owner of the company, I can make friends with my customers, they always look forward to coming up here. You've got to make commercial life pleasant, haven't you? That's the kind of industry I grew up in, in textiles years ago, where that kind of hospitality was swishing around. There has to be fun."
John Mark Ltd works closely with their customers to ensure that their designs are replicated perfectly. The studio supports creatives to set-up and agree colour standards before production commences, and these are matched for future runs. Digital production offers the creative a blank canvas for creativity. John-Mark's team work hard to deliver the designer's vision. For the brand and the independent designer, costs are greatly reduced compared to the set-up required for new collections using traditional sourcing routes and all of these attributes have in turn revived the industry and democratized creativity.
Creators always want to push boundaries and make something different, and they choose to work with John Mark because he has an innate natural creativity and skill for design, engineering, and machinery. And it is this talent that is unlocking technology and forging new applications. Within the HP team, he is referred to as "the Wizard", a title he wholeheartedly deserves.
Over the years many new substates have been added to build their impressive print base portfolio, some which have challenged the technology – but they experiment with them regardless. It's this curiosity and perseverance that breaks boundaries and as John-Mark said "It's all part of making life more exciting, who just wants to print non-woven forever? I do love the technology. I knew nothing about digital when I first started. I've always said that I know a lot about wallpaper, but actually being with the machines and seeing what they're capable of fascinates me. I often think how on earth can those six colors have created that. Every day is a different day. We have so many customers designing amazing stuff".
On The Horizon For Autumn Are Other New Developments. Some Remain Top Secret – Others We Can Reveal.
On the materials front John Mark Ltd.'s sourcing team have been working hard to bring new substrates to market. In September they will launch a brand-new range of wallcoverings called Minerali weave – a stunning array of textured wallcoverings that are made from sand/minerals and are part of the glass family, making them 100% plastic free. The products are made in Italy, and the team have signed an exclusivity deal with the Italian mill. John-Mark added "We're really, really excited about this new range of products coming through which are going to offer customers more sustainable options."
What John-Mark and his team have achieved deserves the industries praise. He has taken an emerging technology and carved a niche, to build an empire that brings his customers and partners creative joy and commercial prosperity. His business signposts a new industry and we wish them every success for their ongoing expansion and look forward to covering their new developments in the very near future.

Collaborative content published in partnership with Texintel  : https://www.texintel.com/blog/2022/9/1/the-wallcoverings-industry-is-set-for-disruption-john-mark-ltd-are-leading-the-field