Features
Lightweight iron giant wins FESPA Gold Award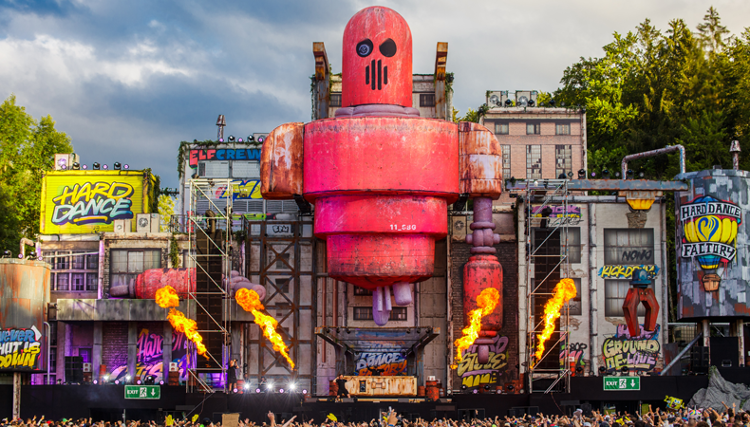 Belgium's X-Treme Creations created a huge, rusty-looking inflatable robot for a music festival.
"The festival business is a small world," said designers and creators X-Treme. "Hearing how seasoned stage design professionals did not believe our robot was an inflatable was the biggest compliment for our team."

The 18-metre high, 'rusty' inflatable robot was manufactured for the Electric Love Festival in Salzburgring, Austria. X-Treme Creations said creating this unique display had its own particular challenges. "The goal with this type of project is to create an inflatable shape that doesn't look inflatable. This robot is enormous, but to install it hanging in a construction of scaffolding and truss, it was important to keep an eye on the weight and volume of the inflatable. After production, the next challenge was installation. Typically for festival inflatables, it had to withstand heavy winds because it is impossible to dismantle in a very short time."

Revolution Event designed the Hard Dance Factory to look like an abandoned robot workshop in which this inflatable was the centrepiece. It was printed on 195gsm fire retardant polyester fabric on a Durst 512R LED printer and cut on a Zund D3 cutter. The components were then sewn together to form the finished inflatables. This approach provides a sustainable alternative to the massive volumes of polystyrene previously used for sets at festivals.

Access FESPA's member only content, Club FESPA Online, that offers practical, engaging and thought leadership advice that will help to drive your business forward. This premium content is available in 36 languages and features a monthly email newsletter. To read the full article and access over 200 articles that features industry experts that offer business advice, how to guides and future trends become a FESPA member here. If there is not a FESPA Association in your country you can become a FESPA Direct member. Once you are a FESPA member you will receive many member benefits including full access to Club FESPA Online as well as special member discounts to FESPA events.