Features
Interior del Fuego wins FESPA Award: bringing Latino vibes to Dubai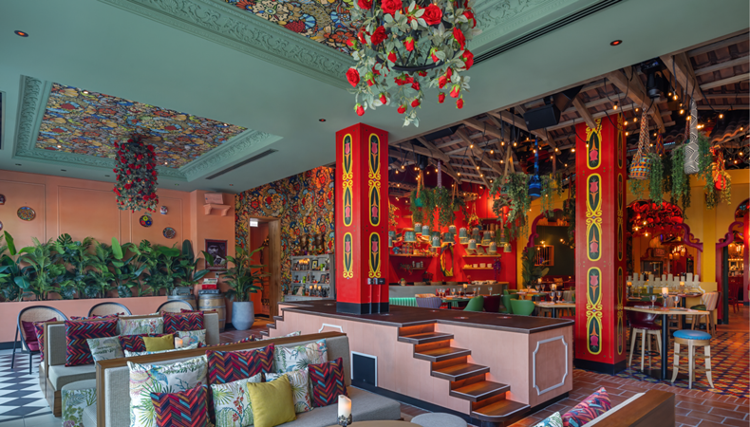 How Printpac's Wallart Designs division transformed a restaurant in the Middle East into a dazzling vision of South America.
Wallart Designs at Printpac won FESPA's Silver Award for Printeriors for its striking interior for the En Fuego restaurant at Atlantis The Palm in Dubai, requiring carefully fitted and striking wallpaper.

"We ensured that the installation team was well-trained and experienced, and thoroughly prepared the surfaces before installation to create a smooth and even base for the wallpaper," said the firm. "We also used precise measurements and cutting techniques to match patterns and align seams accurately. Laser guides and templates can be helpful in achieving uniform results."

The work was designed and developed in Adobe Illustrator by Bishop Design, and because the the South American culture is known to be "colourful and vivacious, the firm said, printed on an HP Latex 1500 with water-based inks. The wallpaper was HP PVC-free durable suede wallpaper. The production was REACH compliant and GreenGuard Gold certified in order to meet the requirements of food service environments.

The firm took its sustainability requirements seriously too: "Wallpapers were made from recycled or responsibly sourced materials and non-PVC substrates reduce environmental harm. We also used energy-efficient printing equipment and machinery, and reduced waste by optimising material usage and recycling leftover materials wherever possible."

Access FESPA's member only content, Club FESPA Online, that offers practical, engaging and thought leadership advice that will help to drive your business forward. This premium content is available in 36 languages and features a monthly email newsletter. To read the full article and access over 200 articles that features industry experts that offer business advice, how to guides and future trends become a FESPA member here. If there is not a FESPA Association in your country you can become a FESPA Direct member. Once you are a FESPA member you will receive many member benefits including full access to Club FESPA Online as well as special member discounts to FESPA events.