Features
Interior Decor market insights on technology and trends in 2023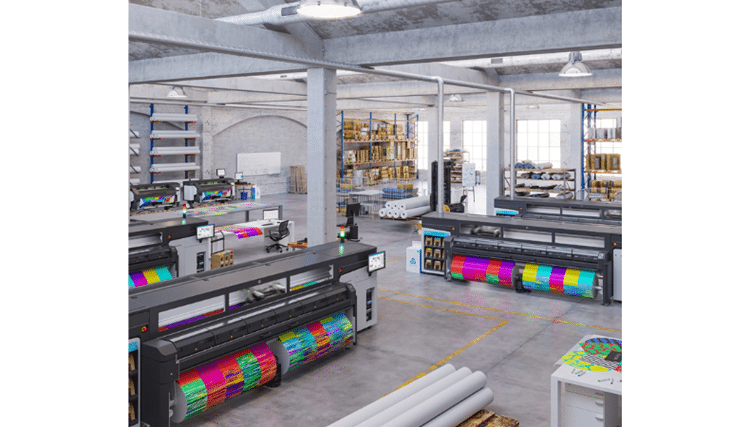 The digitisation of the Interior decoration industry is advancing in line with key market trends across the sector. As the supply chain flexes and shifts to meet a new manufacturing paradigm for decoration – that is: business models that deliver creativity, stability and agile fulfilment. The interiors industry is shifting to on-demand production and offers the print industry a viable and expanding opportunity.
What's driving this monumental market shift?
Customisation and personalisation are in high demand, forcing the industry to adapt. This requires the on-boarding on a whole suite of technologies – print, automation and ecommerce. Décor was once a stock-based business model, this is no longer an advantage.
On-demand production technology now facilitates just in time manufacturing - a key component for commercial success. Industrial production technologies continue to advance, and print volumes are predicted to increase in the years ahead. The democratisation of the sector is now well underway, with many new businesses entering the marketplace at all scales.
The analysts predict a bright future for the Decor Industry:
Maximise Market Research predict that the global home Decor market (valued at US $665.63 billion in 2021) is expected to reach US$ 903.98 billion by 2029 with a CAGR of 3.9% during the forecast period.
The Business Research Company in January 2023, stated that the global Home Decor market had grown from $651.85 billion in 2022 to $683.52 billion in 2023 at a compound annual growth rate (CAGR) of 4.9%. Looking forward, they predict that the Home Decor market size is expected to grow to $788.47 billion in 2027 at a CAGR of 3.6%. The Russia-Ukraine war has significantly disrupted the chances of global economic recovery from the COVID-19 pandemic, at least in the short term. The war between these two countries has led to economic sanctions on multiple countries, a surge in commodity prices, and supply chain disruptions, causing inflation across goods and services and affecting many markets across the globe.
Meanwhile in December 2022, Research and Markets (looking specifically at wall decoration) predicted that the global wall decor market is expected to grow to $ 62.56 billion in 2026 at a CAGR of 4.4% - having grown from $ 49.28 billion in 2021 to $ 52.70 billion in 2022 at a compound annual growth rate (CAGR) of 6.9%.
Looking at Home Textiles: Grand View Research (November 2022) predicted that the global home textiles market is expected to reach USD 185.97 billion by 2030, registering a CAGR of 5.6 %
Opportunities abound…across all sectors of the décor industry where creativity and product innovation flourish with the application of digital printing technology.
There have been a number of key developments in the last year, and all deliver technology that can and must be utilised for smart manufacturing if we are to deliver products sustainability.
Décor Print technical advances for Wallcoverings
Canon launched the "Canon UVgel Wallpaper Factory" an end-to-end automated solution for the high-volume production of wall décor applications, designed for maximum throughput at high quality and 24/7 operation.
This smart solution delivers an instant production workflow and is designed for maximum efficiency, high print quality and to run all day long with minimum operational supervision. As such it presents a fully automated and modular production facility for digitally printed wallpaper, from the bulk-sized media input straight through to the finished rolled output. High volumes can be achieved using this agile, on-demand technology for low or high- volume printed wallpaper production.
In October 2022, HP expanded their Latex range to offer the Latex 2700 Printer Series, building on their existing range which has had a significant impact within the wallcoverings industry. The HP Latex 2700 prints with vivid colours at up to 958 square feet per hour. It also produces the whitest white without yellowing or waste. Add in automated printhead cleaning and an intuitive interface, to save time and money at every turn.
In short: The Latex 2700 delivers high quality print, and the printer series is designed to be eco-friendly and sustainable. The entire line is dedicated to ensuring no hazardous air pollutants, odourless prints, recyclable ink packaging, and enables the printer a wide range of compatible eco-conscious media options.
Turning to Textiles and new technology primed for on-demand smart manufacturing
Kornit Digital launched the Presto Max digital textile printer designed for sustainable on-demand production of apparel, home décor, and textile goods. Engineered to print white ink on dark fabrics, the machine utilizes XDi technology to output decorative effects.
As a single-step, direct-to-fabric press it's engineered to print white ink on dark fabrics and can create decorative effects such as threadless embroidery, high-density prints, vinyl, screen transfer, and more. The Presto Max is compatible with natural fabrics, synthetics, and blends and offers minimized environmental footprint through its use of water-based NeoPigment Robusto ink, CO2-neutral design, Eco-Passport certification, and GOTS approval.
Additional features include Kornit QualiSet smart autonomous calibration, axial unwinding system with adjustable fabric width and tension mechanisms, a high-precision adhesive belt conveyer system, production insights via Kornit Konnect, and full compatibility with the KornitX global fulfillment ecosystem and Kornit EcoFactory.
Epson launched the new baby of the Epson Monna Lisa series, the ML-8000 Digital Direct-to-Fabric Printer. Offering a new level of performance and usability, this next-generation digital direct-to-fabric textile printer features eight, all-new 4.7" PrecisionCore® printheads to deliver crisp, detailed, professional-quality textiles at print speeds of up to 1,744 ft2/hour.
As a direct-to-fabric printer, the ML-8000 accurately reproduces complex patterns, colour gradations and fine details on a wide variety of fabrics at astounding speeds using Epson's most advanced imaging technologies. Designed for productivity and reliability, this printer minimizes downtime and simplifies maintenance with an array of user-friendly features: High-speed direct-to-fabric printing up to 1,744 ft2/hr1, , and Epson Precision Dot Technology - to quote just a few highlights.
In summary - As technology and manufacturing efficiency advance, the digitisation of traditional textile manufacturing and wallcovering production is gaining pace. Driven by consumer demand, the sustainable and environmental attributes that digital production equipment and CAD/CAM software offer are sure to make a significant impact on the waste created by traditional manufacturing technologies.
Collaborative content published in partnership with Texintel : https://www.texintel.com/blog/interior-decor-market-analysis-technology-and-trends