Features
A World of Opportunity: Printeriors Now Offers a Permanent Online Hub for Interior Décor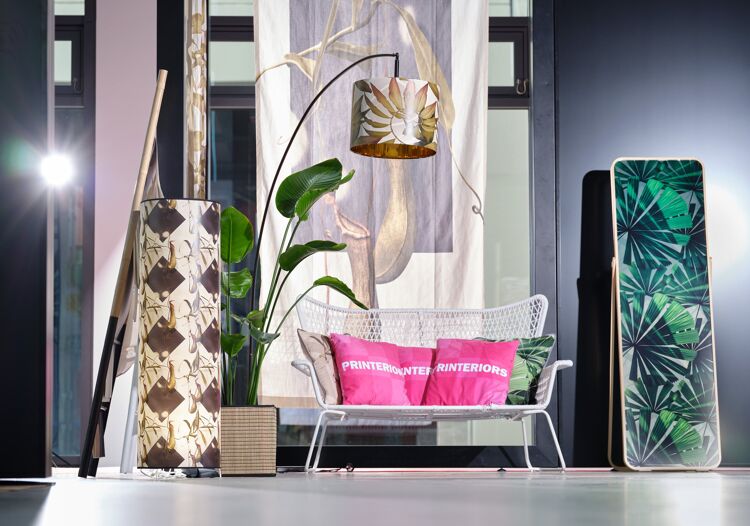 Printeriors aims to inspire, the FESPA audience: bringing you a permanent showcase packed with the latest innovations, technologies and case studies and market trends.
The Interior décor industry offers the printing community a substantial opportunity. As a market sector with many, many layers, and where printed products range from textiles, wallcoverings, flooring, fine-art and carpets to printed surfaces for glass, metal, wood and composite materials - the product list is seemingly infinite.
Now online Printeriors aims to inspire, the FESPA audience: bringing you a permanent showcase packed with the latest innovations, technologies and case studies and market trends.
As ink-jet technologies have evolved so have the creative surface applications. Almost all surfaces can now be digitally printed. Inks, print technology, and software applications advance continually to fine-tune and adapt to market shifts and consumer behaviours.
With many new markets unfolding, the Printeriors online experience begins with a series of short snapshots that frame commercial opportunities and market trends:
Retail Interiors, Outdoor Decor, Residential Interiors, Hospitality and Contract, Wellness and Leisure, Public Spaces and Events, Personalisation.

Each will explore recent trends and technologies and connect you to the Printeriors archive which is packed with written content, case studies, videos and podcasts.

The Décor industry is expansive, it is design led and encompasses a vibrant global community. Digital printing empowers both the creative and the manufacturer and whilst utilising digital technologies, it enables interior designers and decorative print designers to work together to create beautiful products and incredible spaces.

Past editions of Printeriors showcased the application of digital technologies for Interior applications. Supported by the printing community it demonstrated the power of digital printing across multiple products, print processes, inks and materials.

Recent sponsors include: Drytac, HP, Brother, Kornit Digital, Mimaki and Durst along with the valued support of many other technology, software and material partners from the across the print community. All of which are to be spotlighted as we review the products and technologies that together delivered Printeriors.
Speaking on which applications/technologies offer the wider print community exciting growth opportunities in the décor sector?
Terry Raghunath, Business Development for Printed Decorative Applications at HP commented:

"The areas that will drive growth are those that match market demand with the digital print technologies that make it possible. The home furnishing market is undergoing an analogue to digital transformation. At this moment, the hot decorative applications are those that enable customization, and shorts runs (exclusive design). Specifically, this means wall coverings, window coverings, soft-furnishings and upholstery. All the hard-surface applications like flooring, laminates, and architectural glass are also great growth opportunities".

All products previously created and displayed within Printeriors are manufactured with the help of the industries many specialists, applications teams and materials suppliers.

Ivan Lesmana, Communication Coordinator EMEA at Mimaki Europe B.V. commented:

"Printeriors has become a staple part of the FESPA exhibition, helping visitors get inspired with the interior décor applications possible, from cushions to carpets, before they enter into the exhibition halls and see the printing technologies that made them".

"Printeriors also shows how interior décor extends beyond textile printing to other technologies, such as UV printing, and addressed how the market is tackling other aspects, like sustainability, through its choice in materials. The pandemic and with it the increase of those spending time at home, triggered a significant period of growth for the interior décor market, and that has continued, with companies seeking out on-demand, bespoke textiles. To match that customer demand, we have ourselves focused on improving productivity with our latest textile printing technologies, e.g.TS330-1600".
Printeriors online, aims to provide a snapshot of key disruptive technologies and the commercial opportunities they represent:
Direct to garment printing is making an impact on Interior Décor sector. We asked Folker Stachetzki, Head of Marketing at Brother: Why does the Interior industry offer Brother an exciting opportunity for digital disruption?

"Our printers, which are well established in the apparel industry for years, are the perfect solution for the interior industry to produce shorter runs or even personalised items without much effort. Thanks to our advanced printing technology, it doesn't matter what material you want to print on. Whether cotton, polyester, leather, silk or other materials - all this is possible with the same ink and without having to make any major changes to the printer".

Focussing in on the textile industry and the products on display manufactured by Kornit Digital, we asked Sharon Donovich, Marketing Director, Global Events and Customer Success - Why is the Interior industry primed for digital disruption? "The Interior industry primed for digital disruption for similar reasons as the Fashion industry. The move to e-commerce, the ability to fulfil next to the customer, endless designs possibilities with no actual inventory and the fast replenishment of repeated order - all push towards digital production. On top of that, sustainability and protecting the plant is a key factor in regulation and production today".

"Kornit applications offer a great fit for inhouse applications like wallpaper, draping, kitchen, bathroom, living room and more. Kornit Digital's prints are safe for babies and have CPSIA certification, plus there's special effects to explore: XDi and Neon prints that create 3D effects and unique designs and have perfect fit to outdoor home textile due to its UV resistance".

Magnus Mighall of RA Smart in the UK, commented on the application of wide format technologies in the home furnishings sector: "The HP Stitch S1000 has cemented itself in the UK & Ireland as a leading 3.2m solution in the soft signage market. However, we're now also seeing a growing demand for the Stitch's versatility in the home furnishing sector. With the S1000 now being able to easily switch between dual 1.6m wide and 3.2m wide rolls, as well as direct-to-textile or paper transfer, it's the most adaptable super-wide machine on the market." Magnus Mighall, R A Smart Machinery Group.

Printeriors offers the manufacture and the supplier an inspiring showcase that seeks to empower its audience by delivering technology, knowledge and innovation.

Here in the online Printeriors section of the FESPA website, we will drill down into many of the products previously on display and look to the future to signpost new technologies and their potential applications as they emerge.
Together we can explore the technologies that deliver Printeriors, and a World of Opportunity for the Printing Industry