Blog
Residential Interiors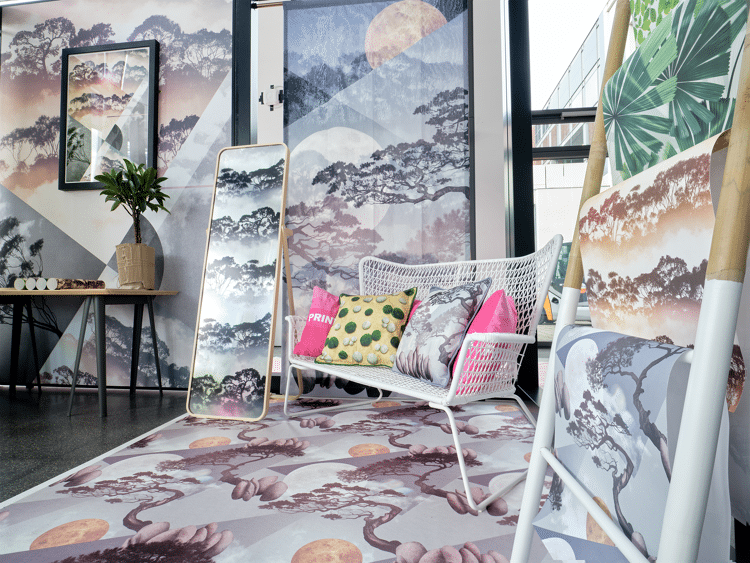 As our homes continue to evolve, and our work/life balance evermore difficult to define, the requirement for accessible leisure within our home is in high demand. For some that may simply be a reading space, for others a High-Tec gaming zone or cinematic experience.
Much coveted leisure space can often be created using print to define an area, to create an ambient backdrop, adding in embedded technology, smart lighting and sound can instantly transform the interior to create the desired ambience and atmosphere – at the push of a button (online or off).

Technology and AI plays a role in the residential interior, as we implement smart applications to simplify mundane or enhance sensory experiences. Increasingly print has a role to play in this emerging marketplace where hybrid smart surfaces add value and function.

In recent Printeriors exhibits we have showcased many applications, materials and technologies, many of which cross industry sectors:

Printing applications utilised include Roll to Roll, Dye Sublimation, Transfer Printing, Flatbed UV and Latex and others. Inks sets span Dye Sublimation, Latex, Pigment, UV and Reactive Inks across many applications and materials. Some examples of which are featured below:

The list of products used for residential Interiors is almost infinite. Wallcoverings, Carpets, Lighting, Bedding, Fine Art and Textiles in many forms decorate our homes and leisure spaces.

Materials in this space have evolved over the years but the sector uses both natural and synthetic bases in equal measure. As such the inks and printing technologies vary considerably as to the applications and process used to manufacture products.

As digital technologies have evolved the market now offers a significant volume of personalised products, products that can be customised and printed on demand. Wallpaper murals are routinely personalised as are fabrics and home furnishings, lighting and accessories. Spawning a whole new industry and democratising the Interior design space.

The image featured below shows just some of the product that are often used to form one interior space. Within this picture we have Wallpapers printed using HP Latex onto recycled wallpaper substrates provided by Image Co, laminated Mirrors printed using Mimaki technology by Drytac, printed flooring using dye sublimation from Media co, and wallcoverings again printed using HP technology from Sentec International. Together they build a unique visual story for the residential home.

Texture is an important element to any interior scheme, the image below shows an acoustic fabric from Pongs, printed using dye sublimation technology. The ambience of an interior is amplified by the use of textures, jacquards and woven textiles for walls or furnishings. Together they enhance the visual aesthetic to make a statement inline with the designers vision.