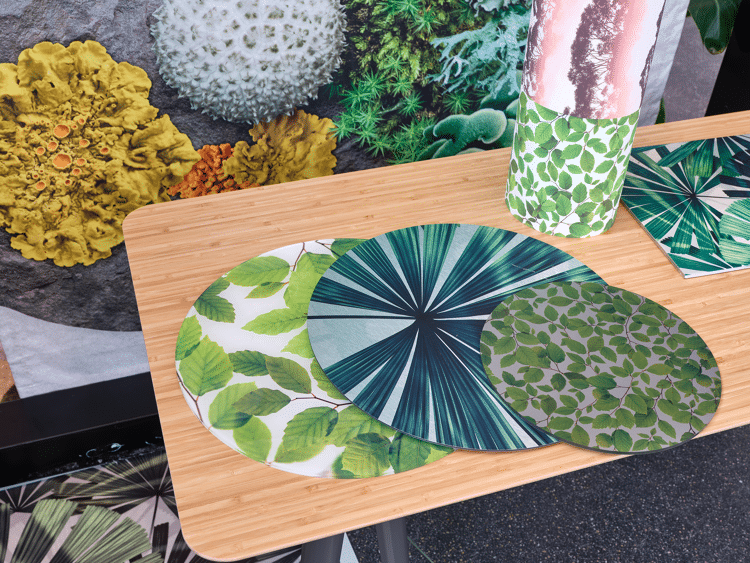 Personalisation offers the consumer the opportunity to create products that are just that – personalised. That doesn't always mean what you might think? Personalisation takes on many forms, from couture fashion to customised canvasses - there is a world of difference between both and many commercial opportunities in between.
The growth of personalised products is accelerating alongside the growth of ecommerce. In an on-demand world there are benefits for the consumer and the savvy entrepreneur.
Across the print space customised, personalised manufacturing offers an environmental and sustainable business model and its success is very much dependent on the technology and automation utilised for manufacture and fulfilment.

Examples include: Art, Canvasses, Wallpapers, Cushions, Lighting, Window Blinds, Window Graphics and Lightboxes.

In recent Printeriors exhibits we have showcased many applications, materials and technologies, many of which cross industry sectors:

Printing applications utilised include Roll to Roll, Dye Sublimation, Transfer Printing, Flatbed UV and Latex and others. Inks sets span Dye Sublimation, Latex, Pigment, UV and Reactive Inks across many applications and materials. Some examples of which are featured below:

The array of applications, products and commercial opportunities for personalisation is infinite. Technologies across all sectors are used, allowing convergence for the print community across market sectores.

The ecommerce boom has also boosted the personalisation business model, as software evolves for smart manufacturing and end-to-end fulfilment there are no limitations for entrepreneurial growth with in this sector.

The image below shows just some of the options for personalisation, in truth almost any surface can now be digitally printed leading to widespread democratisation for this marketplace. Crossing not just Interiors but every sector of the printing industry.

Technologies cross all ink sets. Below we can see personalised acrylic placemats each custom printed to showcase the different surface effects that can be achieved. Recent innovations in white inks have empowered the creativity within the sector further, pushing the boundaries of design and production. Also seen in the right-hand corner of this pic is a piece of UV printed wood, as flatbed technology evolves we are witnessing evermore functionality and the ability to build textured, printed surface effects at increasing print speeds. Samples were kindly supplied by Imageco using HP and others Mimaki technology.

The image below aims to give an indication of the multiple surface effects that can now be created using digital technologies. Showcasing wallcoverings from Canon printed using UV technology, textiles from Durst using dye sublimation onto rPET polyester fabrics from Premier Digital Textiles. Laminated mirrors using printed self-adhesive film from Drytac and personalised flooring kindly printed by MediaCo.