Blog
Investing for success – a smart production solution for digital textile printing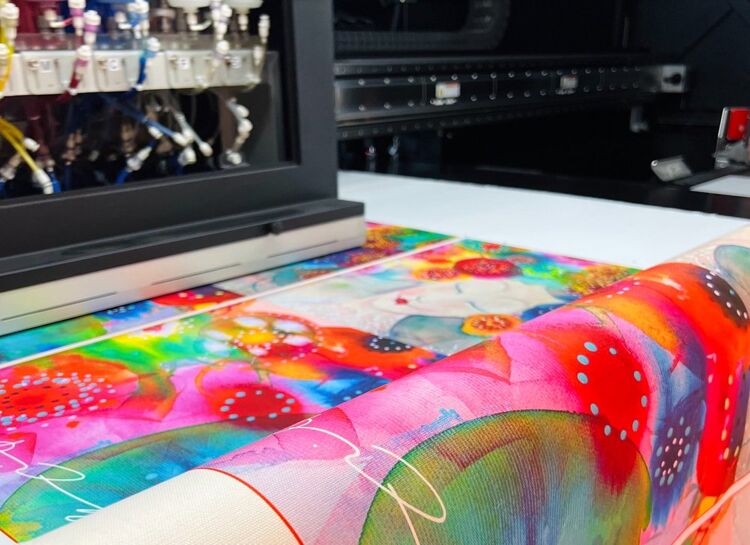 As the digitization of the textile industry accelerates, on-demand textile printer Caspar's business model is built for a new decade of industrial manufacturing using smart technologies - they have equipped their smart factory with necessary tools for success.
Investing in the latest technology, software, workflow automation and a print-on-demand infrastructure they are primed to meet their clients' commercial activities and to explore new markets.
Can you provide a brief summary of Caspar, when was the company founded and by whom and where are you based?
We are Caspar Microfactory, a part of the Grafko-Caspar company established in 2001 by an expert in digital textile printing, Damir Hižak. Our company is in the small town of Varaždin, in the north of Croatia. Caspar operates as a separate brand that uses technology and digital innovation to provide every interested creative with the opportunity to personalize their own fabric and products. We strive to reduce textile waste during our production process and to produce our products as eco-friendly and ethically acceptable.
Which Industry sectors do you serve?
As a company, we offer digital textile printing services and manufacturing of textile products to customers in the industry of textile, promotional products, auto industry, etc. Our services suit everyone in need of print on textile or textile products.
B2B and B2C? Tell us about your products and customer base?
We have an elaborate concept according to which we operate in a B2B and B2C way. The largest base of B2C customers is through our webshop in which every creative person can customize their own cotton or polyester fabric and product from our assortment (such as t-shirts, hoodies, sweatshirts, bags, blankets, leggings, etc.). Custom printing on fabrics and especially products have become increasingly popular and interesting to a large number of people. We cooperate with large and small manufacturers of various types of clothing and footwear, as well as interior designers. As we can produce a quite small series, we are also interesting to hobbyists (DIY creatives) who want to personalize their own fabrics. We have also collected a large database of major well-known brands for which we work through our 20 years of dedicated, high-quality, and innovative work in the field of digital textile printing.
How has the company, its products, and services expanded over the last few years?
All the production of the base company Grafko has always been focused on the creation and printing of advertising textile products on polyester fabrics. However, travels to European and world fairs have shown us some new technology for printing on textiles each time. Inspired by new technological possibilities, we decided to invest in a new machine in 2018 that offers the possibility of digital printing on natural fabrics and the development of a webshop with the possibility of complete personalization. With such innovative technology, we can offer customers not only the service of printing on fabrics, but also the complete process of production of various products, and this process includes development, printing, tailoring, sewing, finishing, packaging, and sending products - Caspar Microfactory!
Can you tell us about the printing technologies that you use and how these have developed over the years?
Since we have been specializing in digital printing on textiles for so long and have established ourselves as the industry leader in the area, businesses that require printing on natural materials in addition to printed polyester have begun to contact us. For this reason, we began investigating print technologies on natural materials three years ago.

Finding an entirely green printing process for use on natural materials was the main goal, not environmental pollution. All of that and much more could be found in the technology provided by the Kornit company. We made the decision to invest in their technology, and as a result, we now use water-based pigment ink and possess their Kornit Presto DTF and Kornit Storm DTG machines.

With these technologies, we can confidently state that we have accomplished what we had always hoped for—namely, the ability to produce a high-quality print on practically any kind of fabric in a sustainable, entirely "green" manner, protecting the environment. This is significant because we are all aware of how old traditional methods of fabric dyeing negatively impact our environment.
Which ink sets do you use for Cellulose and Synthetic materials?
For many years, we have specialized in digital textile printing on polyester fabric. This fabric is mostly used in the advertising industry (flags, banners, etc.) and, to a lesser extent, in the fashion industry. We use two technologies in this print. The first technique is printing straight onto the fabric and fixing it at 180 degrees. The second approach uses roll-to-roll calendaring at the same temperature to transfer color from the paper to the fabric after printing on sublimation transfer paper. We use HP Stitch printers and original HP water-based dye sublimation ink in both cases.
Tell us about your sustainability policy and how you have/intend to meet your targets?
To begin with, we use energy-efficient digital technology that allows us to print on demand ("print-on-demand"), which reduces textile waste. Adaptation to new technologies and upgrading of our machines has proven to be economically efficient and provides us with an eco-friendly approach and the best possible print quality. One of the major environmental goals we have been working on for some time is the certification of our production process and our products with the GOTS (GLOBAL ORGANIC TEXTILE STANDARD) label. The plan is to become a recognizable manufacturer in the textile industry in 2023, which produces and strives for ecological and energy-efficient production of textile products.
Materials – Do you offer sustainably sourced materials and are these still hard to find?
We strive to work with materials that we procure through fair trade from domestic and European manufacturers, precisely because we recognize the importance of good working conditions. We also aim for all of the fabrics that we print on to have the OEKO tex and GOTS certificates.
How does your design studio function?
We created the textile print patterns database a few years ago, but our primary focus is personalization, as we strive to teach our customers how to design a fabric or product using our webshop tools with various blogs and video tutorials.
Do you create for clients to brief and also supply your own fabric designs by the metre for sale?
We try to inform our customers as sufficiently as possible about the types of fabrics and offer them various consultations on how to choose the type of fabric that is best for their projects. We have an open live chat on our site through which we try to help our customers with the choice of fabric or product and offer them a quick answers to all their questions. All our designs that are available on our webshop are free to use, and each customer can modify our design to their needs if they wish.
Nearshoring – Has your business benefited from retails supply chain issues, and the growth of print-on-demand sourcing by fashion buyers?
Yes, we have felt a greater interest from customers in the field of fashion and design to buy and produce goods in Europe from proven and reliable manufacturers. We also see that the need for customers to look for producers and products that have ecological certificates has increased. However, in terms of price, unfortunately, we still cannot compete with the prices of manufacturers outside Europe, but we see that this is also slowly changing, and we believe that in the future more and more such customers will tend to produce in Europe.
What makes CASPAR unique? What are your strengths?
We believe that our greatest strength is our website, where we are available to our customers via live chat for consulting and software for personalizing the fabric and products we have in our database. We can also be proud of the quality, speed, and eco-friendly production method. The minimum quantity with us is one meter/piece. Although most of our fabrics are GOTS certified, we will soon certify all our products and production methods. One of the most important advantages is our Microfactory, that is, the entire production can be done with us, from project development, fabric selection, printing, tailoring, sewing, and packaging, right up to sending the product to the end customer. Therefore, we offer our customers, first of all, a tool with which they can easily personalize their fabric and product, top quality, consulting, and fast delivery of the product.
What's next, do you intend to explore new markets and how do you plan to expand/invest over the years ahead?
The plan for the coming year is to invest more and more in marketing and development, i.e. upgrading our website. We are also preparing new products for which we will develop 3D models for personalization. Soon we'll add several new types of fabrics to the offer on which printing will be possible. We are investing in the development of an affiliate program through which our customers and influencers will promote Caspar and receive a certain monetary compensation from each purchase made on our website through their link. The program has already been launched, so all those interested can register on our website and start collaborating with us.

We are looking forward to all the upcoming new challenges, ideas, and investments in the upcoming years... Our project has only just begun and we can tell you with certainty that you can expect great creative and innovative things from Caspar in the future that will push the boundaries of digital printing and clothing production!
Collaborative content published in partnership with Texintel : https://www.texintel.com/blog/2022/11/10/investing-for-success-a-smart-production-solution-for-digital-textile-printing-we-interview-caspar