Blog
Designing A New Future For Personalised Wallcoverings Using Epson Technology?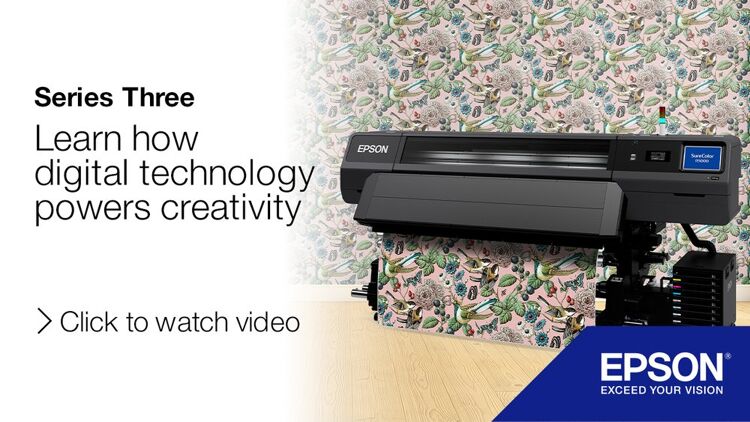 The Post-Pandemic World Is Presenting A Wealth Of Opportunity For The Digitally Printed Wallpaper Market. As we increasingly return to many of the elements of our former lives, while adopting some new ways of working, organisations are considering how to create attractive spaces to welcome us back. 
Retail environments are looking to tempt customers into their refreshed stores and corporate office environments are seeking to create thriving workspaces. Then there are those of us who have been stuck at home that now want to do something really special within our own environment. All three of these present a huge increase in the opportunities for bespoke wallpaper and décor production. At the same time, brands, businesses and consumers have become adept at using digital print to create unique and impactful communications, promotions, and products. Now they are increasingly turning their attention to the creative possibilities that digitally printed, customised, wallpaper offers.
Everybody is looking for something different. Something exclusive. Something that is added value. Customisation and personalisation with digitally printed wallpaper, that makes short print runs and print on demand economic and viable, can deliver this. The result is the creation of the perfect environment for market growth in both decorative wallpaper and functional advertising. I discussed the opportunities and growth markets more here
We also spoke to two thriving designers to get their thoughts on this here:
For Charlotte O'Reilly, Founder and Head Designer of luxury interiors brand Charlotte Jade, the biggest opportunities are presented by commercial clients and interior designers.
She explains: "I think people want to put something different in hospitality spaces. Generally, they have the space to do it. I think a lot of people are putting designs on ceilings now which is really unique. They are also looking for something a little bit different in their homes. We have started doing a lot of large scale wall murals which are printed on a wide width. Just to kind of immerse people and take them to a different place."
Katja Behre, Creative Director of unique wallart design agency Elli Popp adds:
"For me where digital printing has always been the big big winner is that I never had any limitations to the colours, the textures and the size. I just love the fact that I have got total freedom."
The Quality, Flexibility And Freedom Digital Technology Delivers Is Vital For Creatives
Charlotte states: "My designs are very detailed and I like to capture all the textures in pencil. Digital print is essential for me because it allows you to capture every detail. It also allows me to add colour to my very monotone drawings which are brought to life with digital printing."
Katja adds: "To me digital print has totally opened up the way I am creating my designs and the scale to which I can produce my designs. What I am most excited about is the technology which gives the colour consistency and to get the vibrant colours out of my patterns and to also be able to make the changes in a quick instance and know that what I want to achieve is going to come out of the machine. When I am abroad on holiday I can snap away at a landscape and know I can use it in an instant in design. I am not limited to the amount of colours to be used, the amount of layers, the amount of textures. Everything is possible."
Responding to these drivers are the latest technology developments in digital printing focusing on the production of highly customisable, durable print, that:
Supports the production of wallpaper for one or many walls
Eliminates the need for an expensive screen or cylinder required for analogue wallpaper production.

Allows the use of fast drying ink for quick application.
The technology's ability to deliver vibrant on demand results enables designers to be more creative. Crucial too is high quality, accurate, colour consistent, quick drying and scratch-resistant print. This is something Epson's first resin ink large format printer, the SureColor SC-R5000 can produce on a wide range of substrates. Its odourless water-based ink means printed applications can be used in sensitive environments such as schools, hospitals, and hotels. The inks, combined with uncoated media, also support sustainable production and recyclability for a more environmentally conscious process than was previously possible.
Other Epson solutions suitable for wallpaper production include the SureColor SC-S606710L with is sophisticated substrate handling system for class leading performance and the SureColour SC-S60600L that offers increased productivity through innovative, high-capacity 1.5 litre ink pouches.
All components of these systems are manufactured by Epson to ensure consistently high quality construction and durability. They combine low maintenance, and fast print speeds with no loss of quality. Epson Edge Print Software, Epson Edge Control Dashboard and access to over 250 ICC profiles help enhance productivity.
To discover the opportunities that wallpaper printing can offer, contact us .
This Series Is A Must Watch If You Are New To Wallcovering Production Or Looking To Explore The Sector Further.
Digital manufacturing offers the creative and the printer infinite commercial opportunity, alongside conscious manufacturing solutions. It was a pleasure to interview all our guests and we hope that you enjoy watching as much as we enjoyed filming this Series.