Product Launches
Drytac set for major FESPA 2022 presence by sponsoring Printeriors and Sustainability Spotlight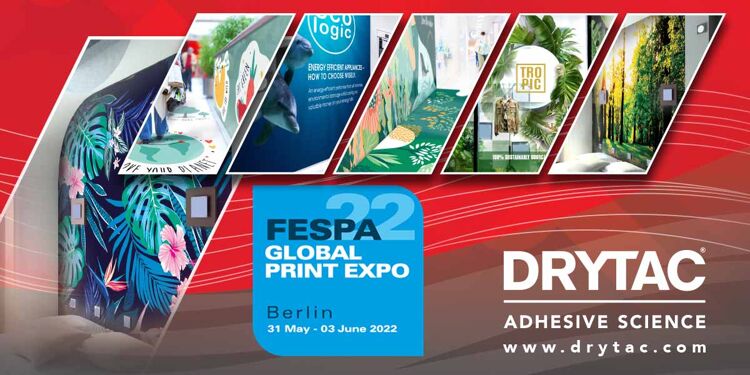 Drytac, the leading international manufacturer of self-adhesive materials for the large-format print and signage markets, is delighted to announce it will sponsor two special areas of the FESPA Global Print Expo 2022.
Taking place from 31 May to June 3 at the Berlin Messe in Berlin, Germany, FESPA Global Print Expo 2022 will host leading names from the global printing industry and welcome visitors from all corners of the market.

Drytac will be among the major brands at the show, with its materials set to feature on a range of stands run by printing and hardware manufacturer partners including Epson, Mutoh, and Keencut, allowing visitors to see the market-leading qualities of these materials up close.

Drytac will be sponsoring a brand-new section at the FESPA event, in the form of the Sustainability Spotlight, where visitors can learn how to make more sustainable and environmentally conscious choices for their business. Drytac will also be sponsoring the Printeriors zone, dedicated to print applications for the interior design and decoration market.

With significant knowledge in both these areas, Drytac will feature a selection of its materials as well as demonstrate its products through a series of specialist video showcases and dedicated speaker sessions.

In the inaugural Sustainability Spotlight zone (Hall 25, C-50), the company will showcase selected products from its upcoming launch of Drytac Zero. Drytac Zero is a line of environmentally friendly products which set a new standard in sustainable solutions for the graphics, signage and display industries. Designed to offer a sustainable and planet-friendly alternative, while still delivering high-impact and attractive graphics, Drytac Zero products offer a host of environmentally conscious benefits to users. For example, they have up to a 50% lower carbon footprint than comparable solutions and use 20% less fossil fuel resources.

All products in the new range include zero phthalates, carcinogenic additives, plasticisers, chlorine or PVC. Drytac Zero products are manufactured to ISO 14001 standards, are 100% vegan and can be fully recycled, including the adhesive, face film, liner, printed ink and laminate.

Within the Printeriors area (South Entrance) of the exhibition, visitors will be able to learn more about Drytac's wide range of products suitable for interior décor to cover windows, walls and floors and more. These solutions can be used for both short-term and long-term work, and are available as PVC, PET and PP solutions to suit the needs of the customer.

"We are absolutely delighted to be sponsoring both the Printeriors and Sustainability Spotlight zones at FESPA 2022," says Hayden Kelley, CEO of Drytac. "These two features cover subjects and values that are incredibly important to Drytac, and we look forward to showing visitors from around the world how they can achieve their business goals with Drytac."

To find out more about FESPA Global Print Expo 2022 and to register to attend, visit here. Entry is free for members of a FESPA national Association or FESPA Direct. The cost of entry is €50.00 for non-members who pre-register using code FESM232 before 25th May.
Interested in joining our community?
Enquire today about joining your local FESPA Association or FESPA Direct