Press Releases
Wrapping market grows in Brazil and offers opportunities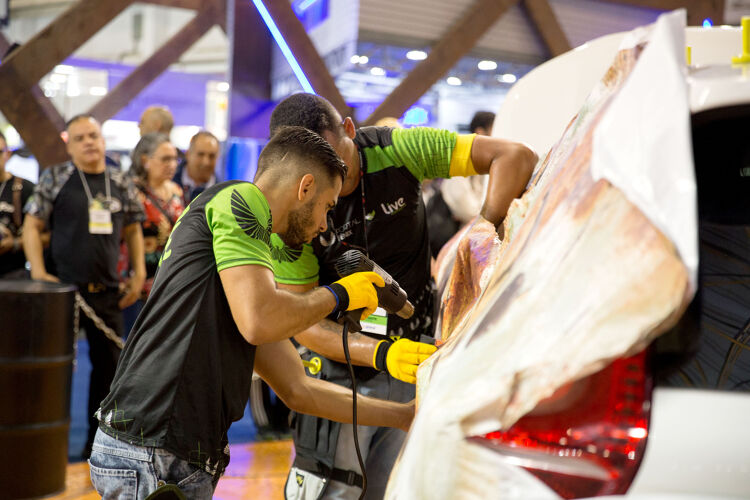 The creative and functional capabilities of the wrapping vinyl are generating revenue for companies and freelance professionals in Brazil. In addition to its comprehensive use in automotive wrapping, the material conveys interesting opportunities in decor, both for residential and commercial areas.
Adhesive vinyl has traditionally been used extensively for fleet wrapping, requiring the use of high quality and very durable materials. Initially focused on brand promotion, vinyl has evolved and has strengthened its use in the automotive industry as decor, where the vehicle owner completely reshapes their vehicle with the "colors of the year" or an art of his choice.

In Brazil, this goes further and one can even see custom motorcycles with vinyls. This has boosted job opportunities for many young people who can autonomously work as applicators. And these are young people who want to become professionals and keep up to date.

In Brazil, many companies make information and courses available to these professionals, both in automotive wrapping as decor, which records a high incidence of vinyl use. More than completely transforming an environment by wrapping, for example, a cupboard or decorating items such as refrigerators and coffee makers, the material offers greater protection, especially in parts of the country with varying temperatures and humidity.

Vinyl is widely used in wallpapers to transform the residential or corporate decor or even in special initiatives because of its customization capabilities. An interesting case took place at the Brazilian Rock in Rio music festival, where a company promoted an activation with a store inside the event where, every day, all the decor with adhesive vinyl was exchanged with the impression based on the attractions of the day.

And this vibrant market will be showing at FESPA Digital Printing 2020, Brazil's premier digital printing exhibition, from March 18-21, in the city of São Paulo. In addition to the major players in the adhesive vinyl, ink and printer industries, the exhibition hosts the CAMBEA#10, the Brazilian automotive wrapping championship, promoted by Alltak.

The traditional Brazilian championship is a qualifier for the World Wrap Masters Series, a world championship that takes place within FESPA in Europe. The CAMBEA winner automatically qualifies for the global tournament representing Brazil.
FESPA Digital Printing 2020
FESPA Digital Printing 2020 is organized by APS Eventos Corporativos, responsible for carrying out the major initiatives in the printing industry, with FESPA, an entity that fosters the worldwide printing market for over 50 years now.

The exhibition will take place between March 18 and 21, 2020, at the Blue Pavilion at Expo Center Norte, in São Paulo, featuring the latest digital printing innovations for markets such as visual communication, textiles, decoration, wrapping, 3D, sublimation, short runs, variable data, and other markets. Free registration to visit the event and get to know "The Power of Printing" is available at: www.fespabrasil.com.br/en/visitar/cadastro .


Interested in joining our community?
Enquire today about joining your local FESPA Association or FESPA Direct