Press Releases
World Wrap Masters competition powers up in Amsterdam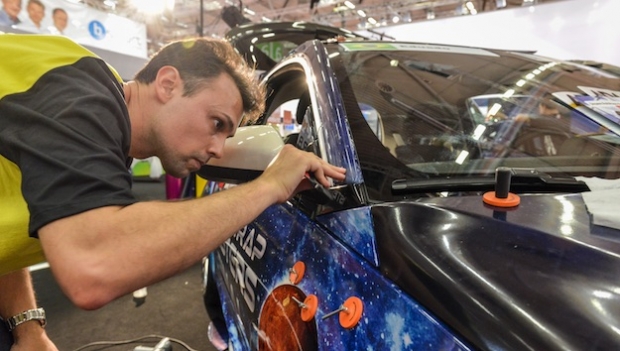 FESPA partners with Avery Dennison and Mimaki for the World Wrap Masters Series Final.
FESPA's World Wrap Masters accelerates into the RAI Amsterdam at FESPA Digital 2016 to commence battle to crown a wrap superhero, in collaboration with partners Avery Dennison, a global leader in wrap vinyl materials and Mimaki, a leader in digital print technology.
The World Wrap Masters will run across the four days of the show. On the 8-9 March, the competition begins with the FESPA European Wrap Masters competition, where wrappers will battle it out to take the last place in the World Wrap Masters Series Final.
The World Wrap Masters Series Final will then take place on 10 -11 March where the winner of the final leg of the European Wrap Masters will join winners from South Africa, Mexico, Denmark, Eurasia, Brazil, Ireland and France, who have already qualified for the final.
The series finalists will rise to the challenge to compete to become FESPA World Wrap Master 2016, wrapping Audi A1 Sportback vehicles as well as more challenging items, including clogs and a superhero-related item.
Visitors to the Wrap Hub (Hall 7, S50) will have the opportunity to network with professional wrap heroes, as well as discuss the technical aspects of wrapping and enjoy free wrap workshops at midday, every day of the show.
Delivered by Head Judge Ole Solskin and fellow judge and world-renowned trainer Justin Pate of The Wrap Institute, the workshops will cover: cutting tips – knives and knifeless tape; wrapping with chrome; cold pre-stretch and triangles; and material considerations.
Returning as Head Judge, Ole Solskin will scrutinise every inch of the wrapped designs, along with Justin Pate, Kiss Lajos, World Wrap Master 2014 and 2015, and John Duever, President of Vinyl Images from the USA.
The winner of the World Wrap Masters Series Final on 11 March 2016 will receive €2,500, with €1,250 and €750 for second and third place respectively. All competitors will receive gift bags supplied by the competition partners, a wealth of knowledge from the judges and their fellow competitors and the chance to extend their professional network on a global level.
Pascal Braker, Senior Marketing Manager Graphics Solutions Europe at Avery Dennison comments: "Avery Dennison greatly values the creativity and energy at FESPA events. Working with the FESPA organisation is very rewarding."
"It means we can not only showcase our most recent innovations but also make our own contribution to a vibrant and thriving graphics business culture. The World Wrap Masters Series is an especially important chance to see how installers exploit our unique product features – and our focus is always on helping graphics professionals to fine-tune their skills even further."
Duncan MacOwan, Head of New Media and Events: FESPA, adds: "The European Wrap Masters and the World Wrap Masters Series Final are part of what makes FESPA Digital 2016 such an exciting place to be. Avery Dennison is a natural choice for sponsor, we have seen some truly outstanding wraps created using their products and I'm sure this year's World Wrap Masters competition will be no exception."
"During FESPA Digital, wrap superheroes-in-training will also have the chance to learn from experts about how wrapping can diversify their business, as well as finding out the technical skills and dedication required to be a Wrap Master."
Those interested in competing for the last qualifying places in the Series Final can register for the European Wrap Masters at wrapmasters.fespa.com and pay the €150 entrance fee.
For more information on FESPA Digital 2016, to register to attend and to join the free workshops visit: www.fespadigital.com. For free entry, use code 'APOZ0101'.
Interested in joining our community?
Enquire today about joining your local FESPA Association or FESPA Direct