Press Releases
Winners of World Wrap Masters Europe announced in Hamburg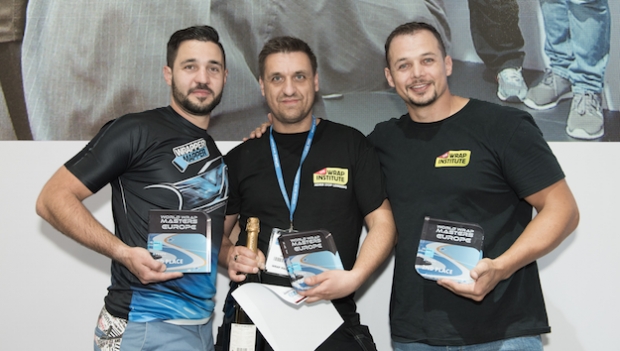 Over the last couple of days, vinyl installers have been battling it out in the action-packed World Wrap Masters competition, taking place at FESPA 2017 in Hamburg.
Now in the concluding round, the finalists face their toughest challenge yet by wrapping the side of a raceboat in just 60 minutes.
The winner of the Wrap Masters Europe (which took place on Monday 8 and Tuesday 9 May) is Chris Hooper from the UK, with second and third place awarded to Ruan Greef from South Africa and Traian Moldovan from Romania respectively. All three finalists will go on to compete in the World Wrap Masters Final.
The Wrap Masters Final will begin this morning (Wednesday 10 May) where contestants will be dared to wrap a section of a Formula Renault car in 45 minutes, as well as helmets in the creative round. Contestants competing in the final rounds come from Norway, Sweden, Mexico, USA, Eurasia, Africa, Brazil, Russia and Ireland.
The semi-final will take place on Thursday 11 May, where the four semi-finalists will have two hours to wrap one side of a Formula Renault car. They will then be whittled down to two, as they go on to wrap the side of the raceboat used by the Haugaard Racing Team in the 2017 World Formula 4 UIM Powerboat Championship.
The wrap design was created by Patrick Charrier of Bazoom Studio, France, who won FESPA's Wrap Design Competition ahead of FESPA 2017.
Visitors to FESPA 2017 are invited to cheer on the finalists in hall B4 from 10:30h on Thursday 11 May. The wrapping of the speedboat will take place at 15:00h, culminating with the prize giving at 17:30h.
On Friday 12 May, a Wrap Jam! will take place at the World Wrap Masters stand A10, hall B4. This interactive showcase encourages all visitors to FESPA 2017 to watch and get top tips from some of the world's best wrap installers.
The Wrap Jam! will see the best wrappers from Europe and the Rest of the World attempt to wrap Nico Rosberg's 2014 Formula 1 car. The car will be changed from the Mercedes livery to Hass Racing colours. Visitors will also have the chance to try their hands at wrapping and learn both novice and expert wrap techniques from the best installers in the world.
For more information on FESPA 2017, the companies that will exhibit and to sign up to attend as a visitor, please visit www.fespa2017.com.
Don't forget to follow @FESPA, @FESPAEspanol and @FESPADeutsch on Twitter for all the latest news and highlights from the show.
Interested in joining our community?
Enquire today about joining your local FESPA Association or FESPA Direct