Press Releases
Winner of FESPA Wrap Master Design Competition announced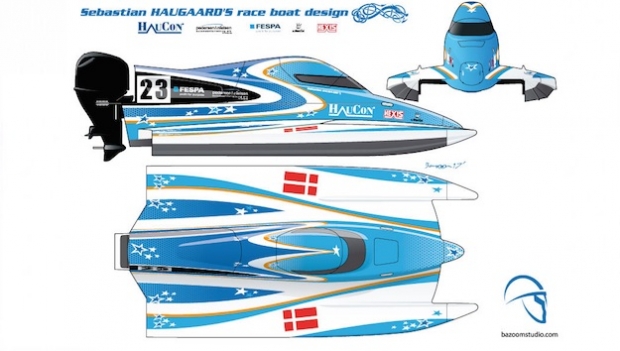 FESPA has announced Patrick Charrier of Bazoom Studio, France, as the winner of its recent World Wrap Masters Design Competition. 
The winning design will be applied, by the world's best vinyl installers, to a speedboat used by the Haugaard Racing Team in the 2017 World Formula 4 UIM Powerboat Championship.
In order to qualify, participants were required to produce an attention-grabbing design demonstrating their creative skills. Prerequisites for the design included the boat number (22), the racing team's logo and World Wrap Masters sponsor, Hexis' logo.
Patrick's design will be printed and installed during the World Wrap Masters Final, taking place at FESPA 2017 in Hamburg. Patrick Charrier comments: "I was overwhelmed when I heard I'd won the design competition. I can't wait to see the professional installers performing their art at the World Wrap Masters Series Final in Hamburg.
"The inspiration for my design came from the Danish Drakkar (aka Viking longboat). The general idea was to give an impression of movement to the boat, even when it's at a standstill. Blue and white are the top colours for a boat – lots of white for the pontoons to contrast with the surface of the water."
"The gradated honeycomb patterns evoke the composite materials used to construct the boat. The stars are included to reference the pilot, the tightrope walker in his cockpit, as well as a nod to shooting stars and speed on water."
The winning design was chosen by the driver of the raceboat Sebastian Haugaard Trads, and the World Wrap Masters Series head judge, Ole Solskin Ravn.
Sebastian commented on the winning design: "Bazoom Studio's design is unique and personal, incorporating beautiful flow lines and colours. We have not yet seen similar designs in the racing community and are confident this design will differentiate us in the field. We look forward to meeting Patrick at FESPA 2017 and seeing his design come to life."
Ole comments: "The boat not only looks good on paper, but due to the bright colours will look amazing on the water."
Visitors to FESPA 2017 will be able to see the boat being wrapped with Patrick's design during the live final on the 10th and 11th May 2017.
Vehicle wrappers still have the opportunity to enter the Wrap Masters Europe competition at FESPA 2017, where they will have the chance to showcase their wrap skills and compete against the world's best installers.
The winners will then go on to compete in the World Wrap Masters Series Final. For more information and entry details visit: wrapmasters.fespa.com
To find more about FESPA 2017, the companies that will exhibit and to sign up to attend as a visitor, please visit: www.fespa2017.com.
Delegates can save 70€ entry fee to the exhibition by registering via the website and quoting reference code: FESG702. Discover how a visit to FESPA 2017 can benefit your business and register today.
Interested in joining our community?
Enquire today about joining your local FESPA Association or FESPA Direct