Press Releases
Visitors morph into print superheroes at FESPA Digital 2016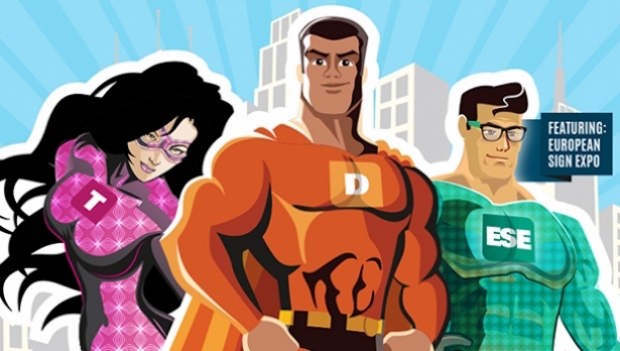 The largest ever FESPA Digital show opens its doors today, marking its tenth anniversary at its birthplace Amsterdam. 
Today witnesses the return of FESPA Digital to its origin, at the RAI Exhibition Centre in Amsterdam. Throughout the week, thousands of visitors from around the world will soar into the city of Amsterdam to discover the latest technology from over 450 exhibitors across digital, textile, signage and printed interior décor markets.
Four events across seven halls
With four events taking place concurrently, FESPA Digital 2016 (Halls 1, 3 and 7) is displaying the latest digital print technology including equipment, consumables, software and applications from international and local manufacturers.
In Halls 4 & 5, FESPA Textile, the largest textile print dedicated, garment décor and soft signage solutions event to date, will inspire those with an interest in textile to explore new applications and techniques.
European Sign Expo (Halls 2 and 3) gathers the newest non-printed signage products and software for channel lettering, illuminated LED and neon displays, and architectural/dimensional signage and has experienced 110% in growth since the initial event in 2013, making it the largest ESE event so far.
And, in its second year, Printeriors, the dedicated showcase for printed interior décor (Hall 6) has taken the form of the 'Print Hotel', enabling printers and interior designers to visualise the latest trends to inspire and engage with digital print. Room sets include a bar, retail space, meeting room, lounge, bathroom, reception, café and even the interiors of an elevator.
Follow the trails
Available onsite for visitors will be bespoke Textile and Signage Trails, designed to showcase exhibitors who offer textile and signage solutions in addition to their digital offerings. The Trails will be available in map form and enable visitors to plan their visit with particular preferences in mind.
Conferences to inspire and educate
Today, 8 March, the Digital Textile Conference is presenting trends, tips and practical case studies on the growth and future of digital textile printing, with textile experts such as keynote speakers Basso & Brooke, pioneers of the digital print process in fashion; David Schmelzeisen, Institute of Textile Technology Germany; and Alan Shaw, MD, Centre for Advanced Textiles, among others.
The Printeriors Conference on 10 March will feature a host of interior décor experts discussing the latest trends, and how to use print as a tool within the interior space, including: Alberto Alessi, head of Marketing Strategy, Communication and Design Management at world-renowned Italian design company, Alessi; Gemma Riberti, previous Editor of Stylesight; Cholakarn Visuitpitakul, Marketing and Creative Director, Bodhi Tree Décor, and many more.
Seminars throughout the four days
Across two theatres on the show floor, the Digital Seminars and Signage Seminars will enable visitors to gain industry knowledge across varied, in-depth topics, as well as participate in Q&A sessions. Experts will be taking part in varied discussions and presentations throughout the four days of the show.
Hands-on, practical training
Within the Signage Seminars demo area, visitors can also try their hand at signwriting and painted lettering workshops, courtesy of Better Letters and Ghostsigns, as well as observe the experts create examples of traditional hand-painted signage.
Watch wrap superheroes
In addition to all of this show content, the European Heat of the World Wrap Masters competition (Hall 7, S50) is taking place over the next two days, with the World Wrap Masters Series Final happening on 10-11 March.
Competitors from across the globe who have pre-qualified in previous events will join the winners of the European final in a battle to be crowned Wrap Master. With items such as clogs, superhero-related objects and Audi A1 sportback vehicles to be wrapped, visitors thinking about diversifying into graphic wrapping must make sure they come along to this iconic event.
Vote for your favourite print applications in the FESPA Awards
The FESPA Awards are yet another reason to visit. With 17 application-led categories, visitors can see the shortlisted awards in Hall 6, next to the Printeriors showcase. The winners, including the publicly-voted People's Choice Award will be announced at the Gala Dinner tomorrow at Beurs van Berlage.
Roz McGuinness, Divisional Director, FESPA, comments: "The atmosphere at the RAI today is already supercharged, as visitors have more reasons than ever before to explore the exciting opportunities for business diversification, and witness over 50 new product launches throughout the four events."
"This year marks our tenth anniversary of the digital show, and it has gone from strength to strength, providing visitors the tools they need to become print superheroes, and ultimately improve their business profits. We want all of our visitors to leave feeling inspired to take their digital offering to the next level."
Thinking of attending this not-to-be-missed event? With a €40 on-site entrance fee, last-minute visitors are welcome at all times.
Interested in joining our community?
Enquire today about joining your local FESPA Association or FESPA Direct