Press Releases
Visitors display strong buying intent at FESPA Mexico 2017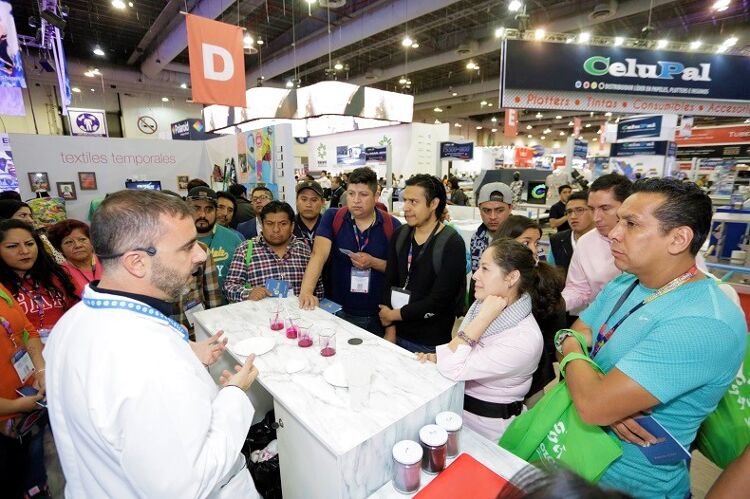 FESPA Mexico 2017, which took place from 16 to 18 November 2017, has been hailed a success by exhibitors and visitors.
The event attracted 8,880 individual visitors, the majority of whom were from the host country. Exhibitors also commented positively on the international representation at the show; the top five countries for visitor attendance outside of Mexico were USA, Colombia, Costa Rica, Ecuador and Peru.
Exhibitors also acknowledged the high calibre of visitors at the show. 61% of attendees held senior job positions, with 90% of attendees involved in the final decision making process. Senior decision maker attendance increased compared with FESPA Mexico 2016, highlighting the role the event plays for print service providers (PSPs) and sign-makers making strategic and purchasing decisions.
Purchasing intent was also high with visitors. 42% of the visiting audience had budget of $100,000 or more to invest, compared with 37% of the audience in 2016 and one in three visitors planned to invest during the show, with a further half of visitors intending to invest within six months.
Michael Ryan, Group Exhibition Manager, FESPA comments: "We're delighted with the success of FESPA Mexico 2017. After re-scheduling the exhibition due to the earthquake on 19th September, it's fantastic that so many print service providers came to Mexico City for the event. FESPA Mexico is always a vibrant and upbeat show and this year's offering was no different. Exhibitors commented positively on the quality of the visitors in attendance, which shows the value that regional and international visitors place on FESPA Mexico as a platform for seeing the latest technology and products."
The World Wrap Masters Mexico competition returned to the exhibition, with Victor Cruz Urbina from Mexico City taking first place. Victor, a professional independent installer with more than 12 years' experience in vehicle wrapping as well as interior décor for retail, comments on his victory: "It means a lot to me winning the 2017 competition. Having achieved in third place in 2014 winning this year is evidence that I am improving in what I do. The World Wrap Masters Final in Berlin, Germany in May 2018 will be hard, as in Europe they are highly skilled vehicle wrappers. However, in Mexico there is also a good skill level which will help me prepare for the final, as well as in my day-to-day job."
Visitors to FESPA Mexico commented on the value of the exhibition:
"FESPA Mexico is the best place to discover all the new launches and, for me as a business owner, I can show the best quality work and innovation to my clients. FESPA is always an accessible and innovative exhibition."
Luis Reza, Capacitaciones Reza
"Every year we come to FESPA Mexico as it's a great opportunity to discover the latest in equipment, and above all to see it live in action, which allows us to compare and gain the information we need to initiate a new business offering. Without a doubt this year has been an excellent exhibition. We have seen 3D printing, live laser cutters and in general a great portfolio of products that are always the cutting edge for any professional."
Carol Eguía Díaz, Independent Professional
"FESPA Mexico is an exhibition where you can find most suppliers, national and international, so it is the perfect opportunity to see the latest machinery and products which you cannot find anywhere else. Here we also have the chance to take advantage of and see technicians working live [with the equipment], who can provide us with advice and technical information about how to manage and make the most of the equipment. This edition of FESPA Mexico has been really good. I was surprised by how much new equipment and technology there was, we have definitely discovered many things in just one visit."
Francisco Ismael, H2 Company
Exhibitors also expressed their praise for FESPA Mexico 2017:
"The difference between FESPA and other events in the industry is not only the size, as it is the largest and the most important for the sector in Mexico, but it is the platform where we can present our latest products and services for graphic arts, from purchasing consumables and equipment, to technical support and demonstrations. I whole-heartedly recommend for people to visit FESPA Mexico."
Luis Carlos Quintero, Certified installer, Hexis USA
"FESPA Mexico is an important event for HP, we always meet with our clients and many visitors. This year the exhibition has surpassed even our highest expectations. Even at 7pm in the evening when we were about to close people didn't stop coming to our stand. It has been a total success for us. We exhibited with a different concept this year, focused on inspiring and educating our visitors and it has been very positive. We have received many comments and visitors to our stand left happy, inspired and most importantly, with new ideas to grow their businesses. We are very, very happy."
Rut Quindos, Marketing Development Manager, HP
"FESPA exhibitions are stimulating for us. 2017 was the second time we've exhibited at FESPA Mexico. In 2016 we had a small booth, but met with a good quantity of people. For this reason we decided to take a bigger stand for 2017 and work with a screen printing expert to show visitors not only the quality of our products, but also how they could make the most of them. FESPA Mexico, as with all FESPA shows, was a success for us. We always meet with good quality visitors at FESPA shows, anywhere in the world."
Devrim Başar Turan, Owner and General Manager at Turan Kimya
"We have exhibited at FESPA Mexico since 2009. It is the meeting point for so many print service providers, not only in Mexico, but also the USA, El Salvador, Guatemala and Ecuador who attend to discover our latest products and solutions. This is why FESPA Mexico is an excellent opportunity for us to meet with customers."
María Eugenia Fassi, Sales Manager, Fassi México
"FESPA is a prestigious international exhibition. It's a brand that by itself shows the industry everything there is to offer, it automatically identifies with the digital and textile printing, signage, and visual communication sectors. We are very happy to be here at FESPA Mexico."
Leonidas Andrade, Sales and Marketing Manager Latin America, DuPont
"For Trotec, FESPA Mexico is important on a global scale and we consider it as our main platform to show products. For many years, FESPA has always been the event where we concentrate our efforts in terms of space and equipment and to show our latest innovations because it's where visitors come to decide on their investments. That is why we exhibit at the event and show our products."
Joel Ríos, Managing Director, Trodat-Trotec Group México
"We are very happy with the results from FESPA Mexico. We know that FESPA had to postpone the event for difficult reasons here in Mexico, but I believe the organisers made the right decision and knew how to take the situation forward gaining great participation not only from all of us exhibiting, but with a good response from visitors.
"The interesting thing about FESPA is that it continues to be the central meeting point, not only for clients, but for the industry. It's a great opportunity to meet and talk between ourselves, see the latest technologies. So I believe that FESPA will remain the central point for business and networking, where all different cultures and sectors within the graphic arts community meet."
Alfonso Peláez, Director, Casa Díaz de México
FESPA Mexico 2018 will take place from 19 to 21 September at Centro Citibanamex, Mexico City.
Interested in joining our community?
Enquire today about joining your local FESPA Association or FESPA Direct