Press Releases
Sold out FESPA Digital only two weeks away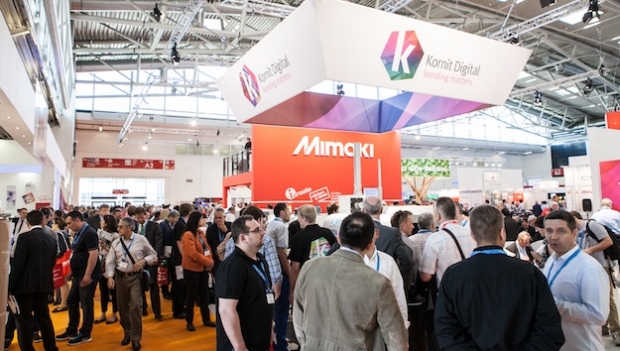 In two weeks' time, FESPA Digital 2016 will welcome the global digital print and signage community to the largest ever FESPA Digital event at the RAI Amsterdam.
With a sold out floor plan, over 450 international exhibitors will congregate for the 10th anniversary edition of the Digital event, highlighting their latest products and applications for digital wide format print, digital textile, signage and printed interior decoration.
FESPA Digital 2016 will cover the largest floor space in the show's history, with a growth of 159% since the inaugural edition in 2006. This underlines the growth of the digital print market as well as the commitment from industry players.
In the digital halls (1, 3 and 7), visitors will discover the latest equipment, consumables, software and applications for digital wide format print as well as over 50 product launches from both international and smaller manufacturers.
Visitors interested in signage and digital textile print will find dedicated textile and sign trails highlighting exhibitors offering these solutions alongside their digital wide format portfolio.
Co-located with FESPA Textile for digital textile printing including soft signage and garment decoration; European Sign Expo for non-printed signage, and Printeriors for printed interior decoration, there is an enormous amount of information all under one roof covering applications, technology and content, to enable printers to find the opportunities to grow their business and expand into new areas.
This year, Printeriors will take the form of a Print Hotel, showcasing 16 room sets decorated using digital and textile print. Each room set will be a different hotel room such as a bathroom, bedroom, bar and meeting room, highlighting the many possibilities of using print for interior decoration.
The educational programme at FESPA Digital will consist of two seminar theatres: Digital Seminars Area and the Sign Seminars Area. Both will host daily sessions looking at the trends and technologies in the digital and textile wide format print and signage sectors.
The seminar areas will be supplemented by two specialist one-day conferences - The Digital Textile Conference and Printeriors Conference - taking place on Tuesday 8 March and Thursday 10 March respectively.
Visitors will also find the Wrap Masters competition, which will the host the final of the European Wrap Masters and World Wrap Masters. Visitors will be able to see wrappers battle it out for their place in the final, with the World Wrap Master crowned on the final day. Visitors can also enjoy the daily free wrap workshop, where they can network with professional wrap heroes.
Roz McGuinness, Divisional Director, FESPA, comments: "As the largest FESPA Digital event to date, it's a must-visit for the global wide format print community. Since its inception 10 years ago, FESPA Digital has been the launch platform for many exhibitors, and this year is no exception."
"With so many new exhibitors, products, demos and of course new content, attendees can't fail to see opportunities at the show. These four sold out complementary events will provide inspiration for visitors to add new super powers to their businesses."
Visitors can still get FREE entry to FESPA Digital, which also includes entry to European Sign Expo, FESPA Textile and Printeriors, by using code ADOZ0101 when registering at www.fespadigital.com
Online registration will close on the 7th of March and tickets on the door will be charged at €40.
Interested in joining our community?
Enquire today about joining your local FESPA Association or FESPA Direct