Press Releases
Printeriors invites visitors to experience the airport lounge of the future at FESPA 2018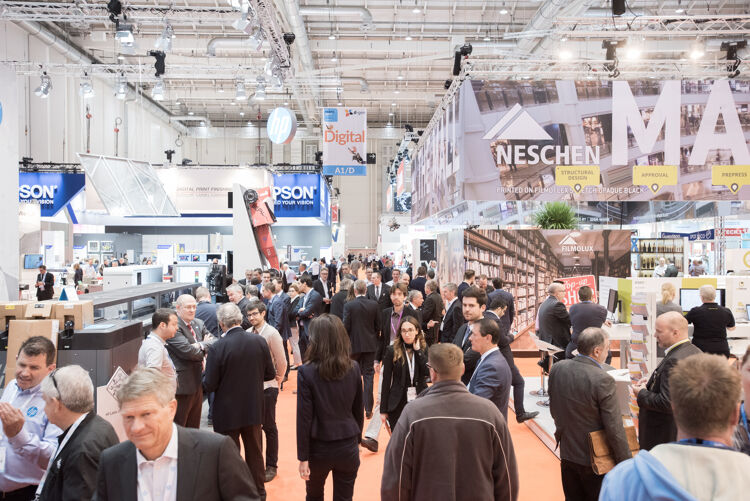 At this year's FESPA Global Print Expo Printeriors will take the form of an interactive visitor experience at the Atrium of Messe Berlin.
At this year's FESPA Global Print Expo, taking place from 15 to 18 May in Berlin, Germany, Printeriors will take the form of an interactive visitor experience located in the Atrium of Messe Berlin.
Drawing on FESPA's 'take off' campaign, Printeriors 2018 is themed as the Airport Lounge of the Future 2030, seeking to reimagine a futuristic airport arrival and transfer experience. Visitors will discover printed interior décor applications including furniture, wallcoverings, flooring, window graphics and soft furnishings provided by FESPA 2018 exhibitors.
Within the Printeriors setting, visitors will find a bar, seating areas, workspace and catering options all featuring printed décor elements, making it a truly immersive environment where they can take a break, work or meet with industry peers.
For the design of Printeriors 2018 FESPA has hosted a competition with ArtsThread, a global network for up-and-coming creatives. The competition invited submission of three different patterns for use across Printeriors, which will be printed directly onto a range of decorative applications.
As in previous years, FESPA seeks to inspire print service providers, sign-makers and interior designers on the uses of print – screen, digital and textile – for interior décor applications. Through the Printeriors showcase, FESPA aims to illustrate the creative potential, versatility and cost effectiveness of print for interiors. The feature will also connect visiting interior designers with print suppliers and manufacturers, helping to turn their interior design ideas into printed reality.
Duncan MacOwan, Head of Events at FESPA comments: "As we've seen over recent years, print for interior décor has grown considerably due to developments in print techniques, inks and substrates. Printeriors 2018 will showcase the vast potential and creative scope of print for interior applications.
"The location of Printeriors, directly in the entrance of FESPA 2018, will make it easy for all visitors to experience and by making it a practical space in which to work, meet, eat and drink, we hope to bring these applications to life in a range of realistic settings. Printeriors will clearly illustrate the power of printed décor to enhance offices, retail outlets, leisure and event spaces, hotels and hospitality businesses as well as domestic interiors."
The use of ArtsThread to elicit designs for Printeriors has enabled FESPA to connect with young creative professionals who already use print for interior décor applications or will do in the future. Duncan MacOwan says: "We've had some inspired entries from the competition and we're looking forward revealing the winning creative that best showcases the scope of what can be achieved using print."
All visitors to FESPA Global Print Expo 2018 will be able to visit Printeriors free of charge with their main entrance ticket. For more information on Printeriors and to pre-register to attend FESPA 2018, visit: www.fespaglobalprintexpo.com and use code PRNM801 for free entry.
Interested in joining our community?
Enquire today about joining your local FESPA Association or FESPA Direct