Press Releases
Print takes off at FESPA Global Print Expo 2018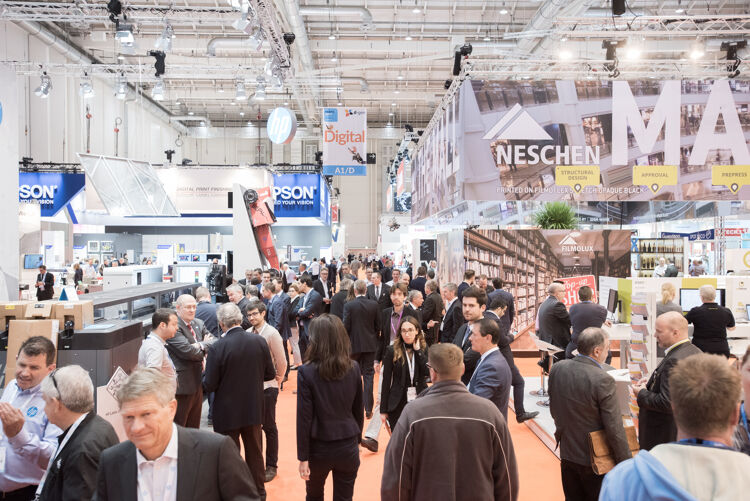 FESPA Global Print Expo 2018, Europe's largest exhibition for screen and digital wide format print, textile printing and signage, opens tomorrow occupying ten halls and running over four days, at Messe Berlin, Germany.
Thousands of print service providers (PSPs) and sign-makers are expected to visit Messe Berlin to explore 700 exhibitor stands, of whom a significant number will be launching new products during the week. Visitors can expect to see the latest innovations in equipment, software, inks and media for screen and digital wide format print, textile printing and signage.

Visitors can also access the co-located European Sign Expo for non-printed signage, which this year delivers the biggest event in its six-year history. The event is home to 117 exhibitors, highlighting the latest solutions and tools for channel lettering, neon, LED, dimensional signage, illuminated displays, engraving and etching.

Alongside the exhibition, visitors to FESPA and European Sign Expo 2018 can discover a wealth of educational content, live demonstrations and interactive features to see the many opportunities to help their businesses take off.

Printeriors
On arrival at Messe Berlin, visitors pass through Printeriors, an inspiring collection of printed interior décor applications. Themed as an airport lounge, Printeriors highlights how print can be used to transform interiors with décor applications such as flooring, wall coverings and soft furnishings. 20 companies have contributed applications to Printeriors including: Mimaki, OKI, CMYUK, Massivit, Premier Textiles and Veika.

FESPA Awards
Also in the atrium of Messe Berlin, visitors can take inspiration from the FESPA Awards display of print and signage projects shortlisted for a FESPA Award. The winners will be announced during the FESPA Gala Dinner on Wednesday 16 May.

Print Make Wear
Making its debut at FESPA 2018 is Print Make Wear (hall 4.1 – lower level), an interactive live production environment replicating a fast fashion factory. The new visitor feature illustrates each step in the screen and digital textile print production process, from initial design to the finished product. Within Print Make Wear visitors will find equipment and substrates from 15 exhibitors, while technology experts are on hand to explain each step in the process.

Digital Corrugated Experience
Another new visitor feature to launch at FESPA 2018 is the Digital Corrugated Experience (hall 5.2 – upper level), which demonstrates the commercial and production benefits of digital print for corrugated packaging and retail display applications. Targeted at both PSPs and converters, the feature hosts 17 exhibitors to illustrate the new revenue opportunities that can come from adding digital printing for packaging to their existing production technologies.

World Wrap Masters
Visitor favourite, the action-packed World Wrap Masters (hall 6.2 – upper level) vehicle wrapping competition, takes place over the four days, beginning with the European Series (15 and 16 May) and followed by the World Wrap Masters Final (17 and 18 May), where visitors can watch top installers from around the globe compete to become World Wrap Master. Visitors considering vehicle wrapping as a diversification path can attend free daily workshops to learn from wrap experts.

Trend Theatre
Diving deeper into the growth trends in the wide format print market, visitors can take advantage of free educational seminars in the FESPA 2018 Trend Theatre, (hall 3.1 - lower level). This year's content-rich programme is founded on independent research into the key industry growth trends: Signage, digital textile, printed interior décor, digital print for packaging and industrial printing. There will also be a number of exhibitor-hosted sessions. The full seminar programme can be viewed here: www.fespaglobalprintexpo.com/features/trend-theatre

FESPA Print Census 2018
During the event, FESPA will share the headline findings from its Print Census 2018, through daily Trend Theatre briefings, hosted by Ron Gilboa of Keypoint Intelligence. He will examine the main trends, focusing on how these have changed since the last Print Census in 2015 and what these findings mean for FESPA's global print community.

FESPA Exhibitions Director, Roz Guarnori comments: "We're delighted to welcome our global print and sign-making community to Berlin this week. Ever since we announced our return to Berlin for 2018, we've had a great reaction from exhibitors, resulting in a record event for both FESPA and European Sign Expo. Product innovation is always high on the agenda at FESPA events. Combined with our expanded programme of educational features and the up-to-date market intelligence we're sharing throughout the show, visitors will be empowered to make sound investment choices and create new revenue streams for their businesses."

Until midnight on Monday 14 May 2018, visitors can still register for free entry to both FESPA and European Sign Expo 2018, using code FESM814, to avoid paying the €70 onsite entrance fee.

For more information on FESPA Global Print Expo 2018 and to register to attend, visit: www.fespaglobalprintexpo.com.
Interested in joining our community?
Enquire today about joining your local FESPA Association or FESPA Direct