Press Releases
Leading suppliers in wrap industry support inaugural WrapFest event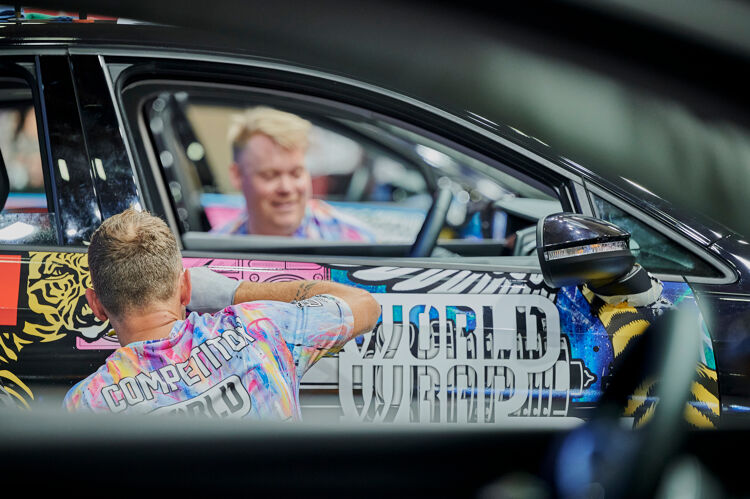 WrapFest has announced 10 internationally acclaimed vehicle wrapping specialists are sponsoring its first ever event, demonstrating the industry's excitement for the first-of-its-kind show for the wrap industry.
Hexis, 3M, Avery Dennison, APA, Grafityp, Spandex, William Smith, Surfex, HP and Metamark will sponsor the event, running from 26-27 April at Silverstone, granting them a space in Silverstone's iconic pit-garages. They will each deliver exclusive wrapping demonstrations and training-style content to attendees, as well as having a stand in the main exhibition area.

Hexis, a leading European sign vinyl film manufacturer and adhesive coating company, is the event's Pole Position sponsor. In addition to showcasing its popular SKINTAC wrap vinyl range, paint protection and automotive tint films, the company will also sponsor the UK & Ireland World Wrap Masters competition – for which it will be the exclusive vinyl supplier.

Among the platinum sponsors are 3M, Avery Dennison, APA, Grafityp, Spandex and William Smith. Each of these leading suppliers will showcase their diverse portfolio of wrap films, in an array of colours and effects, and wider tools and accessories that provide solutions for every stage of the vehicle wrapping process. Surfex, is gold sponsor of the event, while HP and Metamark have been announced as WrapFest's silver sponsors.

In addition to the sponsors, The Wrap Institute has been confirmed as the official Training Partner for the event. The organisation, an online learning community with 2,000+ instructional videos for vinyl wrap installation, production, design and business, will deliver invaluable content in the FESPA demonstration track, occupying one of the pit-garages.

WrapFest will feature 14 pit-garage spaces, each hosting at least four invaluable sessions per day from some of the industry's most recognisable names, providing attendees to the event over 100 live demonstrations across the two days.
Duncan MacOwan, Head of Marketing and Events, FESPA, said: "We are delighted to confirm that some of the industry's biggest names will deliver live demonstrations at the first ever WrapFest. The pit-garage area promises to be a vibrant feature where attendees can learn about new materials and pick up quality techniques that can be transferred to their business; we know from this community just how much attendees will benefit from witnessing experts first-hand."

Ventsislav Lihachov, Marketing Communications Specialist, Avery Dennison added: "Our sponsorship of WrapFest provides the best opportunity to channel our creativity and focus towards innovative thinking & sustainable solutions, while also providing our visitors with access to the most recent insights from our automotive & architectural solutions. We can't wait to facilitate conversations between our industry-recognised specialist trainers, and talk about our wrapping workshop courses that we offer across Europe, including the UK.

Clare Robinson, Marketing Executive, William Smith, added: "As a leading supplier to the Sign and Graphics Industry, we're really excited to lend our support to the first ever WrapFest – a truly interactive event with a huge selection of live application demonstrations. We can't wait to showcase our Training Academy wrap courses and vehicle wrap portfolio of products."

Justin Pate, President, The Wrap Institute, commented: "The Wrap Institute has long been passionate about highlighting many different industries, from colour change, PPF and detailing, to ceramic coating, tint and more. As each of these industries are interconnected, having an event in Europe that showcases this is really important. I think the opportunities to network, learn and do business at WrapFest, will be priceless."

Ben Scammell, General Manager, Spandex concluded: "Rarely does the industry present the opportunity for likeminded professionals to meet and converse in an event tailored to a specific sector. If you are already involved or curious about the potential opportunities within the wrap sectors, then WrapFest is a must visit. Those attending will gain a sense of the commercial benefits of exploring potentially new markets for their business, while fine tuning their skills by meeting some of the best installers in the business."

For more information about either exhibiting or attending the event, visit the WrapFest website.
Interested in joining our community?
Enquire today about joining your local FESPA Association or FESPA Direct