Press Releases
HP opens a world-class Graphic Experience Center in Barcelona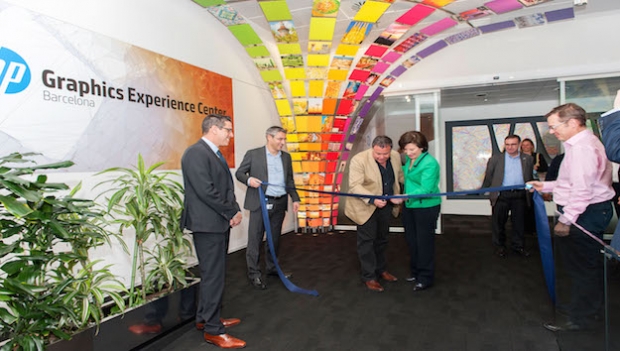 The Customer demands inspire enlarged premises which will accommodate a fleet of the latest HP printing solutions. [Sponsored content]
On March 16, 2015, HP celebrated the official opening of their new Graphics Experience Center in Barcelona, Spain. The goal of the new facility is "to educate, and inspire more printing companies and their customers— including brands, agencies, and print buyers— about new opportunities made possible by HP digital printing solutions".
The new facility spans an amazing 6,000 square feet and will give customers one-stop access to the full set HP digital printing portfolio and solutions in addition to providing a space to connect with experts to share their own creative and technical best practices.
Housed at the EMEA headquarters of HP´s Graphics Solutions in Sant Cugat del Valles, which is also HP´s largest R&D lab outside of the United States, the new Experience Center promises to be a sales hub and world-class training facility for graphics arts customers and prospects throughout European region. It will include solutions for the commercial, direct mail, technical, publishing, signage, labeling, packaging and pro-photography printing markets.
By housing both the full graphics portfolio as well as part solutions and a wide-ranging gallery of applications, customers are more able to harness the complete power of digital printing. Printing companies will have the opportunity to benchmark and conduct end-to-end application testing of their HP digital printing equipment.
They will also be able to try new things, get inspired by other professionals, and trial projects in a real-world production environment. Further, users will be able to take advantage of a training centre on campus where users can further hone skills related to digital printing and quicken the ROI for HP Indigo Digital Presses, HP Scitex Industrial Presses, HP Latex and HP Designjet Printers.
For the grand opening, Ronen Zioni, EMEA Marketing Director for HP Graphics Solutions Business, highlighted HP´s latest technologies in the graphics arts market and explained their strategy to lead the future of digital printing. For HP it´s clear: "their technology portfolio across multiple industry segments enables them to take a leading position in the digital printing market."
The centre will be also used to host various training seminars, open houses and demonstrations days for a broad audience, including customers and prospects, dealers, distributors, HP staff members and journalists.
As part of the expansion, the HP Graphics Experience Center has been re-designed to focus on creative applications that print services providers can undertake to broaden their service capability and develop revenue streams.
For over three decades, HP has been in the business of providing innovation— transforming the way design professionals in Architecture, Engineering, Construction, Geospatial, and Graphics markets operate. The grand opening of HP's new Graphics Experience Center in Barcelona has shown HP's dedication to the digital print market in all key segments. Like other vendors in this space HP is also investing in new technologies and innovations enabling a broader range of applications and helping printers lowering their running cost while preserving high output quality.
HP will be showcasing its latest printing solutions to open new applications, markets and revenue streams at FESPA 2015.
Register to attend FESPA 2015 today for FREE.
More information is available at www.youtube.com/hpgraphicarts or follow HP on www.twitter.com/hpgraphicarts.
Interested in joining our community?
Enquire today about joining your local FESPA Association or FESPA Direct