Press Releases
Global Print Expo 2019 to showcase latest screen and digital printing solutions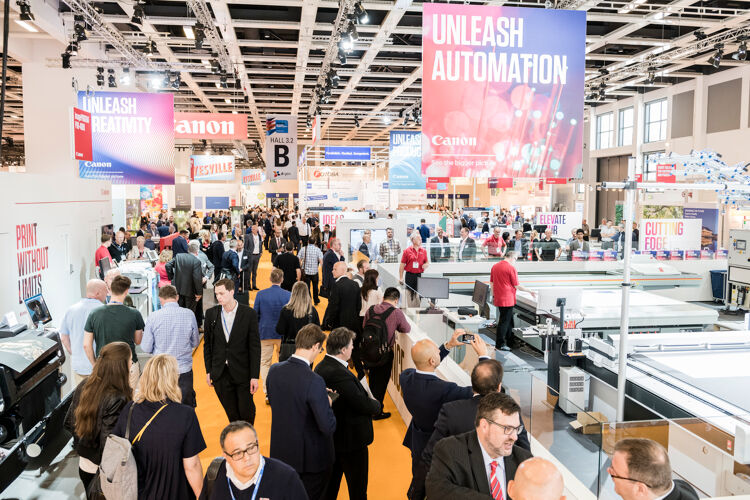 With just over 2 weeks to go before the opening day of the show, a host of international screen, digital and textile printing manufacturers are getting ready to showcase the latest technologies and applications to the speciality print sector at Global Print Expo 2019.
Following the success of the Global Print Expo 2018 in Berlin, print service providers (PSPs) and sign-makers will gather once again in Munich to experience a wide variety of print technologies, consumables and materials from both leading brands and smaller businesses.
Textile Print
With Print Make Wear one of the key features at this year's Global Print Expo, textile is set to be a key talking point at the event, counting over 160 exhibitors showing textile solutions. First time exhibitor Omniprint (Hall A6, Stand D40) will be using FESPA 2019 as a platform for displaying its range of direct-to-garment (DTG) printing technologies, including its latest system, the Cheetah Industrial DTG. With quality prints up to 1800dpi, the Cheetah is one of the fastest industrial DTG printers on the market, boasting high print quality and compatibility with a wide range of materials, including 100% polyester and cotton/poly blends.

Digital sublimation and direct-to-textile printers will also be a key feature on the Mutoh stand (Hall B5, Stand F29). Visitors will be able to see first-hand the high speed ValueJet 1948WX digital dye-sublimation printer, with print speeds ranging from 125 m²/h to 195 m²/h. The system is ideal for businesses looking for a printer capable of handling high volumes and intensive use.
Digital Print
FESPA Global Print Expo 2019 will see the world premiere of Karibu, the first roll-to-roll printer from swissQprint (Hall A5, Stand H30). Little is known about the new system at present, but the Swiss company has confirmed that it will come with a range of standout features, including: a roll handling system that enables fast loading; a finely segmentable vacuum system; new output software; and a bespoke ink set.

Canon (Hall B5, Stand E30) will once again exhibit its range of wide format digital print and automated workflow solutions, including the successful Océ Arizona flatbed series and the Océ Colorado printer, featuring Canon UVgel technology. The new Océ Arizona 1300 Series will be displayed for the first time at an international event since its launch in February 2019. The Océ Arizona 1380 GT model will show customers how it can help them produce an even broader range of applications working with almost any rigid or flexible media. The new printer will be demonstrated with Océ Arizona Xpert, an innovative software solution that simplifies and automates complex print jobs, including multi-layered and double-sided applications.

Ricoh (Hall B4, Stand K31) will also present its assorted solutions designed to support and improve print production environments. Among these systems will be the Ricoh Pro™ L5160 latex roll-to-roll large format printer, designed to deliver broader job capabilities, as well as faster short run production and elevated productivity. The printing system delivers increased performance, while also reducing maintenance requirements and outstanding quality.
Screen print
SPS TechnoScreen (Hall A6, Stand A51) will introduce the new SPS ASTRON QX, a full servo-driven cylinder machine designed for high-end industrial screen printing applications. The key features of the new system reflect the gradual introduction of camera control and registration systems that's been taking place in the screen printing industry for the past decade. The SPS ASTRON QX series can be equipped with a camera registration system that matches the image position within the screen frame to the image position on each individual sheet. It is available for a maximum sheet size of 550 x 800 mm and features a single sheet front-pick-up feeder.
Inks
German ink manufacturer, Marabu (Hall B5, Stand E28), will be presenting its offering for screen, digital and pad printing, for both graphic and industrial applications. The company's spectrum of UV-curable digital inks are compatible with all common print heads, such as the flexible Ultra Jet DUV-A inks for wide format print, as well as the Ultra Jet DUV-C range, for printing directly onto flat glass surfaces. Ultra Jet DUV-MF is a versatile ink developed especially for wide format graphics. These products represent a new generation of highly reactive inks that enhance roll-to-roll and hybrid printer productivity.

International ink manufacturer, Sun Chemical (Hall B4, Stand K10), will also showcase its portfolio of screen, industrial, wide format and super wide format inkjet inks. Three new additions to Sun Chemical's SunTex range will be launched at FESPA 2019: DTY, PDY and PDR, with print samples available on the stand. DTY is a dye-sublimation inkjet ink for transfer and direct-to-textile printing, while PDY and PDR are pigmented inkjet inks produced for textile printing.

Mimaki Europe (Hall B6, Stand A30) will exhibit its recently launched UV-curable metallic ink, MUH-100-Si, which is compatible with the company's UJF-7151plus printer, which produces high-quality print for an impressive range of applications, from gifts and novelty items to wide format boards.
Workflow and Colour Management
As a developer of software applications for sign-making, screen printing, garment decorating and digital printing, CADLink (Hall A6, Stand E34) is promoting the latest version of its Digital Factory OKI™ Edition RIP software, which enables users to manage their print workflows more efficiently. The latest build of the software includes newly engineered custom printer drivers, along with modified colour profiles, supporting a wider variety of printers than ever before. The new driver architecture optimises RIP and print speeds, reducing job processing times by up to 2-3 times while also providing incredibly vibrant colours, including rich black reproduction.

The Epson Edge Print software for its S-series and F-series printers will be a highlight on the Epson stand (Hall B5, Stand G10). The software supports Epson's Precision Dot technology, including its halftone module, look-up tables and micro-weave combining to make an instantly noticeable difference to the final print quality.
Substrates
Self-adhesive specialist Aslan (Hall A5, Stand F65) will be presenting MetalLux ASLAN SE 50 (available in platinum and champagne versions), a sophisticated film suitable for application over entire surfaces or for use as selective highlights; and MirrorEffect AntiScratch ASLAN SE 75 (available in silver and gold), featuring a double-sided mirror effect and superior scratch resistance.
Sustainability
As more print technology providers continue to embrace greener practices, Brand Management Group (Hall A5, Stand H55), the official partner of HP Large Format Media, will be placing special focus on HP's latest sustainable solution for printed canvases, a huge market segment in the wide format print industry. HP's Recycled Satin Canvas performs similarly to other digitally printable wide format canvases on the market, except it is made from 100% recycled water bottles. One of only a few sustainable options available to designers today, the canvases can be used for residential and commercial décor.

Roz Guarnori, Exhibitions Director at FESPA, comments: "The best feedback we've received from our visitors in the past is that they learn something new at every FESPA event and we are confident that they will once again be inspired by what's on show. FESPA is known as a platform for product launches and innovation, and we'll be expecting more announcements from our exhibitors before the beginning of the event."

FESPA Global Print Expo 2019 is Europe's largest speciality print exhibition for screen and digital wide format print, textile printing and signage solutions. Visit the Messe Munich between the 14-17 May 2019 and discover the available features. Please use promo code FESG902 to register for free.

Interested in joining our community?
Enquire today about joining your local FESPA Association or FESPA Direct