Press Releases
FESPA puts race car under wraps in creative competition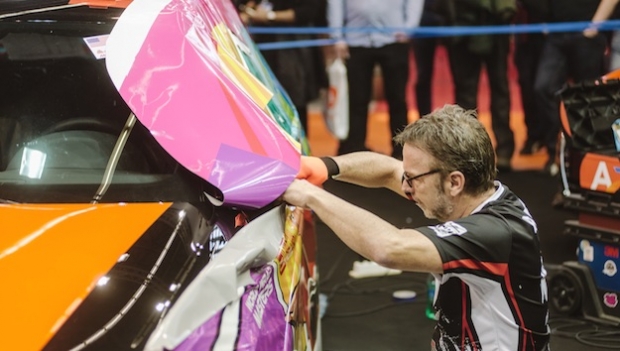 FESPA is giving its 2017's World Wrap Masters the opportunity to design a car wrap fit for the racetrack through its Wrap Masters Design Competition.
This year, FESPA has launched the Wrap Masters Design Competition, inviting contestants to create a striking design for a Formula 4S speed boat that will be used by the Haugaard Racing Team in the 2017 World Formula 4 UIM Powerboat Championship.
In order to qualify, participants will need to produce an attention-grabbing design that puts their creative skills to the test and includes the boat number (22), as well as the racing team's logo and World Wrap Masters sponsor, Hexis' logo.
All entries must be submitted to wrapmasters@fespa.com by Friday 10th March 2017.
Entries will be judged by Formula 4 race boat driver, Sebastian Haugaard, and World Wrap Masters Head, Judge Ole Solskin Ravn. The winning design, which will be announced on Friday 17th March 2017, will be used in the World Wrap Masters Final during FESPA 2017, which is taking place from 8-12 May in Hamburg, Germany.
The winner will also receive a free trip to Hamburg, where they will have the opportunity to meet driver Sebastian Haugaard in person and see the racing boat being wrapped with their design during FESPA 2017.
The design will be used by Haugaard Racing Team and will adorn the powerboat until the final of the World Formula 4 UIM Powerboat Championship.
For more information on the Wrap Masters Design Competition and the World Wrap Masters Final, visit: www.fespa2017.com/whats-on/wrap-masters-competition.
World Wrap Master competition powers up in Hamburg
The FESPA World Wrap Masters Series is a collection of global events that have been designed to not only encourage, recognise and promote excellence in the vehicle wrapping community, but also allow specialist in this field of work to improve their skills within a live, competitive environment.
If you are interested in taking part, there is still time to join this year's World Wrap Masters Series and possibly qualify for the World Wrap Masters Finals at FESPA 2017 in May, with a number of qualifying events scheduled over the next few months.
The European Wrap Masters will take place on the opening day of FESPA 2017, prior to the World Wrap Masters Finals on May 11. Visitors can save 70€ entry fee to the exhibition by registering via the website and quoting reference code: FESG702.
See the best shots from the 2016 World Wrap Masters competition that took place in Amsterdam during FESPA Digital 2016.
Interested in joining our community?
Enquire today about joining your local FESPA Association or FESPA Direct