Press Releases
FESPA Global Summit to address challenges and opportunities in the future of print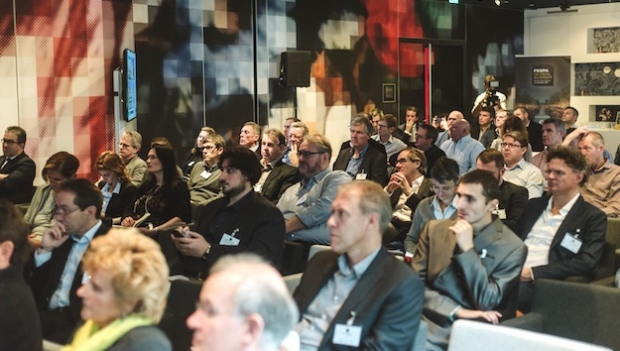 The exclusive event, which will be held at the Grand Elysée Hotel in Hamburg on 22-23 February, will bring together business leaders from across the world to discuss the future of the print industry.
The print industry is changing, as digital print technology has matured and its capabilities are better understood, the business opportunities expand. Can we talk sensibly about the future when so many predictions have proved wildly inaccurate?
"Yes, we can because it is possible to identify forces that will change the world over the next generation", says Hamish McRae, Associate Editor of The Independent newspaper and one of the Europe's foremost speakers on global future trends in economics, business and society.
McRae will be one of several speakers at FESPA's thought leadership forum, the Global Summit, which returns on 22 and 23 February 2017 at the Grand Elysée Hotel in Hamburg, Germany.
This year's Summit aims to inspire print business leaders' minds on how to identify market opportunities and how to exploit them for the benefit of their companies.
Over the course of the two-day event, delegates will have access to exclusive industry research, coaching from a select group of leadership mentors, including sessions addressing leadership in the modern workplace, business modelling workshops, and how to successfully manage change (whether in technology or market entry).
They will also hear from senior figures who have worked in global brands, as well as learning from print professionals who have successfully implemented change in their companies to capitalise on markets such as industrial printing, specialist packaging and interior decoration.
Speakers confirmed so far include Jim Lawless, author of best-seller 'Taming Tigers and one of the world's leading keynote speakers, who will offer a clear set of ten rules which can revolutionise people's approach to all aspects of their life, including their business.
Infotrends director Ron Gilboa will highlight the strongest sectors for growth in adjacent print markets, and will explore the technologies required to enter these markets and the varying characteristics and needs of the buyers that populate them.
Meanwhile, economist Hamish McRae will show audience what the world will look like in 2020 and share what the implications will be for the business world, and DNA Definitive founder Paul Thomas will conduct an interactive session to reflect on the learnings from the day against a backdrop of themes such as leadership and motivation.
FESPA's Head of events Duncan McOwan comments: "It's always inspiring to see the senior figures of our global community sharing insights into the markets they serve with their international peers. This year, we are encouraging delegates to play an even more active part in proceedings, with a series of interactive sessions punctuating the presentations and led activities."
"The objective is to ensure that each delegate leaves with a set of worthwhile outcomes and key points personal to them and their business."
Sponsored by MS Printing Solutions, The Global Summit is an example of FESPA's Profit for Purpose philosophy in action, which reinvests profit from FESPA exhibitions back into the industry, for the benefit of printers and signmakers.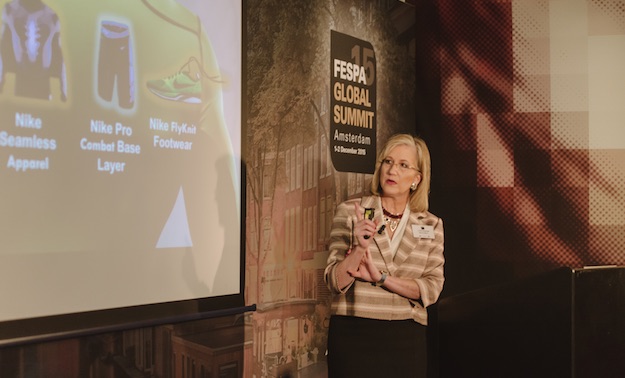 Drawing from her Nike background and experience, Linda Keppinger, CEO and Founder at Materials Move, shared her wealth of expertise at the FESPA Global Summit 2015.
Past delegates' comments include:
Paul Noble, operations director at Banner Box, UK: "A fantastic insight which has filled my brain with all sorts of wonderful ideas. FESPA are at the cutting edge pushing businesses like mine into new areas.
Katleen Pelsmakers, global procurement at Tesco Stores Ltd: "I really enjoyed the Conference, and particularly the opportunity to network cross-industry and the different perspectives which were brought to life by the wide variety and background of the speakers, generating some thought provoking debate."
Andrew Wilson, managing director ar Press On, UK: "The presentations are awesome, the Global Summit is superb and I've met some very interesting printers."
Keith Ferrel, general manager at Cactus Imaging, Australia: "It's a gathering of knowledge from all over the world - the Global Summit is incredibly important for the industry."
The cost to attend the summit is €995 (£709) discounted to €695 for members of FESPA national associations. The event is only open to printers to attend as delegates. Suppliers to printers should contact Duncan.macowan@fespa.com to find out how they can get involved.
If you are interested in getting ready to capitalise on the opportunities that industry change affords and being aware of the hottest areas for growth, join fellow business owners and directors at this exclusive apex event.
For more information on the the Global Summit 2017 and to register please visit: www.fespaglobalsummit.com. Don't forget to use code: GLSH701 when registering.
Interested in joining our community?
Enquire today about joining your local FESPA Association or FESPA Direct