Press Releases
FESPA Eurasia 2016 attracts wealth of first time exhibitors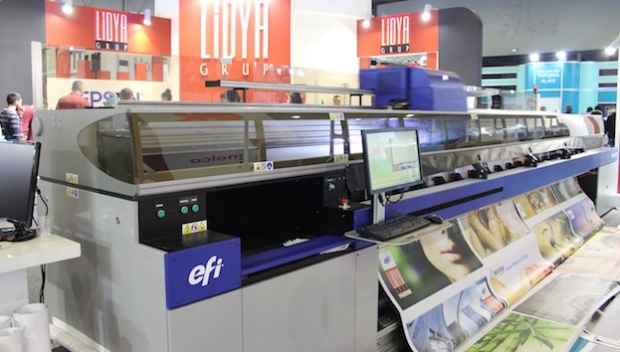 FESPA Eurasia 2016 has confirmed participation of more than 100 companies including some of the world's biggest names in print such as Hexis, EFI, Xerox, SwissQprint, HP, Mimaki, Roland and Mutoh.
Another wave of first-time exhibitors signing up to FESPA Eurasia 2016 (8-11 December), is further validation of the importance placed on the event as a platform to reach key decision makers in the wide format screen and digital printing, textile printing and garment decoration and signage industry.
With less than six weeks to go before the doors open at CNR Expo, Istanbul, a number of exhibitors have expanded their stand footprint, meaning 90% of space has now been confirmed.
First time exhibitors to FESPA Eurasia 2016 include: HP, Xerox and Hollanders distributor BNK Group FPI, adhesive films manufacturer, Hexis, textile equipment manufacturer Aleph SRL, transfer printing machines manufacturer Tural Makina, digital textile printing equipment supplier Mert Dijital, ink producer AKER SERİGRAFİ and textile printing machines manufacturer Özmak Makina.
Following the continued success of FESPA Eurasia since its launch in 2013 and with the 2015 event welcoming the largest audience to date, FESPA is seeing continued demand for an event of this calibre within the region.
Mike Ryan, Group Exhibition Manager at FESPA comments: "FESPA Eurasia 2016 will be the fourth edition of the Eurasia event and it's great to be welcoming first-time exhibitors who are enthusiastic about the opportunities the event offers."
"The continued commitment from both international and local exhibitors to FESPA Eurasia is a sign of confidence in the industry, and as visitor numbers have risen year-on-year, the value of the event is quite evident."
Alessandro Manes, Managing Director at Aleph SRL explains why they have chosen to exhibit at FESPA Eurasia 2016: "FESPA Eurasia 2016 is the perfect business platform in order for us to strengthen our brand in this market and to support our distributor. We believe that it is the right time to showcase our technology and commitment to the global textile industry."
A number of exhibitors have also expanded their space for the 2016 exhibition, illustrating the importance they place in FESPA Eurasia as the platform to reach key decision makers.
Exhibitors including, Optimum Digital Planet, Lidya Grup, İstanbul Reklam, Süstaş and Karya Tekstil have all expanded their stand size compared to FESPA Eurasia 2015, with GFK Dijital increasing their stand by 50%.
GFK Dijital's General Manager Bülent Uygur comments: "We are increasing our investment at FESPA Eurasia 2016 because we have new distributor relationships and will therefore present more machines, and we feel that FESPA Eurasia is the best platform, with the right audience to showcase our complete offering."
A host of international brands including Mimaki, HP, Fujifilm, Canon, swissQprint, Mutoh and Roland are also represented at the exhibition either directly or through local distributors.
More information on FESPA Eurasia 2016 can be found at www.fespaeurasia.com visitors can pre-register via the website quoting reference number EURH614 for free entry.
Interested in joining our community?
Enquire today about joining your local FESPA Association or FESPA Direct